Chemotherapy management for unfit patients with metastatic castration-resistant prostate cancer
Abstract
Administration of chemotherapy in prostate cancer depends on patient fitness. In unfit patients, physiological impairment determines the optimum treatment. Although no consensus on assessing patient fitness currently exists, this article proposes an algorithm combining the available information for administering chemotherapy, and in particular docetaxel, in unfit patients. It was constructed by reviewing factors that can influence treatment, such as performance status, taxane-related comorbidities and nutritional status. Geriatric scales for prostate cancer patients and alternative treatment regimens for this population are also reviewed. In summary, patients require overall assessment to optimise treatment. Use of docetaxel should be restricted in unfit patients, and other options must be evaluated, because of high toxicity and low efficacy.
Keywords
Unfit patient 
Comorbidity 
Performance status 
Alternative treatment 
Introduction
There are 1.1 million new cases of prostate cancer every year worldwide and 307,000 deaths [1], but this incidence increases with age, and the disease coincides with various age-related conditions. The concept of "fitness" encompasses a person's physical condition, as well as their health and wellbeing. Conversely, the terms "frailty" or "unfitness" imply a state of cumulative impairment of the various physiological systems within an individual, which depend on many factors. Therefore, physical condition or fitness among elderly patients will differ, and should be assessed on an individual basis.
The occurrence of serious adverse effects related to the administration of prostate cancer treatments, especially chemotherapy, is significantly related to worse performance status. The likelihood of treatment effectiveness or success in unfit patients will be influenced by these side effects, which prevent the administration of full doses and cause delays or complications that, in a worst-case scenario, may prove to be fatal. On the other hand, age itself should not be an exclusion factor, as a high proportion of the ageing population can benefit from these treatments. Moreover, physical function may be partly dictated by the disease itself, because some patients' physical condition will improve with the treatment.
It is therefore essential for each patient's fitness to be assessed on an individual basis, given that this is a highly heterogeneous population with considerable variation in cognitive and physical performance. In an attempt to standardise the assessment of fitness, various tools, geriatric scales and toxicity calculators have been proposed. However, there is no consensus on administering chemotherapy in this patient group.
This article describes a systematic review of the literature, bringing together the available information on administering chemotherapy, in particular docetaxel, in patients with prostate cancer, who should be treated according to their health status. Recommendations are made on how best to evaluate these patients, and which alternative treatment to provide to patients considered unfit.
Factors to consider in prostate cancer treatment
Tools to evaluate frailty and toxicity
In 2010, after conducting a systematic literature review, SIOG developed its guidelines for prostate cancer management in men over 70 years old [5, 37]. In 2017, a new multidisciplinary SIOG working group updated those recommendations [4]. The SIOG prostate cancer working group has established that elderly patients with this disease should be managed according to their health status, which is mainly determined by their comorbidities, not by chronological age [4, 5]. Patients' health status affects both their survival and their treatment tolerance.
A validated, rapid, health status screening instrument can be used to identify patients who should undergo more thorough health evaluation, analysing comorbidities, nutritional status, and cognitive and physical functions. Screening can be performed using various scales, such as the Groningen Frailty Index [38], the Vulnerable Elders Survey-13 [39] and G8 [40]. The SIOG prostate cancer working group recommends systematic use of the G8 scale as a screening method, and an abnormal result strongly predicted 1-year mortality with a high sensitivity [41].
Another way to evaluate comorbidities is using the Cumulative Illness Score Rating-Geriatrics (CISR-G) [42]. This scale has been validated in cancer patients, and its prognostic performance correlates well with the Charlson index. Non-life-threatening comorbidities are also included according to their severity and control [43, 44]. Two scales are recommended for evaluating dependence level: activities of Daily Living (ADL), which rates a patient's ability to carry out activities of daily life; and Instrumental Activities of Daily Living (IADL), which measures a patient's skill at performing activities requiring a higher level of cognition [40, 45]. The next step is to determine a patient's nutritional status by estimating weight loss and neuropsychological problems. Lastly, the possibility of resolving specific issues should be evaluated on an individual basis.
Following these recommendations, elderly patients with prostate cancer may be divided into three groups:
Healthy or fit patients, who score over 14 on the G8 scale. These patients can tolerate, and therefore receive, standard treatment.

Vulnerable patients with reversible impairment, whose G8 score is 14 or lower. These patients should receive standard treatment after medical intervention.

Frail patients with non-reversible impairment, scoring 14 or lower on the G8 scale. These patients might benefit from geriatric intervention, including comprehensive geriatric assessment, and could receive adapted treatment.
The SIOG expert panel advises that, by following their algorithm, which depends on whether a patient is deemed fit or unfit for docetaxel therapy, the standard docetaxel chemotherapy regimen (75 mg/m2 every 3 weeks) is appropriate for fit and vulnerable elderly patients, while an alternative regimen can be used in frail patients [4, 6].
The CRASH score finds different risk of development of chemotherapy toxicity evaluating diastolic blood pressure, IADL score, LDH value, scheme of chemotherapy, ECOG-PS, Mini Mental Health Status and Mini Nutritional assessment, with different scores to hematologic and non-hematologic toxicities [46].
Another model for predicting chemotherapy toxicity was developed by Hurria et al. (CARG, Cancer and Aging Research Group) They ponder age of patient, cancer type, planned chemotherapy dose, planned number of chemotherapy drugs, haemoglobin level, creatinine clearance (by Jeliffe, ideal weight), hearing, presence of falls in the past 6 months, capability of taking their own medicines, capability of walk and social activities. They classify the risk in low, medium and high to develop chemotherapy toxicity [47, 48].
In 2016, a comparison was made among CARG tool, VES-13 and oncologist judgment to predict toxicities greater or equal than grade 3 in men who underwent chemotherapy for metastatic prostate cancer, but no differences among them were found to predict the risk of toxicity [49].
Absolute contraindications
The main contraindications for docetaxel are neuropathy, dementia, allergic reactions, previous severe toxicity including hypersensitivity to the drug, uncontrolled serious disease (infectious, inflammatory, autoimmune, etc.). Absolute contraindications include serum neutrophil count < 1500/µl, hypersensitivity to the drug and severe hepatic insufficiency.
Absolute contraindications for docetaxel also include poor general condition (performance status 3 and most patients with performance status 2). Relative contraindications, with a recommendation for special precautions for its use, include comorbidities unrelated to prostate cancer, and frailty as defined by an appropriate geriatric evaluation (according to SIOG recommendations), because the adverse effects will be exacerbated in patients with any of these profiles [50].
Defining the unfit patient
Defining a patient with castration-resistant prostate cancer as unfit for docetaxel therapy relies on the health professional's clinical assessment of performance status, with no age restrictions but with appropriate geriatric assessment using the ADL and IADL scales as well as evaluating the patient's comorbidities and nutritional status. Hence, patients with a performance status of 2 or above, or a poor geriatric assessment, would be unfit for treatment. This is the right time to identify patients whose general condition and comorbidities might or might not be improved by some medical intervention. These patients might subsequently become fit for treatment.
Other patients unfit for docetaxel therapy are those with severe hepatic insufficiency (by the Child–Pugh classification), severe interstitial lung disease or severe COPD, over 10% weight loss in the preceding 3 months, heart failure of NYHA class III or above, or frailty by the SIOG G8 scale. Figure 
1
provides details of the treatment algorithm for patients with castration-resistant prostate cancer, according to whether they are unfit or fit, elder vulnerable or frail for docetaxel therapy.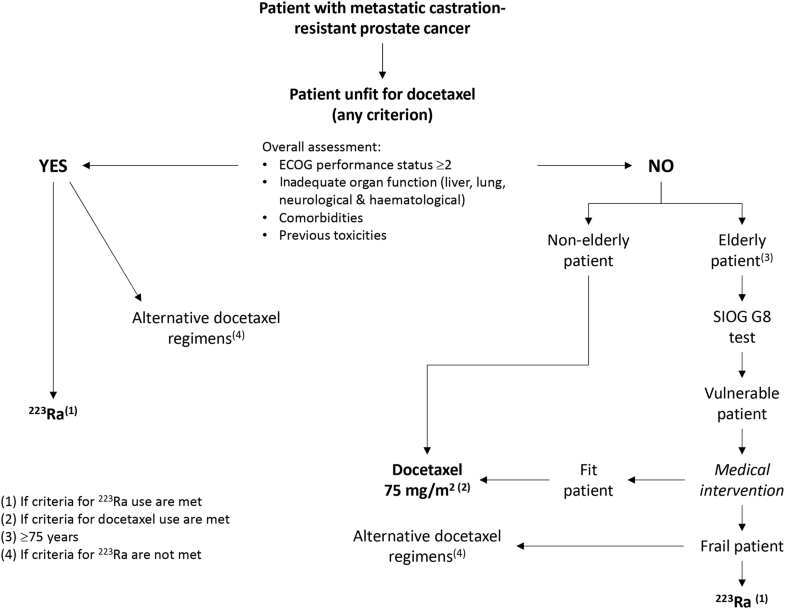 Alternative treatment regimens for unfit patients
Based on results published in 2004, docetaxel became the first agent to have an impact on the prognosis of castration-resistant prostate cancer, and thus the first standard of care in this clinical scenario [51, 52]. Nevertheless, the patients included in those publications do not represent "real-world" patients, because, as in any phase III study, only selected patients were assessed. The role of docetaxel in terms of safety and efficacy in unfit patients therefore cannot be deduced from the results obtained. There is very little information about this, and the publications available only analysed this scenario in elderly patients, because up to 75% of cancer patients aged 75 years or above are classed as unfit for docetaxel treatment [53].
Several clinical studies have suggested that weekly docetaxel regimens reduce the incidence of myelosuppression, so these might be more appropriate for frail patients [54, 55]. One article describes a multicentre, retrospective evaluation of 175 elderly men with castration-resistant prostate cancer treated with a standard regimen of docetaxel administered every 3 weeks, or an adapted regimen. In most cases, this was weekly and involved doses of 30–35 mg/m2 [56]. The study report does not say whether patients' general condition was taken into account when assigning the type of treatment regimen. However, patients treated with an adapted regimen had higher median age (> 80 years: 41.2% on adapted regimen versus 25.3% on standard regimen; p < 0.05), worse performance status (performance status > 2: 27.5% on adapted regimen versus 13.7% on standard regimen; p < 0.05) and reported a higher daily intake of analgesics (62.5% on adapted regimen versus 42.1% on standard regimen; p < 0.05) than those treated with the standard regimen. The occurrence of serious adverse events was found to be significantly correlated with worse performance status. There was more haematological toxicity on the standard regimen, with a higher rate of neutropenia and febrile neutropenia, whereas more fatigue occurred with the adapted regimen. There were no differences in prostate-specific antigen (PSA) levels between the two groups. The overall response rate showed no statistically significant differences between the standard regimen and the adapted regimen (40 versus 43%, respectively; p = 0.96).
The design and retrospective nature of this study make it difficult to draw conclusions. Based on its results, however, the authors recommended performing a geriatric evaluation and assessing adapted docetaxel regimens in unfit or frail patients.
A randomised phase II study prospectively evaluated the role of docetaxel every 3 weeks (cycle 1: 60 mg/m2; subsequent cycles: 70 mg/m2) or weekly (35 mg/m2 days 1 and 8 every 3 weeks) in elderly patients considered vulnerable or frail according to the SIOG classification [57, 58]. The trial included 66 patients at 21 sites. It was closed prematurely on the safety committee's recommendation because of an excess of deaths caused by toxicity in frail patients. The authors therefore concluded that neither treatment regimen is feasible in patients of this type. However, another study prospectively compared a regimen involving docetaxel 75 mg/m2 every 3 weeks against one consisting of docetaxel 50 mg/m2 on days 1 and 14 every 4 weeks in 360 patients with hormone-refractory prostate cancer [59]. Greater toxicity, mainly of a haematological nature, was observed on the 3-weekly regimen. It was concluded that the biweekly regimen is better tolerated and can be considered as an option for elderly patients too unfit or frail for the standard docetaxel regimen.
On the other hand, 223Ra has demonstrated an improvement in overall survival in patients unfit for docetaxel in a phase III study [HR 0.69 (95% CI 0.52–0.92)] showing a very good safety profile, with anaemia and thrombocytopenia as the main toxicities (14 and 6% of grade 3–4 events, respectively) [10, 60].
Based mainly on the absence of any firm recommendations for alternative docetaxel regimens, we recommend that the use of 223Ra be assessed as the first option for frail or unfit patients, provided they meet the criteria for receiving it. If they fail to meet those criteria, alternative docetaxel regimens should be assessed.
Conclusions
A patient with prostate cancer should be assessed for optimisation of the available treatments, especially chemotherapy. Given that health status affects not only the survival of these patients but also their tolerance of the treatments used, it is very important for this parameter to be assessed. While health status appears not to be affected by age, it is influenced by comorbidities. That means analysing comorbidities, nutritional status, and cognitive and physical functions.
Whereas docetaxel is suitable for fit and vulnerable patients, due to the absence of firm recommendations for alternative docetaxel regimens, we recommend that 223Ra be assessed as the first option in frail or unfit patients, provided they meet the criteria for receiving it. If they fail to meet those criteria, given the high probability of toxicity and the expected resultant lack of efficacy, we recommend that alternative docetaxel regimens should be assessed. The biweekly regimen is better tolerated and suitable for unfit or frail elderly patients.
Notes
Acknowledgements
The authors wish to thank Dr. Fernando Sánchez Barbero from HealthCo S.L. (Madrid, Spain) for his help in the preparation of the first draft of this manuscript. Bayer Spain provided comment on the first draft of this manuscript, but thereafter the authors made all the decisions about its contents.
Author contribution
All authors have participated in the analysis and interpretation of data, drafting of the first version of the manuscript, revising critically subsequent versions and approving the final version of the manuscript before submission.
Compliance with ethical standards
Conflict of interest
Urbano Anido-Herranz, Natalia Fernández-Nuñez, Lucía Santomé-Couto, Martín Lázaro-Quintela and Ovidio Fernandez-Calvo declare that they do not have any conflict of interest. Ana Medina-Colmenero and Sergio Vázquez-Estévez declare their participation in advisory boards of Bayer, Astellas, Janssen and Sanofi. Javier Afonso–Afonso declares his contribution to advisory boards of Janssen, Sanofi, Roche, Bristol-Myers Squibb and Merck Sharp & Dohme.
Ethical approval
The analysis in this article is based on previously conducted studies, and does not involve any new studies of human or animal subjects performed by any of the authors.
Informed consent
Informed consent was obtained from all participants.
Copyright information
© The Author(s) 2018
Open AccessThis article is distributed under the terms of the Creative Commons Attribution 4.0 International License (http://creativecommons.org/licenses/by/4.0/), which permits unrestricted use, distribution, and reproduction in any medium, provided you give appropriate credit to the original author(s) and the source, provide a link to the Creative Commons license, and indicate if changes were made.