Abstract
Esophageal squamous cell carcinoma (ESCC) is one of the most common malignant tumors with poor prognosis. Aryl hydrocarbon receptor (AHR) is a ligand-dependent transcription factor and emerging evidence shows it is associated with tumor initiation and promotion. However, the relationship between AHR and ESCC is not clear and it is meaningful to explore whether AHR could be a therapeutic target. In the present study, immunohistochemistry was performed to determine AHR expression levels in ESCC tissues. Knockdown of AHR expression in ESCC cell lines genetically and modulation of AHR by 3, 3′-diindolylmethane (DIM) pharmacologically both in vitro and in vivo were utilized to examine the corresponding alterations in cell growth, migration and invasion. Our study indicated that AHR expression levels were elevated in ESCC and associated with poor prognosis. Both knockdown and modulation of AHR inhibited tumor progression through down-regulating expression levels of PCNA, Bcl-2, Cyclin D1, MMP1, MMP2, MMP9 and up-regulating expression levels of Bax, Cleaved-Caspase 3. Our findings also indicated that repressing COX2/PGE2/STAT3 axis exerted inhibitory effects on ESCC both in vitro and in vivo assays. Taken together, AHR plays the key role in ESCC progression and targeting AHR as a therapeutic strategy with DIM is deserved for further exploration.
This is a preview of subscription content, log in to check access.
Access options
Buy single article
Instant unlimited access to the full article PDF.
US$ 39.95
Price includes VAT for USA
Subscribe to journal
Immediate online access to all issues from 2019. Subscription will auto renew annually.
US$ 99
This is the net price. Taxes to be calculated in checkout.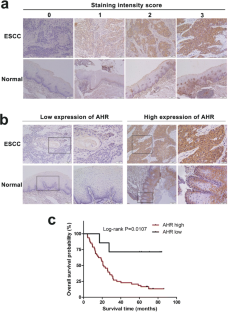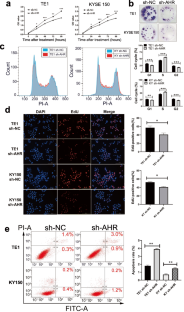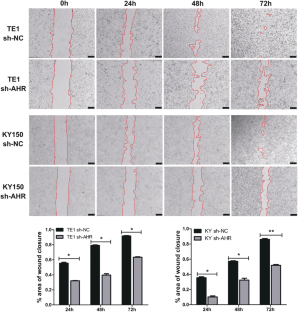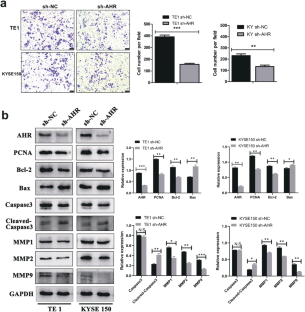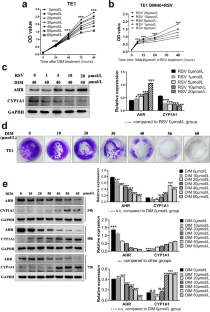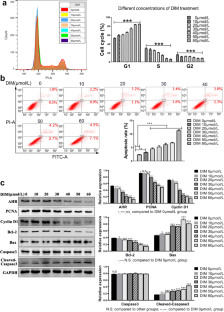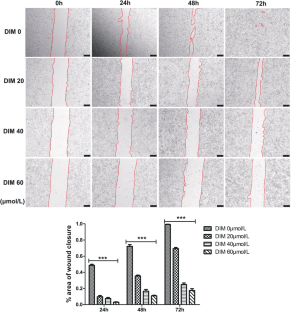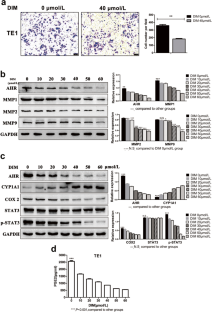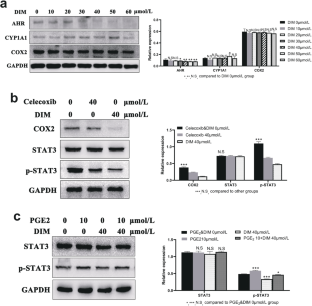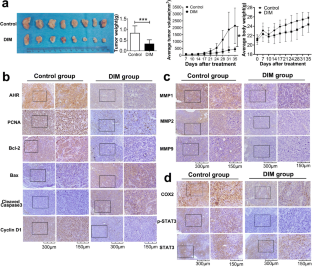 Abbreviations
AHR:

Aryl hydrocarbon receptor

COX2:

Cyclooxygenase 2

CYP1A1:

Cytochrome P450, family 1, member A1

DIM:

3, 3′-diindolylmethane

ESCC:

Esophageal squamous cell carcinoma

OD:

Optical density

OS:

Overall survival

PCNA:

Proliferating cell nuclear antigen

PGE2 :

Prostaglandin E2

RSV:

Resveratrol

STAT3:

Signal transducer and activator of transcription 3
References
Aggarwal BB, Ichikawa H (2005) Molecular targets and anticancer potential of indole-3-carbinol and its derivatives. Cell Cycle 4(9):1201–1215

Akutsu Y, Hanari N, Yusup G, Komatsu-Akimoto A, Ikeda N, Mori M, Yoneyama Y, Endo S, Miyazawa Y, Matsubara H (2011) COX2 expression predicts resistance to chemoradiotherapy in esophageal squamous cell carcinoma. Ann Surg Oncol 18(10):2946–2951

Barretina J, Caponigro G, Stransky N, Venkatesan K, Margolin AA, Kim S, Wilson CJ, Lehar J, Kryukov GV, Sonkin D, Reddy A, Liu M, Murray L, Berger MF, Monahan JE, Morais P, Meltzer J, Korejwa A, Jane-Valbuena J, Mapa FA, Thibault J, Bric-Furlong E, Raman P, Shipway A, Engels IH, Cheng J, Yu GK, Yu J, Aspesi P Jr, de Silva M, Jagtap K, Jones MD, Wang L, Hatton C, Palescandolo E, Gupta S, Mahan S, Sougnez C, Onofrio RC, Liefeld T, MacConaill L, Winckler W, Reich M, Li N, Mesirov JP, Gabriel SB, Getz G, Ardlie K, Chan V, Myer VE, Weber BL, Porter J, Warmuth M, Finan P, Harris JL, Meyerson M, Golub TR, Morrissey MP, Sellers WR, Schlegel R, Garraway LA (2012) The Cancer cell line encyclopedia enables predictive modelling of anticancer drug sensitivity. Nature 483(7391):603–607

Boffetta P, Mundt KA, Adami HO, Cole P, Mandel JS (2011) TCDD and cancer: a critical review of epidemiologic studies. Crit Rev Toxicol 41(7):622–636

Callero MA, Suarez GV, Luzzani G, Itkin B, Nguyen B, Loaiza-Perez AI (2012) Aryl hydrocarbon receptor activation by aminoflavone: new molecular target for renal cancer treatment. Int J Oncol 41(1):125–134

Carter BZ, Mak PY, Wang X, Tao W, Ruvolo V, Mak D, Mu H, Burks JK, Andreeff M (2019) An ARC-regulated IL1beta/cox-2/PGE2/beta-catenin/ARC circuit controls leukemia-microenvironment interactions and confers drug resistance in AML. Cancer Res 79(6):1165–1177

Cella M, Colonna M (2015) Aryl hydrocarbon receptor: linking environment to immunity. Semin Immunol 27(5):310–314

Contador-Troca M, Alvarez-Barrientos A, Barrasa E, Rico-Leo EM, Catalina-Fernandez I, Menacho-Marquez M, Bustelo XR, Garcia-Borron JC, Gomez-Duran A, Saenz-Santamaria J, Fernandez-Salguero PM (2013) The dioxin receptor has tumor suppressor activity in melanoma growth and metastasis. Carcinogenesis 34(12):2683–2693

Degner SC, Papoutsis AJ, Selmin O, Romagnolo DF (2009) Targeting of aryl hydrocarbon receptor-mediated activation of cyclooxygenase-2 expression by the indole-3-carbinol metabolite 3,3′-diindolylmethane in breast cancer cells. J Nutr 139(1):26–32

Garg R, Blando JM, Perez CJ, Lal P, Feldman MD, Smyth EM, Ricciotti E, Grosser T, Benavides F, Kazanietz MG (2018) COX-2 mediates pro-tumorigenic effects of PKCepsilon in prostate cancer. Oncogene 37(34):4735–4749

Goldberg AA, Titorenko VI, Beach A, Abdelbaqi K, Safe S, Sanderson JT (2014) Ring-substituted analogs of 3,3′-diindolylmethane (DIM) induce apoptosis and necrosis in androgen-dependent and -independent prostate cancer cells. Investig New Drugs 32(1):25–36

Greenhough A, Smartt HJ, Moore AE, Roberts HR, Williams AC, Paraskeva C, Kaidi A (2009) The COX-2/PGE2 pathway: key roles in the hallmarks of cancer and adaptation to the tumour microenvironment. Carcinogenesis 30(3):377–386

Hanieh H (2015) Aryl hydrocarbon receptor-microRNA-212/132 axis in human breast cancer suppresses metastasis by targeting SOX4. Mol Cancer 14:172

Huynh J, Chand A, Gough D, Ernst M (2019) Therapeutically exploiting STAT3 activity in cancer - using tissue repair as a road map. Nat Rev Cancer 19(2):82–96

Kolluri SK, Jin UH, Safe S (2017) Role of the aryl hydrocarbon receptor in carcinogenesis and potential as an anti-cancer drug target. Arch Toxicol 91(7):2497–2513

Li T, Gao D, Du M, Cheng X, Mao X (2018a) Casein glycomacropeptide hydrolysates inhibit PGE2 production and COX2 expression in LPS-stimulated RAW 264.7 macrophage cells via Akt mediated NF-kappaB and MAPK pathways. Food Funct 9(4):2524–2532

Li Y, Shi J, Qi S, Zhang J, Peng D, Chen Z, Wang G, Wang Z, Wang L (2018b) IL-33 facilitates proliferation of colorectal cancer dependent on COX2/PGE2. J Exp Clin Cancer Res 37(1):196

Lin Y, Totsuka Y, He Y, Kikuchi S, Qiao Y, Ueda J, Wei W, Inoue M, Tanaka H (2013) Epidemiology of esophageal cancer in Japan and China. J Epidemiol 23(4):233–242

Liu Y, Wang X, Zeng S, Zhang X, Zhao J, Zhang X, Chen X, Yang W, Yang Y, Dong Z, Zhu J, Xu X, Tian F (2018) The natural polyphenol curcumin induces apoptosis by suppressing STAT3 signaling in esophageal squamous cell carcinoma. J Exp Clin Cancer Res 37(1):303

Logsdon CD, Lu W (2016) The significance of Ras activity in pancreatic Cancer initiation. Int J Biol Sci 12(3):338–346

Miyashita M, Makino H, Katsuta M, Nomura T, Shinji S, Kashiwabara M, Takahashi K, Kudo M, Ishiwata T, Naito Z, Tajiri T (2006) Cyclo-oxygenase-2 over-expression is associated with human esophageal squamous cell carcinoma. J Nippon Med Sch 73(6):308–313

Murray IA, Patterson AD, Perdew GH (2014) Aryl hydrocarbon receptor ligands in cancer: friend and foe. Nat Rev Cancer 14(12):801–814

O'Donnell EF, Kopparapu PR, Koch DC, Jang HS, Phillips JL, Tanguay RL, Kerkvliet NI, Kolluri SK (2012) The aryl hydrocarbon receptor mediates leflunomide-induced growth inhibition of melanoma cells. PLoS One 7(7):e40926

Peng Y, Wang Y, Tang N, Sun D, Lan Y, Yu Z, Zhao X, Feng L, Zhang B, Jin L, Yu F, Ma X, Lv C (2018) Andrographolide inhibits breast cancer through suppressing COX-2 expression and angiogenesis via inactivation of p300 signaling and VEGF pathway. J Exp Clin Cancer Res 37(1):248

Pennathur A, Gibson MK, Jobe BA, Luketich JD (2013) Oesophageal carcinoma. Lancet 381(9864):400–412

Popolo A, Pinto A, Daglia M, Nabavi SF, Farooqi AA, Rastrelli L (2017) Two likely targets for the anti-cancer effect of indole derivatives from cruciferous vegetables: PI3K/Akt/mTOR signalling pathway and the aryl hydrocarbon receptor. Semin Cancer Biol 46:132–137

Roman AC, Carvajal-Gonzalez JM, Merino JM, Mulero-Navarro S, Fernandez-Salguero PM (2018) The aryl hydrocarbon receptor in the crossroad of signalling networks with therapeutic value. Pharmacol Ther 185:50–63

Rothhammer V, Quintana FJ (2019) The aryl hydrocarbon receptor: an environmental sensor integrating immune responses in health and disease. Nat Rev Immunol

Shimizu K, Okita R, Saisho S, Maeda AI, Nojima Y, Nakata M (2018) Impact of COX2 inhibitor for regulation of PD-L1 expression in non-small cell lung Cancer. Anticancer Res 38(8):4637–4644

Smith KJ, Murray IA, Tanos R, Tellew J, Boitano AE, Bisson WH, Kolluri SK, Cooke MP, Perdew GH (2011) Identification of a high-affinity ligand that exhibits complete aryl hydrocarbon receptor antagonism. J Pharmacol Exp Ther 338(1):318–327

Stanford EA, Ramirez-Cardenas A, Wang Z, Novikov O, Alamoud K, Koutrakis P, Mizgerd JP, Genco CA, Kukuruzinska M, Monti S, Bais MV, Sherr DH (2016) Role for the aryl hydrocarbon receptor and diverse ligands in Oral squamous cell carcinoma migration and tumorigenesis. Mol Cancer Res 14(8):696–706

Su HH, Lin HT, Suen JL, Sheu CC, Yokoyama KK, Huang SK, Cheng CM (2016) Aryl hydrocarbon receptor-ligand axis mediates pulmonary fibroblast migration and differentiation through increased arachidonic acid metabolism. Toxicology 370:116–126

Tong D, Liu Q, Liu G, Xu J, Lan W, Jiang Y, Xiao H, Zhang D, Jiang J (2017) Metformin inhibits castration-induced EMT in prostate cancer by repressing COX2/PGE2/STAT3 axis. Cancer Lett 389:23–32

Tu C, Huang X, Xiao Y, Song M, Ma Y, Yan J, You H, Wu H (2019) Schisandrin a inhibits the IL-1beta-induced inflammation and cartilage degradation via suppression of MAPK and NF-kappaB signal pathways in rat chondrocytes. Front Pharmacol 10:41

Vogel CF, Li W, Sciullo E, Newman J, Hammock B, Reader JR, Tuscano J, Matsumura F (2007) Pathogenesis of aryl hydrocarbon receptor-mediated development of lymphoma is associated with increased cyclooxygenase-2 expression. Am J Pathol 171(5):1538–1548

Wang CK, Chang H, Chen PH, Chang JT, Kuo YC, Ko JL, Lin P (2009) Aryl hydrocarbon receptor activation and overexpression upregulated fibroblast growth factor-9 in human lung adenocarcinomas. Int J Cancer 125(4):807–815

Wang Y, Zhou P, Qin S, Xu D, Liu Y, Fu W, Ruan B, Zhang L, Zhang Y, Wang X, Pan Y, Wang S, Yan H, Qin J, Wang X, Liu Q, Du Z, Liu Z, Wang Y (2018) The Curcumin analogs 2-Pyridyl Cyclohexanone induce apoptosis via inhibition of the JAK2-STAT3 pathway in human esophageal squamous cell carcinoma cells. Front Pharmacol 9:820

Wei Y, Zhao L, He W, Yang J, Geng C, Chen Y, Liu T, Chen H, Li Y (2016) Benzo[a]pyrene promotes gastric cancer cell proliferation and metastasis likely through the aryl hydrocarbon receptor and ERK-dependent induction of MMP9 and c-myc. Int J Oncol 49(5):2055–2063

Xi H, Baldus SE, Warnecke-Eberz U, Brabender J, Neiss S, Metzger R, Ling FC, Dienes HP, Bollschweiler E, Moenig S, Mueller RP, Hoelscher AH, Schneider PM (2005) High cyclooxygenase-2 expression following neoadjuvant radiochemotherapy is associated with minor histopathologic response and poor prognosis in esophageal cancer. Clin Cancer Res 11(23):8341–8347

Ye M, Zhang Y, Gao H, Xu Y, Jing P, Wu J, Zhang X, Xiong J, Dong C, Yao L, Zhang J, Zhang J (2018) Activation of the aryl hydrocarbon receptor leads to resistance to EGFR TKIs in non-small cell lung Cancer by activating Src-mediated bypass signaling. Clin Cancer Res 24(5):1227–1239

Yin XF, Chen J, Mao W, Wang YH, Chen MH (2012) A selective aryl hydrocarbon receptor modulator 3,3′-Diindolylmethane inhibits gastric cancer cell growth. J Exp Clin Cancer Res 31:46

Yoon MS, Nam TK, Lee JS, Cho SH, Song JY, Ahn SJ, Chung IJ, Jeong JU, Chung WK, Nah BS (2011) VEGF as a predictor for response to definitive chemoradiotherapy and COX-2 as a prognosticator for survival in esophageal squamous cell carcinoma. J Korean Med Sci 26(4):513–520

Zhang J, Zong H, Li S, Zhang D, Zhang L, Xia Q (2012) Activation of aryl hydrocarbon receptor suppresses invasion of esophageal squamous cell carcinoma cell lines. Tumori 98(1):152–157

Zhao C, Li H, Lin HJ, Yang S, Lin J, Liang G (2016) Feedback activation of STAT3 as a Cancer drug-resistance mechanism. Trends Pharmacol Sci 37(1):47–61

Zhou FF, Huang R, Jiang J, Zeng XH, Zou SQ (2018) Correlated non-nuclear COX2 and low HER2 expression confers a good prognosis in colorectal cancer. Saudi J Gastroenterol 24(5):301–306
Acknowledgments
This work was supported in part by a grant from Department of Education of Liaoning Province (LK201614). We thank the NHC Key Laboratory of Immunodermatology (China Medical University) for experiments carried out. We also thank Professor Ruiqun Qi for experimental instructions.
Ethics declarations
Conflict of interest
The authors declare that they have no conflicts of interests.
Ethical approval
All procedures performed in studies involving animals were in accordance with the ethical standards of the Animal Ethics and Experimental Committee of China Medical University (Approved number: 2018146).
Additional information
Publisher's note
Springer Nature remains neutral with regard to jurisdictional claims in published maps and institutional affiliations.
About this article
Cite this article
Zhu, P., Zhou, K., Lu, S. et al. Modulation of aryl hydrocarbon receptor inhibits esophageal squamous cell carcinoma progression by repressing COX2/PGE2/STAT3 axis. J. Cell Commun. Signal. (2020) doi:10.1007/s12079-019-00535-5
Received:

Accepted:

Published:
Keywords