Abstract
Endoscopic transnasal transsphenoidal (ETNTS) approach was first described in 1992 and is standard approach for the resection of benign pituitary adenomas. This prospective study aims in incidence and preoperative assessment of extent of the pituitary adenoma, peroperative findings of transnasal transsphenoidal excision, techniques of skull base repair, complications and its management in a tertiary centre. A prospective analysis from Jan 2017 to May 2019, of patients undergoing ETNTS approach of pituitary adenomas was made in terms of incidence in various age-groups, type of adenoma, operative findings including CSF leak, repair of the skull base defect, complications encountered and its management was done in a tertiary care centre and compared with the present literature. A total of 141 patients underwent ETNTS, with highest number of cases found in 41–50 years age-group with mean age of 42.6 years. Male: Female ratio was 1.6. Macroadenoma was in 123 patients while 18 had microadenoma, of these 63.74% were functional adenoma, highest of GH secreting, while 36.26% were non-functional. Mean surgical time was 98.4 min ± 21.2 min. Peroperative CSF leak was in 30.5% cases in various grades. Closure techniques included use of fat, multilayer techniques, Hadad's flap and gasket technique as per the type of CSF leak. Neurological and rhinological complications were 6.38% each. This study is focused on the ENT perspective of the endoscopic transnasal trans-sphenoidal approach for pituitary adenomas. The reduced rate of morbidity and complications is encouraging. The endoscopic skull base defect closure is challenging and requires skill, meticulous approach and synchronised team work in order to achieve a favourable outcome. The incidence of CSF leak can be minimised and if encountered has to be dealt in an organised manner, thus contributing to a reduced rate of complications. The complications encountered must be foreseen and managed with a proficient approach.
This is a preview of subscription content, log in to check access.
Access options
Buy single article
Instant access to the full article PDF.
US$ 39.95
Price includes VAT for USA
Subscribe to journal
Immediate online access to all issues from 2019. Subscription will auto renew annually.
US$ 99
This is the net price. Taxes to be calculated in checkout.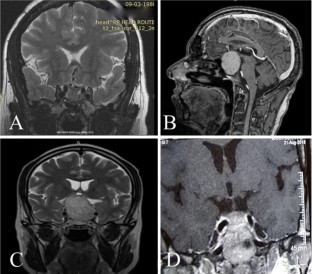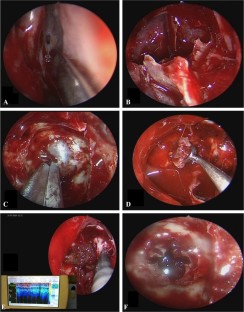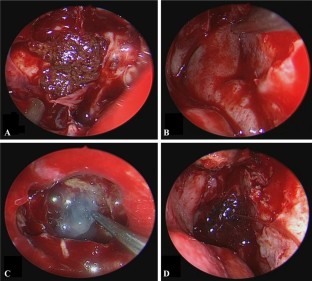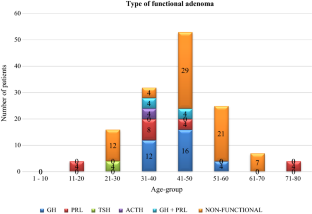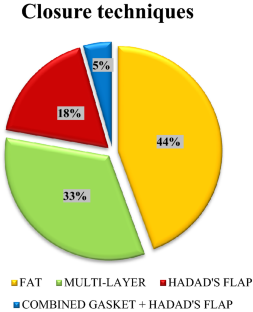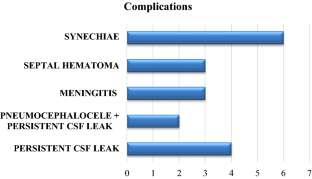 References
1.

Osamura RY, Kajiya H, Takei M, Egashira N, Tobita M, Takekoshi S et al (2008) Pathology of the human pituitary adenomas. Histochem Cell Biol 130(3):495–507

2.

Dworakowska D, Grossman AB (2009) The pathophysiology of pituitary adenomas. Best Pract Res Clin Endocrinol Metab 23(5):525–541

3.

Melmed S (2015) Pituitary tumors. Endocrinol Metab Clin North Am 44(1):1–9

4.

Larkin S, Ansorge O (2000) Pathology and pathogenesis of pituitary adenomas and other sellar lesions. In: Feingold KR, Anawalt B, Boyce A, Chrousos G, Dungan K, Grossman A, et al, (eds) Endotext [Internet]. South Dartmouth (MA): MDText.com, Inc.; 2000 [cited 2019 Jun 19]. Available from: http://www.ncbi.nlm.nih.gov/books/NBK425704/

5.

Mete O, Lopes MB (2017) Overview of the 2017 WHO classification of pituitary tumors. Endocr Pathol 28(3):228–243

6.

Endoscopic Cranial Base and Pituitary Surgery, An issue of otolaryngologic clinics of North America, Volume 49-1—1st edition sindwani/978-0-323-41763

7.

Watkinson JC, Clarke RW (eds) (2018) Scott-Brown's Otorhinolaryngology and Head and Neck Surgery, eighth edition: 3 volume set, 8th edn. CRC Press, Boca Raton, p 4356

8.

García-Garrigós E, Arenas-Jiménez JJ, Monjas-Cánovas I, Abarca-Olivas J, Cortés-Vela JJ, De La Hoz-Rosa J et al (2015) Transsphenoidal approach in endoscopic endonasal surgery for skull base lesions: what radiologists and surgeons need to know. Radiographics 35(4):1170–1185

9.

Masoudi MS, Owji SH (2019) A spectacular endoscopic anatomy of the pituitary gland and the circle of Willis in a living person. Iran J Med Sci 44(1):81–82

10.

Solari D, Villa A, De Angelis M, Esposito F, Cavallo LM, Cappabianca P (2012) Anatomy and surgery of the endoscopic endonasal approach to the skull base. Transl Med UniSa 18(2):36–46

11.

Zada G, Agarwalla PK, Mukundan S, Dunn I, Golby AJ, Laws ER (2011) The neurosurgical anatomy of the sphenoid sinus and sellar floor in endoscopic transsphenoidal surgery. J Neurosurg 114(5):1319–1330

12.

Tan SH, Brand Y, Prepageran N, Waran V (2015) Endoscopic transnasal approach to anterior and middle cranial base lesions. Neurol India 63(5):673

13.

Abergel A, Cavel O, Margalit N, Fliss DM, Gil Z (2012) Comparison of quality of life after transnasal endoscopic vs open skull base tumor resection. Arch Otolaryngol Head Neck Surg 138(2):142–147

14.

Molitch ME (2017) Diagnosis and treatment of pituitary adenomas: a review. JAMA 317(5):516–524

15.

Fan Y, Lv M, Feng S, Fan X, Hong H, Wen W et al (2014) Full endoscopic transsphenoidal surgery for pituitary adenoma-emphasized on surgical skill of otolaryngologist. Indian J Otolaryngol Head Neck Surg 66(Suppl 1):334–340

16.

Yadav Y, Sachdev S, Parihar V, Namdev H, Bhatele P (2012) Endoscopic endonasal trans-sphenoid surgery of pituitary adenoma. J Neurosci Rural Pract 3(3):328–337

17.

Nishioka H (2017) Recent evolution of endoscopic endonasal surgery for treatment of pituitary adenomas. Neurol Med Chir (Tokyo) 57(4):151–158

18.

Sharma BS, Sawarkar DP, Suri A (2016) Endoscopic pituitary surgery: techniques, tips and tricks, nuances, and complication avoidance. Neurol India 64(4):724–736

19.

Solari D, Cavallo LM, Cappabianca P (2014) Surgical approach to pituitary tumors. Handb Clin Neurol 124:291–301

20.

Zhan R, Xu G, Wiebe TM, Li X (2015) Surgical outcomes of the endoscopic transsphenoidal route to pituitary tumours in paediatric patients > 10 years of age: 5 years of experience at a single institute. Arch Dis Child 100(8):774–778

21.

Agam MS, Zada G (2018) Complications associated with transsphenoidal pituitary surgery: review of the literature. Neurosurgery 65(1):69–73

22.

Chowdhury T, Prabhakar H, Bithal PK, Schaller B, Dash HH (2014) Immediate postoperative complications in transsphenoidal pituitary surgery: a prospective study. Saudi J Anaesth 8(3):335–341

23.

Chi F, Wang Y, Lin Y, Ge J, Qiu Y, Guo L (2013) A learning curve of endoscopic transsphenoidal surgery for pituitary adenoma. J Craniofac Surg 24(6):2064–2067

24.

Theodros D, Patel M, Ruzevick J, Lim M, Bettegowda C (2015) Pituitary adenomas: historical perspective, surgical management and future directions. CNS Oncol 4(6):411–429

25.

Robins JMW, Alavi SA, Tyagi AK, Nix PA, Wilson TM, Phillips NI (2018) The learning curve for endoscopic trans-sphenoidal resection of pituitary macroadenomas: a single institution experience, Leeds, UK. Acta Neurochir (Wien) 160(1):39–47

26.

Edal AL, Skjödt K, Nepper-Rasmussen HJ (1997) SIPAP: a new MR classification for pituitary adenomas—suprasellar, infrasellar, parasellar, anterior and posterior. Acta Radiol 38(1):30–36

27.

Davis PC, Hoffman JC, Spencer T, Tindall GT, Braun IF (1987) MR imaging of pituitary adenoma: CT, clinical, and surgical correlation. AJR Am J Roentgenol 148(4):797–802

28.

Zaidi HA, Cote DJ, Laws ER (2016) Current imaging techniques for the diagnosis of pituitary adenoma. Expert Rev Endocrinol Metab 11(2):163–170

29.

Park JH, Choi JH, Kim YI, Kim SW, Hong YK (2015) Modified graded repair of cerebrospinal fluid leaks in endoscopic endonasal transsphenoidal surgery. J Korean Neurosurg Soc 58(1):36–42. https://doi.org/10.3340/jkns.2015.58.1.36

30.

Kessler RA, Garzon-Muvdi T, Kim E, Ramanathan M, Lim M (2019) Utilization of the nasoseptal flap for repair of cerebrospinal fluid leak after endoscopic endonasal approach for resection of pituitary tumors. Brain Tumor Res Treat 7(1):10–15

31.

Hadad G, Bassagasteguy L, Carrau RL, Mataza JC, Kassam A, Snyderman CH et al (2006) A novel reconstructive technique after endoscopic expanded endonasal approaches: vascular pedicle nasoseptal flap. Laryngoscope 116(10):1882–1886

32.

Jalessi M, Sharifi G (2012) Sellar repair in endoscopic endonasal transsphenoidal surgery for pituitary adenoma: a report of 240 cases. J Inj Violence Res [Internet]. 2012 Nov [cited 2019 Jun 19];4(3 Suppl 1). Available from: https://www.ncbi.nlm.nih.gov/pmc/articles/PMC3571594/

33.

Gandham EJ, Sundaresan R, Thomas R, Chacko AG (2017) A novel nasoseptal flap harvesting technique in revision expanded endoscopic transsphenoidal approaches. Neurol India 65(1):129–133

34.

Thomas R, Chacko AG (2016) Principles in skull base reconstruction following expanded endoscopic approaches. J Neurol Surg Part B Skull Base 77(4):358–363

35.

Askitis D, Tsitlakidis D, Müller N, Waschke A, Wolf G, Müller UA et al (2018) Complete evaluation of pituitary tumours in a single tertiary care institution. Endocrine 60(2):255–262

36.

Druce I, Sharples E, Liu D, Arnaout A, Keely E, Malcolm J (2014) Assessment of care of patients with pituitary adenoma at one canadian tertiary care centre. Can J Diabetes 38(5):S3

37.

Bokhari AR, Davies MA, Diamond T (2013) Endoscopic transsphenoidal pituitary surgery: a single surgeon experience and the learning curve. Br J Neurosurg 27(1):44–49

38.

Agam MS, Wedemeyer MA, Wrobel B, Weiss MH, Carmichael JD, Zada G (2018) Complications associated with microscopic and endoscopic transsphenoidal pituitary surgery: experience of 1153 consecutive cases treated at a single tertiary care pituitary center. J Neurosurg 1:1–8

39.

Singh H, Essayed WI, Cohen-Gadol A, Zada G, Schwartz TH (2016) Resection of pituitary tumors: endoscopic versus microscopic. J Neurooncol 130(2):309–317

40.

Dixit S, Samanta N, Saha SK, Roy K, Ghosh P, Bachchan A (2019) A study assessing the outcome of endoscopic endonasal transsphenoidal excision of pituitary adenoma at a tertiary care institutions: an Initial experience of 30 cases. Asian J Med Sci. 10(1):53–60

41.

Jones M, Johans S, Ziegler A, Welch KC, Patadia MO, Patel CR et al (2016) Outcomes of patients undergoing endoscopic endonasal skull base surgery at a VA Hospital. JAMA Surg 151(12):1186–1187

42.

Conger A, Zhao F, Wang X, Eisenberg A, Griffiths C, Esposito F et al (2018) Evolution of the graded repair of CSF leaks and skull base defects in endonasal endoscopic tumor surgery: trends in repair failure and meningitis rates in 509 patients. J Neurosurg 130(3):861–875
Acknowledgements
We would like to oblige for the support provided by the Department of Neurosurgery and the Department of Anaesthesia, Army Hospital (R&R), Delhi Cantt in conducting this study.
Ethics declarations
Conflict of interest
None declared.
Ethical Approval
This study was approved by the Institutional Ethics Committee.
Additional information
Publisher's Note
Springer Nature remains neutral with regard to jurisdictional claims in published maps and institutional affiliations.
About this article
Cite this article
Chandankhede, V.A., Singh, S.K., Roy, R. et al. Transnasal Transsphenoidal Approach for Pituitary Tumors: An ENT Perspective. Indian J Otolaryngol Head Neck Surg (2020). https://doi.org/10.1007/s12070-020-01803-2
Received:

Accepted:

Published:
Keywords
Pituitary adenoma

Transnasal transsphenoidal approach

Postoperative complications