Abstract
After cardiopulmonary bypass surgery, the incidence of immunoglobulin antibody (IgG)-mediated heparin-induced thrombocytopenia (HITS) reported in various studies ranges between 1 and 3% as reported by (Anna et al. in Int J Cardiol. 144:405-7, 2010). We report two patients who underwent off-pump coronary artery grafting and developed severe HITS, leading to catastrophic and rare thrombotic complications.
This is a preview of subscription content, log in to check access.
Access options
Buy single article
Instant unlimited access to the full article PDF.
US$ 39.95
Price includes VAT for USA
Subscribe to journal
Immediate online access to all issues from 2019. Subscription will auto renew annually.
US$ 99
This is the net price. Taxes to be calculated in checkout.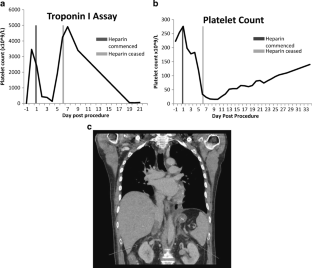 References
1.

Anna N, Boyan T, Kader MA, Catherine M, Matthias K. The HIT treatment in a cardiac surgery patient. Int J Cardiol. 2010;144:405–7.

2.

Warkentin TE, Greinacher A. Heparin-induced thrombocytopenia and cardiac surgery. Ann Thorac Surg. 2003;76:2121–31.

3.

Walls JT, Curtis JJ, Silver D, Boley TM, Schmaltz RA, Nawarawong W. Heparin-induced thrombocytopenia in open heart surgical patients: sequelae of late recognition. Ann Thorac Surg. 1992;53:787–91.

4.

Cuker A, Arepally GM, Chong BH, et al. American Society of Hematology 2018 guidelines for management of venous thromboembolism: heparin-induced thrombocytopenia. Blood Adv. 2018;2:3360–3392.

5.

Lo GK, Juhl D, Warkentin TE, Singouin CS, Eichler P, Greinacher A. Evaluation of present clinical score (4T's) for the diagnosis of heparin-induced thrombocytopenia in two clinical settings. J Thromb Haemost. 2006;4:759–65.

6.

Joseph WS. Heparin-induced thrombocytopenia. Semin Cardiothorac Vasc Anaesth. 2010;14:73–4.

7.

Ahmed I, Majeed A, Powell R. Heparin induced thrombocytopenia, diagnosis and management update. Postgrad Med J. 2007;83:575–582.
Ethics declarations
Ethical approval
No need of ethical approval.
Conflict of interest
The authors declare that they have no conflict of interest.
Research involving human participants
Yes
Informed consent
Taken prior to surgery regarding research use of patient data.
Additional information
Publisher's note
Springer Nature remains neutral with regard to jurisdictional claims in published maps and institutional affiliations.
About this article
Cite this article
Rathore, K., Boon, E., Wilson, A. et al. Two cases of heparin-induced thrombocytopenia after off-pump coronary artery bypass surgery. Indian J Thorac Cardiovasc Surg (2020) doi:10.1007/s12055-019-00892-1
Received:

Revised:

Accepted:

Published:
Keywords
Thrombus

Acute limb ischemia

Troponin

Angina