Coexistence of inclusion lung with hydatid invasion: a rare case report
A 46-year-old female visited cardiac OPD with high-grade fever for 1 week associated with breathlessness, pedal edema, facial puffiness, and cough without expectoration. The chest X-ray had showed a large cystic mass in the posterior mediastinum (Fig.
1
). She was found to be euglycemic and normotensive, and in a hypothyroid stage. CT brain and CT abdomen were within normal limits. CT chest/thorax showed query encysted pleural effusion, a probable hydatid cyst. Two-dimensional echocardiography was carried out in view of the breathlessness and pedal edema. This showed dilated cardiomyopathy with LV EF of 38% and global hypokinesia. The investigation was query encysted pleural collection at right mid zone with bilateral pleural effusion.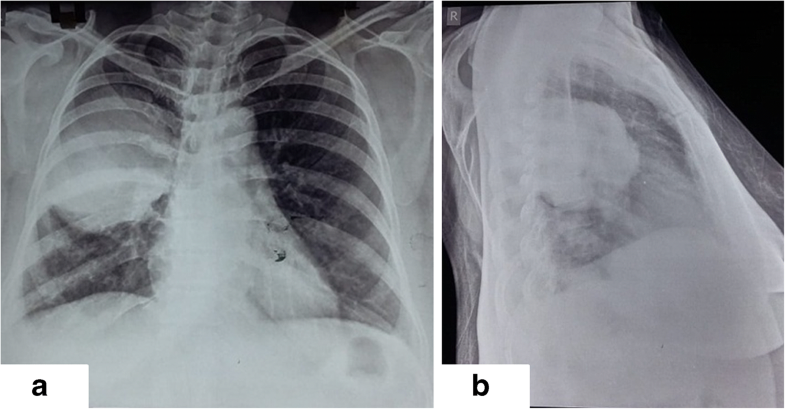 Notes
Acknowledgements
The authors acknowledge the multidisciplinary cardiac team and management of Dr. K.M. Cherian's Frontier Lifeline Hospital for their valuable input and support.
Compliance with ethical standards
Conflict of interest
The authors declare that they have no conflict of interest.
Consent
Written informed consent was obtained from the patient.
Copyright information
© Indian Association of Cardiovascular-Thoracic Surgeons 2018