Abstract
Late leaf spot (LLS) is the major foliar disease, which often occur with rust and cause severe yield losses worldwide in peanut (Arachis hypogaea L.). In order to map and introgress the resistance alleles for LLS into an elite cultivar ICGS 76, the advanced backcross approach was used for identification of quantitative trait locus (QTL). The synthetic amphidiploid ISATGR 278–18 (A. duranensis ICG 8138 × A. batizocoi ICG 13160) which is known to harbor resistance alleles for foliar diseases was used as donor parent to generate AB-QTL population comprising of 164 introgression lines (ILs). A linkage map with 114 microsatellite markers was developed spanning 746.15 cM distance with an average inter-marker distance of 6.55 cM. QTL analysis yielded 14 main-effect QTLs (mQTLs) (explaining up to 38.58% PVE) for LLS and 10 mQTLs (up to 10.99% PVE) for rust. In addition, four epistatic QTLs (eQTLs) (explaining up to 4.97% PVE) were observed for foliar diseases. Furthermore, seven mQTLs and 16 eQTLs were observed for agronomic traits. Several ILs showed high resistance to LLS with agronomic attributes from recurrent parent. This study reports the utilization of the untapped resistance source for LLS from A. batizocoi that was not extensively used earlier in peanut crop improvement.
This is a preview of subscription content, log in to check access.
Access options
Buy single article
Instant access to the full article PDF.
US$ 39.95
Price includes VAT for USA
Subscribe to journal
Immediate online access to all issues from 2019. Subscription will auto renew annually.
US$ 99
This is the net price. Taxes to be calculated in checkout.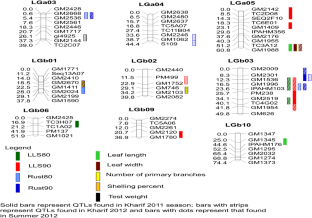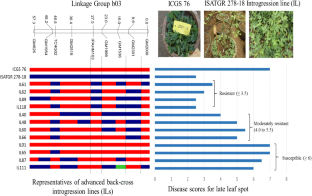 Abbreviations
QTL:

Quantitative trait loci

ILs:

Introgression lines

PLHT:

Plant height

LL:

leaf length

LW:

leaf width

NOPB:

number of primary branches

NOSB:

number of secondary branches

SP:

shelling percent

TPW:

total pod weight

TW:

test weight

Rust80:

rust scored after 80 days after sowing

Rust90:

rust scored 90 days after sowing

LLS80:

late leaf spot scored 80 days after sowing

LLS90:

late leaf spot scored 90 days after sowing

PCV:

Phenotypic coefficient of variance,

GCV:

Genotypic coefficient of variance

h2bs. %:

Broad sense heritability

GAM:

Genetic advance over mean

AB-QTL:

Advanced backcross quantitative trait loci

PVE%:

phenotypic variance explained in percent

DAS:

days after sowing

Kharif:

seasons are rainy seasons

Summer:

is post-rainy season
References
Alpert KB, Tanksley SD (1996) High-resolution mapping and isolation of a yeast artificial chromosome contig containing fw2.2: a major fruit weight quantitative trait locus in tomato. Proc Natl Acad Sci 93:15503–15507

Bertioli DJ, Ozias-Akins P, Chu Y, Dantas KM, Santos SP et al (2014) The use of SNP markers for linkage mapping in diploid and tetraploid peanuts. G3 4:89-96

Buerstmayr M, Lemmens M, Steiner B, Buerstmayr H (2011) Advanced backcross QTL mapping of resistance to Fusarium head blight and plant morphological traits in a Triticummacha × T. aestivum population. Theor Appl Genet 123(2):293–306

Burow MD, Simpson CE, Starr JL, Paterson AH (2001) Transmission genetics of chromatin from a synthetic amphidiploid to cultivated peanut (Arachishypogaea L.): broadening the gene pool of a monophyletic polyploid species. Genetics 159:823–837

Collard BCY, Jahufer MZZ, Brouwer JB, Pang ECK (2005) An introduction to markers, quantitative trait loci (QTL) mappingand marker-assisted selection for crop improvement: the basic concepts. Euphytica 142:169–196

Dwivedi SL, Nigam SN, Subrahmanyam P, Jambunathan R, Nagabhushanam GVS, Reddy PM, Raghunath K, McDonald D (1993) Effect of foliar diseases control by chlorothalonil on pod yield and quality characteristics of confectionery groundnuts (Arachis hypogaea L.). J Sci Food Agric 63:265–271

Dwivedi SL, Pande S, Rao JN, Nigam SN (2002) Components of resistance to late leaf spot and rust among interspecific derivatives and their significance in a foliar disease resistance breeding in groundnut (Arachis hypogaea L.). Euphytica 125:81–88

Favero AP, Simpson CE, Valls JF, Vello NA (2006) Study of the evolution of cultivated peanut through crossability studies among Arachisipaensis, A. duranensis, and A. hypogaea. Crop Sci 46(4):1546–1552

Fonceka D, Hodo-Abalo T, Rivallan R, Faye I, Sall MN et al (2009) Genetic mapping of wild introgressions into cultivated peanut: a way toward enlarging the genetic basis of a recent allotetraploid. BMC Plant Biol 9:103

Fonceka D, Hodo-Abalo T, Rivallan R, Helene V, Faye I et al (2012a) Fostered and left behind alleles in peanut: interspecific QTL mapping reveals footprints of domestication and useful natural variation for breeding. BMC Plant Biol 12:26

Fonceka D, Hodo Abalo T, Rivallan R, Helene V, Lacut E, de Bellis F et al (2012b) Construction of chromosome segment substitution lines in peanut (Arachis hypogaea L.): using a wild synthetic and QTL mapping for plant morphology. PLoS One 7:11

Fridman E, Carrari F, Liu YS, Fernie AR, Zamir D (2004) Zooming in on a quantitative trait for tomato yield using interspecific introgressions. Science 305:1786–1789

Garcia GM, Stalker HT, Shroeder E, Kochert GA (1996) Identification of RAPD, SCAR and RFLP markers tightly linked to nematode resistance genes introgressed from ArachiscardenasiitoA. hypogaea. Genome 39:836–845

He GH, Meng R, Gao H, Guo B, Gao G et al (2005) Simple sequence repeat markers for botanical varieties of cultivated peanut (Arachis hypogaea L.). Euphytica 142:131–136

Holbrook CC, Stalker HT (2010) Peanut breeding and genetic resources. In: Plant Breeding Reviews. Ed. Janick, J., John, Wiley. and Sons, Inc. 297–356

Holbrook CC, Timper P, Culbreath AK, Kvien CK (2008) Registration of 'Tifguard' peanut. J Plant Reg 2:92–94

Hong Y, Chen X, Liang X, Liu H, Zhou G et al (2010) A SSR-based composite genetic linkage map for the cultivated peanut (Arachis hypogaea L.) genome. BMC Plant Biol 10:17

Hopkins MS, Casa AM, Wang T, Mitchell SE, Dean RE, Kochert GD, Kresovich S (1999) Discovery and characterization of polymorphic simple sequence repeats (SSRs) in peanut. Crop Sci 39:1243–1247

Khedikar YP, Gowda MVC, Sarvamangala C, Patagar KV, Upadhyaya HD, Varshney RK (2010) A QTL study on late leaf spot and rust revealed one major QTL for molecular breeding for rust resistance in groundnut (Arachishypogaea L.). Theor Appl Genet 121:971–984

Kochert G, Stalker HT, Gimenes MA, Galgaro ML, Lopes CR, Moore K (1996) RFLP and cytogenetic evidence on the origin and evolution of allotetraploid domesticated peanut, Arachis hypogaea (Leguminosae). Am J Bot 83:1282–1291

Kosambi DD (1944) The estimation of map distances from recombination values. Ann Eugenics 12:172–175

Kumari V, Gowda MVC, Tasiwal V, Pandey MK, Bhat RS (2014) Diversification of primary gene pool through introgression of resistance to foliar diseases from synthetic amphidiploids to cultivated groundnut (Arachishypogaea L.). Crop J 2(2&3):110–119

Leal-Bertioli S, Jose AC, Alves-Freitas D, Moretzsohn M, Guimaraes P et al (2009) Identification of candidate genome regions controlling disease resistance in Arachis. BMC Plant Biol 9:112

Leal-Bertioli SC, Cavalcante U, Gouvea EG, Ballén-Taborda C, Shirasawa K et al (2015a) Identification of QTLs for rust resistance in the Peanut wild species Arachis magna and the development of KASP markers for marker-assisted Selection. G3: Genes, Genomes, Genetics 5(7):1403–1413

Leal-Bertioli SC, Santos SP, Dantas KM, Inglis PW, Nielen S et al (2015b) Arachis batizocoi: a study of its relationship to cultivated peanut (A. hypogaea) and its potential for introgression of wild genes into the peanut crop using induced allotetraploids. Ann Bot 115(2):237–249

Liu SB, Zhou RH, Dong YC, Li P, Jia JZ (2006) Development utilization of introgression lines using a synthetic wheat as donor. Theor Appl Genet 112:1360–1373

Mace ES, Buhariwalla HK, Crouch JH (2003) A high-throughput DNA extraction protocol for tropical molecular breeding programs. Plant Mol Biol Report 21:459a–4459a

Mallikarjuna N, Deepak RJ, Reddy K, Husain F, Das K (2012) Screening new Arachis amphidiploids, and autotetraploids for resistance to late leaf spot by detached leaf technique. Eur J Plant Pathol 132:17–21

Nagy E, Guo S, Khanal S, Taylor C, Ozias-Akins P, Stalker HT, Nielsen N (2010) Developing a high density molecular map of the A-genome species A. duranensis. Proc: American Peanut Research and Education Society (APRES), 12–15th July; Florida, USA

Pande S, Rao JN (2001) Resistance of wild Arachis species to late leaf spot and rust in greenhouse trials. Plant Dis 85:851–855

Pandey MK, Gautami B, Jayakumar T, Sriswathi M, Upadhyaya HD et al (2012) Highly informative genic and genomic SSR markers to facilitate molecular breeding in cultivated groundnut (Arachishypogaea). Plant Breed 131:139–147

Pandey MK, Upadhyaya HD, Rathore A, Vadez V, Sheshshayee MS (2014) Genomewide association studies for 50 agronomic traits in Peanut using the 'reference set' comprising 300 genotypes from 48 countries of the semi-arid tropics of the world. PLoS One 9(8):e105228. https://doi.org/10.1371/journal.pone.0105228

Paterson AH (2002) What has QTL mapping taught us about plant domestication. New Phytol 154:591–608

Ravi K, Vadez V, Isobe S, Mir RR, Guo Y et al (2011) Identification of several small main-effect QTLs and a largenumber of epistatic QTLs for drought tolerance related traits in groundnut (ArachishypogaeaL.). Theor Appl Genet 122(6):1119–1132

Robledo G, Seijo G (2010) Species relationships among the wild B genome of Arachis species (section Arachis) based on FISH mapping of rDNA loci and heterochromatin detection: a new proposal for genome arrangement. Theor Appl Genet 121:1033–1046

Sarvamangala, C (2009) Construction of genetic linkage map and QTL analysis for foliar disease resistance, nutritional quality and productivity traits in groundnut (Arachis hypogaea L.). Ph.D. Thesis, University of Agricultural Sciences Dharwad (India)

Sarvamangala C, Gowda MVC, Varshney RK (2011) Identification of quantitative trait loci for protein content, oil content and oil quality for groundnut (Arachis hypogaea L.). Field Crop Res 122:49–59

SAS Institute. (2008). SAS/ STAT® User's guide, version 9.3. SAS Institute Inc. Cary, NC

Schmalenbach I, Leon J, Pillen K (2009) Identification and verification of QTLs for agronomic traits using wild barley introgression lines. Theor Appl Genet 118:483–497

Selvaraj MG, Narayana M, Schubert AM, Ayers JL, Baring MR, Burow MD (2009) Identification of QTLs for pod and kernel traits in cultivated peanut by bulked segregant analysis. Electron J Biotechnol 12:2

Shirasawa K, Bertiol DJ, Moretzsohn MC, Leal-Bertioli SCM, Varshney RK et al (2013) An integrated consensus map of cultivated peanut and wild relatives reveals structures of the A and B genomes of Arachis and divergences with other legume genomes. DNA Res 20:173–184

Simpson CE (2001) Use of wild Arachis species/introgression of genes into A. hypogaea L. Peanut Sci 28:114–117

Simpson CE, Starr JL (2001) Registration of "COAN" Peanut. Crop Sci 41:918

Simpson CE, Starr JL, Nelson SC, Woodard KE, Smith OD (1993) Registration of TxAG-6 and TxAG-7 peanut germplasm. Crop Sci 33:1418

Simpson CE, Starr JL, Church GT, Burrow MD, Paterson AH (2003) Registration of NemaTAM Peanut. Crop Sci 43:1561

Stalker HT (1984) Utilizing Arachis cardenasii as a source of cercospora leaf spot resistance for peanut improvement. Euphytica 33:529–538

Subbarao PV, Subrahmaniyam P, Reddy PM (1990) A modified nine point disease scale for assessment of rust and late leaf spot of groundnut. Paper presented at 2nd international congress of French Phyto pathological society, Montpellier, France, 28-30 November 1990

Subramanyam P, Williams JH, McDonald D, Gibbons RW (1984) The influence of foliar diseases and their control by selective fungicides on a range of groundnut (Arachis hypogaea L.) genotypes. Ann Appl Biol 104:467–476

Sujay V, Gowda MVC, Pandey MK, Bhat RS, Khedikar YP et al (2012) Quantitative trait locus analysis and construction of consensus genetic map for foliar disease resistance based on two recombinant inbred line populations in cultivated groundnut (Arachis hypogaea L.). Mol Breed 30:773–788

Swamy BPM, Sarla N (2008) Yield-enhancing quantitative trait loci (QTLs) from wild species. Biotechnol Adv 26:106–120

Tanksley SD, McCouch SR (1997) Seed banks and molecular maps: unlocking genetic potential from the wild. Sci 277:1063–1066

Tanksley SD, Grandillo S, Fulton TM, Zamir D, Eshed Y, Petiard V, Lopez J, Beck-Bunn T (1996) Advanced backcross QTL analysis in a cross between anelite processing line of tomato and its wild relative L. pimpinellifolium. Theor Appl Genet 92:213–224

Van Berloo R (2008) GGT 2.0: versatile software for visualization and analysis of genetic data. J Hered 99(2):232–236

Van Ooijen JW (2006) Joinmap®4.0, software for the calculation of genetic linkage maps in experimental populations. Kyazma B V, Wageningen

Varshney RK, Bertioli DJ, Moretzsohn MC, Vadez V, Krishnamurty L et al (2009) The first SSR based genetic linkage map for cultivated groundnut (Arachis hypogaea L.). Theor Appl Genet 118:729–739

Varshney RK, Pandey MK, Janila P, Nigam SN, Sudini H et al (2014) Marker-assisted introgression of a QTL region to improve rustresistance in three elite and popular varieties of peanut (ArachishypogaeaL.). Theor Appl Genet. https://doi.org/10.1007/s00122-014-2338-3

Von Korff M, Wang H, Léon J, Pillen K (2005) AB-QTL analysis in spring barley. I. Detection of resistance genes against powdery mildew, leaf rust and scald introgressed from wild barley. Theor Appl Genet 111(3):583–590

Voorrips RE (2006) Map chart 2.2: software for the graphical presentation of linkage maps and QTLs. Plant research international, Wageningen

Wang L, Yan YS, Liao B, Lin XD, Huang SZ (2005) The cDNA cloning of conarachin gene and its expression in developing peanut seeds. J Plant Physiol Mol Biol 31(1):107–110

Wang S, Basten CJ, and Zeng ZB (2007) Windows QTL cartographer 2.5. http://statgen.ncsu.edu/qtlcart/WQTLCart.htm

Yu SB, Li JX, Xu CG, Tan YF, Gao YJ et al (1997) Importance of epistasis as the genetic basis of heterosis in an elite rice hybrid. Proc Natl Acad Sci U S A 94:9226–9231

Zeng ZB (1994) Precision mapping of quantitative trait loci. Genetics 136:1457–1468
Additional information
Publisher's Note
Springer Nature remains neutral with regard to jurisdictional claims in published maps and institutional affiliations.
Communicated by: Elliosha Hajari
Electronic supplementary material
About this article
Cite this article
Kumari, V., Gowda, M.V.C. & Yeri, S.B. Utilization of Advanced Backcross Population Derived from Synthetic Amphidiploid for Dissecting Resistance to Late Leaf Spot in Peanut (Arachis hypogaea L.). Tropical Plant Biol. 13, 50–61 (2020). https://doi.org/10.1007/s12042-019-09246-y
Received:

Accepted:

Published:

Issue Date:
Keywords
Advanced backcross

Genetic linkage map

Peanut

Synthetic amphidiploids

QTL