Abstract
A set of 24 genotypes were studied for 17 grain quality characters and validated with the reported associated rice microsatellite markers with grain quality characters. Using 23 polymorphic markers distributed across 11 chromosomes marker-trait associations were studied. The percentage of polymorphism information content (PIC) of the markers ranged between 54.0 and 86.7. Eight markers with >80% and seven markers with >70% of PIC were found to be efficient in differentiating the studied grain quality characters. A total of 37 significant marker-trait associations (P ≤ 0.09) were found with R2 ranging from 4.70% to 43.80%. Eight markers a (RM246, RM11, RM241, RM16427, RM421, RM3, RM234 and RM257) showed association with more than one character suggesting their utility for the selection for grain quality characters which can be deployed in the rice crop improvement programmes.
This is a preview of subscription content, log in to check access.
Access options
Buy single article
Instant unlimited access to the full article PDF.
US$ 39.95
Price includes VAT for USA
Subscribe to journal
Immediate online access to all issues from 2019. Subscription will auto renew annually.
US$ 99
This is the net price. Taxes to be calculated in checkout.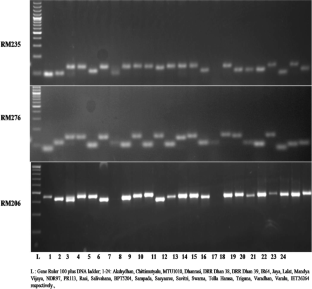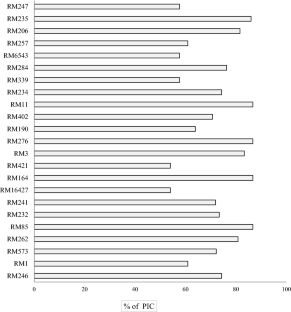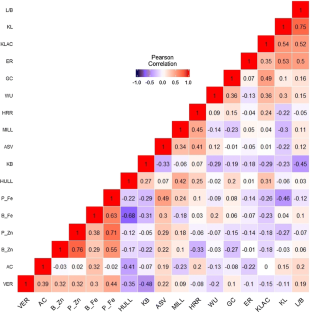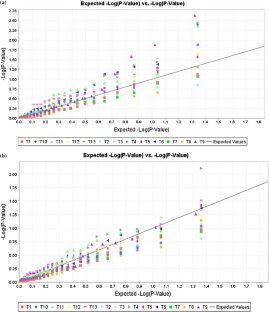 References
Akinwale M. G., Gregorio G., Nwilene F., Akinyele B. O., Ogunbayo S. A. and Odiyi A. C. 2011 Heritability and correlation coefficient analysis for yield and its components in rice (Oryza sativa L). Afr. J. Plant Sci. 5, 207–212.

Bai X. F., Luo L. J., Yan W. H., Kovi M. R., Zhan W. and Xing Y. Z. 2010 Genetic dissection of rice grain shape using a recombinant inbred line population derived from two contrasting parents and fine mapping a pleiotropic quantitative trait locus qGL7. BMC Genet. 11, 16.

Balaji Suresh P., Srikanth B., Hemanth Kishore V., SubhakaraRao I., Vemireddy L. N. and Dharika N. 2012 Fine mapping of Rf3 and Rf4 fertility restorer loci of WA-CMS of rice (Oryza sativa L.) and validation of the developed marker system for identification of restorer lines. Euphytica 187, 421–435.

Ban T. 1971 Rice cracking in high rate drying. Jpn. Agr. Res. Q. 6, 113–116.

Bautista R. C., Siebenmorgen T. J. and Cnossen A. G. 2000 Fissure formation characterization in rice kernels using video microscopy. In Proceedings of the 2000 international drying symposium. Noordwijkerhout, The Netherlands.

Blair M. W. and McCouch S. R. 1997 Microsatellite and sequenced tagged site markers diagnostic for the rice bacterial leaf blight resistance gene xa-5. Theor. Appl. Genet. 95, 174–184.

Boualaphanh C., Calingaciona M., Cuevasa R. P., Jothityangkoonb D., Sanitchonb J. and Fitzgeralda M. 2011 Yield and quality of traditional and improved Lao varieties of rice. Sci. Asia 37, 89–97.

Bouis H. E. and Welch R. M. 2010 Biofortification is a sustainable agricultural strategy for reducing micronutrient malnutrition in the global south. Crop Sci. 50, S20–S32.

Bradbury P. J., Zhang Z., Kroon D. E., Casstevens T. M., Ramdoss Y. and Buckler E. S. 2007 Tassel:software for association mapping of complex traits in diverse samples. Bioinformatics 23, 2633–2635.

Cagampang G. B., Perez C. M. and Juliano B. O. 1973 A gel consistency test for eating quality in rice. J. Sci. Food Agric. 24, 1589–1594.

Cnossen A. G. and Siebenmorgen T. J. 2000 The glass transition temperature concept in rice drying and tempering effect on milling quality. Trans. ASAE 23, 1661–1667.

Enoki H., Sato H. and Koinuma K. 2002 SSR analysis of genetic diversity among maize inbred lines adapted to cold regions of Japan. Theor. Appl. Genet. 104, 1270–1277.

Fan C. C., Yu X. Q., Xing Y. Z., Xu C. G., Luo L. G. and Zhang Q. F. 2005 The main effects, epistatic effects and environmental interactions of QTLs on the cooking and eating quality of rice in a doubled-haploid line population. Theor. Appl. Genet. 110, 1445–1452.

Gregorio G. B. 2002 Progress in breeding for trace minerals in staple crops. J. Nutr. 132, 500–502.

He P., Li S. G., Qian Q., Ma Y. Q., Li J. Z., Wang W. L. et al. 1999 Genetic analysis of rice grain quality. Theor. Appl. Genet. 98, 502–508.

IRRI 2015 Steps to successful rice production, pp. 1–27. International Rice Research Institute, Manila.

Johanson H. W., Robinson H. F. and Comstock R. E. 1955 Estimates of genetic and environmental variability in soybean. Agron. J. 47, 314–318.

Joshi S. P., Gupta V. S., Aggarwal R. K., Ranjekar P. K. and Brar D. S. 2000 Genetic diversity and phylogenetic relationship as revealed by inter simple sequence repeat (ISSR) polymorphism in the genus Oryza. Theor. Appl. Genet. 100, 1311–1320.

Juliano B. O. 1971 Simplified assay for milled-rice amylose. Cereal Sci. Today 16, 334–338.

Juliano B. O. 1985 Criteria and test for rice grain quality. In Rice chemistry and technology, 2nd edition, pp. 443–513. American Association of Cereal Chemists, Minnesota.

Juliano B. O. and Bechtel D. B. 1985 The rice grain and its gross composition. In Rice chemistry and technology, 2nd edition, pp. 17–57. American Association of Cereal Chemists, Minnesota.

Khush G. S., Paule C. M. and Dela Cruz N. M. 1979 Rice grain quality evaluation and improvement at IRRI. In Proceedings of the workshop on chemical aspects of rice grain, pp. 21–31. International Rice Research Institute, Manila, Philippines.

Kiranmayi S. L., Manorama K., Venkata V. G. N. T., Radhika K., Cheralu C., Roja V. et al. 2014 Identification of markers associated with iron and zinc concentration in recombinant inbred lines of brown rice. Indian J. Genet. Plant Breed. 74, 423–429.

Kongseree N. and Juliano B. O. 1972 Physiochemical properties of rice grain and starch from lines differing in amylose content and gelatinization temperature. J. Sci. Food Agric. 20, 714–718.

Kunze O. R. 1979 Fissuring of the rice grain after heated air drying. Trans. ASAE 22, 1197–1202.

Lin H. X., Min-Shao K., Xiong Z. M., Qian H. R., Zhuang J. Y., Lu J. et al. 1995 RFLP mapping of QTLs for grain shape traits in indica rice (Oryza sativa L. subsp. indica). Sci. Agric. Sin. 28, 1–7.

Little R. R., Hilder G. B. and Dawson E. H. 1958 Differential effect of dilute alkali on 25 varieties of milled white rice. Cereal Chem. 35, 111–126.

Madhubabu P., Suman K., Ramya Rathod., Fiyaz R. A., Rao S. D., Sudhakar P. et al. 2017 Evaluation of grain yield, quality and nutrients content in four rice (Oryza sativa L.) genotypes. Curr. J. Appl. Sci. Technol. 22, 1–12.

Ni J. J., Colowit P. M. and Mackill D. J. 2002 Evaluation of genetic diversity in rice sub-species using microsatellite markers. Crop Sci. 42, 601–607.

Pandey M. K., Rani N. S., Madhav M. S., Sundaram R. M., Varaprasad G. S., Sivaranjani A. K. P. et al. 2012 Different isoforms of starch-synthesizing enzymes controlling amylose and amylopectin content in rice (Oryza Sativa L.). Biotechnol. Adv. 30, 1697–1706.

Parikh M., Motiramani N. K., Rastogi N. K. and Sharma B. 2012 Agro-morphological characterization and assessment of variability in aromatic rice germplasm. Bangladesh J. Agric. Res. 37, 1–8.

Rabiei B., Valizadeh M., Ghareyazie B., Moghaddam M. and Ali A. J. 2004 Identification of QTLs for rice grain size and shape of Iranian cultivars using SSR markers. Euphytica 137, 325–332.

Rao S. D., Madhu Babu P., Swarnalatha P., Suneetha K., Bhadana V. P., Varaprasad G. S. et al. 2014 Assessment of grain zinc and iron variability in rice germplasm using energy dispersive X-ray fluorescence spectrophotometer (ED-XRF). J. Rice Res. 7, 45–52.

Rehal J., Kaur G. J. and Singh A. K. 2017 Influence of milling parameters on head rice recovery: a review. Int. J. Curr. Microbiol. App. Sci. 6, 1278–1295.

RKMP 2014 Rice knowledge management portal (http://www.rkmp.co.in).

Sangeetha A., Malhotra P. K., Bhatia V. K. and Rajendra P. 2008 Statistical package for agricultural research (SPAR 2.0). J. Indian Soc. Agric. Stat. 62, 65–74.

Sarwar A. K. M. G., Ali M. A. and Karim M. A. 1998 Correlation of grain characters in rice (Oryza sativa. L). J. Natn. Sic. Foundation Sri Lanka 26, 209–215.

SES (Standard Evaluation System for Rice) 2013 5th edition. IRRI, Manila, Philippines (http://www.clrri.org/ver2/uploads/SES_5th_edition.pdf).

Talukdar P. R., Rathi S., Pathak K., Chetia S. K. and Sarma R. N. 2017 Population structure and marker-trait association in indigenous aromatic rice. Rice Sci. 24, 145–154.

Tan Y. F., Li J. X., Yu S. B., Xing Y. Z., Xu C. G. and Zhang Q. 1999 The three important traits for cooking and eating quality of rice grains are controlled by a single locus in an elite rice hybrid, Shanyou 63. Theor. Appl. Genet. 99, 642–648.

Temnykh S., DeClerck G., Lukashova A., Lipovich L., Cartinhour S. and McCouch S. 2001 Computational and experimental analysis of microsatellites in rice (Oryza sativa L.): frequency, length variation, transposon associations, and genetic marker potential. Genome Res. 11, 1441–1452.

Yadav B. K., and Jindal V. K. 2007 Dimensional changes in milled rice (Oryza sativa L.) kernel during cooking in relation to its physicochemical properties by image analysis. J. Food Eng. 81, 710–720.

Yu J., Pressoir G., Briggs W. H., Bi I. V., Yamasaki M., Doebley J. F. et al. 2006 A unified mixed-model method for association mapping that accounts for multiple levels of relatedness. Nat. Genet. 38, 203–208.

Zheng K., Huang N., Bennett J. and Khush G. S. 1995 PCR-based marker assisted selection in rice breeding. In IRRI Discussion Paper Series, No. 12. International Rice Research Institute, Manila.
Acknowledgements
Authors are thankful to ICAR-CRP-Biofortification project, ICAR-Indian Institute of Rice Research, Hyderabad for financial support and providing facilities.
Additional information
Corresponding editor: Monoj Prasad
About this article
Cite this article
SUMAN, K., MADHUBABU, P., RATHOD, R. et al. Variation of grain quality characters and marker-trait association in rice (Oryza sativa L.). J Genet 99, 5 (2020) doi:10.1007/s12041-019-1164-4
Received:

Revised:

Accepted:

Published:
Keywords
grain quality

microsatellite markers

association

validation.