Development of novel pyrazolones by using SiO2/ZnCl2 – green approach
Abstract
The present research work deals with the green synthesis of substituted pyrazolone derivatives 4(a–f) from 2,4-dinitrophenylhydrazine with various substituted aromatic aldehyde and ethyl acetoacetate in the presence of silica-supported zinc chloride (SiO2/ZnCl2) as a recyclable Lewis acid catalyst. The synthesized compounds were structurally characterized with IR, 1H NMR, Mass spectra and elemental analysis. All these compounds were tested for their antioxidant activity by using the DPPH radical scavenging method.
Graphic abstract
Synthetic Scheme of pyrazolone derivatives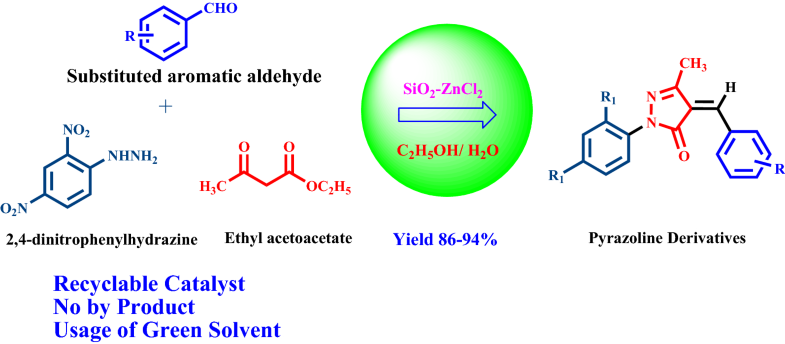 Keywords
Pyrazolone 
silica-supported zinc chloride catalyst 
green synthesis 
anti-oxidant activity 
Notes
Acknowledgements
The authors thank the Management and the Principal of Sri Venkateswara College of Pharmacy, Chittoor for providing the facilities and financial assistance to carry out this study. They are also thankful to SIF, VIT University, Vellore for the spectral analysis.
Copyright information
© Indian Academy of Sciences 2019