Microneedle-based drug delivery: materials of construction
Abstract
Microneedle-based drug delivery has attracted researchers' attention over the last decade. The material of construction of microneedles has emerged as a critical factor influencing clinical usage, manufacture, drug loading and drug stability. Initially, microneedles were fabricated using glass, silicon and metals. The development of sophisticated machining tools and advances in the polymer science allowed for a major shift in materials of construction of microneedles towards polymeric systems. Delivery of difficult to formulate therapeutics, including proteins, peptides, vaccines and genetic material has been established using microneedles. There is a constant search for newer materials, which can easily form microneedles with sufficient strength to penetrate biological barriers, can be easily manufactured, and are compatible with drug molecules and biological systems. While several reviews have discussed microneedle-based cosmetic and drug delivery applications, there is a gap in understanding the effect of material of construction of microneedles on drug stability and potential for large-scale manufacture. This review is an attempt to present microneedles as a function of the material used for its construction. Since microneedle commercialization is now a realistic possibility, we believe that improved understanding of materials and their chemistry will allow for improved decision making, especially for industries looking towards bringing microneedle technology to manufacturing setups.
Graphical abstract
Microneedles (MN) bypass the superficial skin layers to deliver molecules to deeper tissues. The material of MN construction has emerged as a critical factor influencing cost, clinical usage, manufacture, drug loading and drug stability. Currently available materials and techniques for MN fabrication and their relevance to scale-up are reviewed.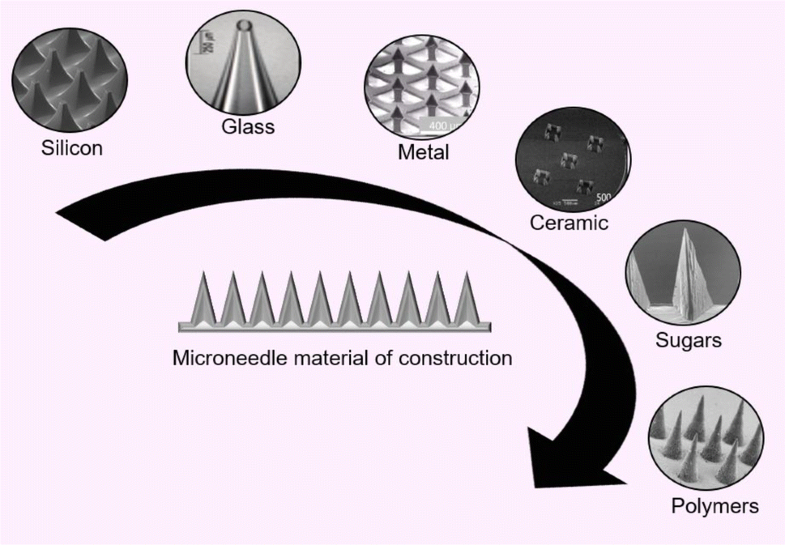 Keywords
Microneedles 
materials 
microfabrication 
transdermal drug delivery 
tensile strength 
Notes
Acknowledgements
This work was partially funded by the Indian Council of Medical Research (ICMR, ITR 2015-0010).
Copyright information
© Indian Academy of Sciences 2019