A simple Schiff base platform: sensing of Al3+ ions in an aqueous medium
Abstract
A simple Schiff base probe PADP ((1,2-phenylenebis(azanylylidene)) bis(methanylylidene))bis(3-(diethylamino)phenol) was synthesized from 4-(diethylamino)salicylaldehyde and o-phenylenediamine and has been characterized using analytical and spectral methods. The emission spectrum of PADP Schiff base shows notable enhancement in the emission intensity at 500 nm in the presence of Al3+ in MeOH-H2O (1:9 v/v). On the other hand, other relevant metal ions did not influence considerably the emission spectrum of PADP. The detection limit and binding constant (Kb) of PADP towards Al3+ were found to be 0.104 µM and 3.0 × 106 M−1 from the fluorescence titration experiments. The 1:1 binding stoichiometry was further determined by Job's plot and ESI-MS spectroscopy. The MTT assay shows no or negligible toxic nature of probe and thus it was utilized in vitro cell imaging studies of Al3+ ions. The results show that the probe PADP could be useful to detect Al3+ in an aqueous medium.
Graphic abstract
A simple non-toxic turn-on fluorescence receptor (
PADP
) was designed. The sensing performance of the receptor up to a micromolar concentration of Al
3+
ions is reported in 50 mM HEPES buffer [pH 7.4; H
2
O: MeOH (9:1 v/v)]. The receptor was also utilized to detect Al
3+
ions in living cells.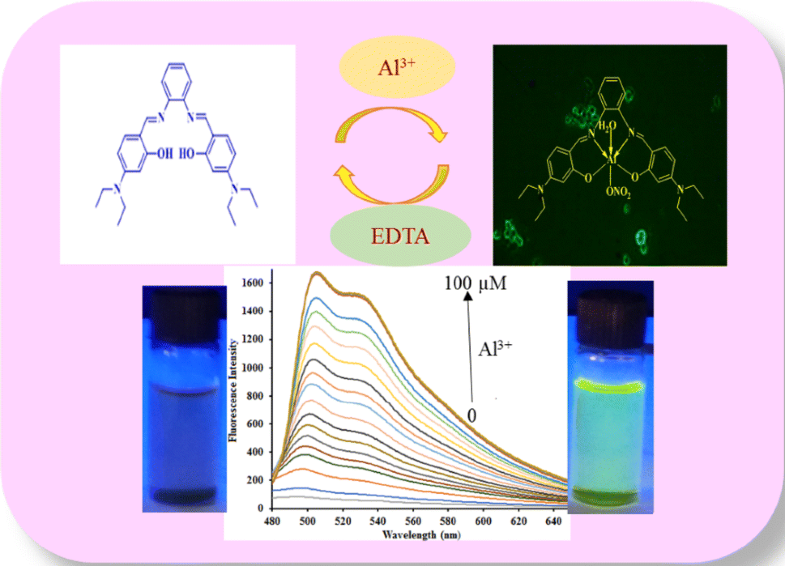 Keywords
Schiff base 
fluorescence probe 
aluminum ion 
cell imaging 
Notes
Acknowledgement
The authors express their sincere thanks to the Council of Scientific and Industrial Research (CSIR), New Delhi, India [Grant No. 01(2907)/17/EMR-II] for financial support.
Copyright information
© Indian Academy of Sciences 2019