Synthesis, characterization and biological studies of cobalt(II), nickel(II), copper(II) and zinc(II) complexes of vanillin-4-methyl-4-phenyl-3-thiosemicarbazone
Abstract
Complexes of vanillin-4-methyl-4-phenyl-3-thiosemicarbazone with cobalt(II), nickel((II), copper(II) and zinc(II) metal ions were synthesized and characterized by elemental analysis, molar conductance, magnetic moment, infrared spectra, electronic spectra, 1H and 13C NMR, mass spectrum and thermal analysis. The low molar conductance values indicate that all the complexes are non-electrolytes. Spectral studies indicate that the ligand act in a tridentate manner coordinating with the metal ion through sulphur, oxygen and nitrogen atoms. Based on magnetic moment measurements, spectral studies and thermal analysis, suitable geometry was proposed for the metal complexes. Thermal stability of the complexes was ascertained on the basis of thermo gravimetric analysis and the lattice parameters, space group and grain size of the ligand and complexes were determined by using powder XRD measurements. Surface morphology of ligand and complexes were studied using SEM analysis. Antimicrobial studies were carried out against gram-positive, gram-negative bacteria and two fungal pathogens.
Graphic abstract
Vanillin-4-methyl-4-phenyl-3-thiosemicarbazone and its cobalt(II), nickel(II), copper(II) and zinc(II) complexes were synthesized and characterized and suitable geometry was proposed. All complexes except copper complex were stable up to 280 °C. The ligand and complexes belong to monoclinic crystal system with different space groups. Copper and zinc complexes of vanillin thiosemicarbazone were found to possess high antibacterial and antifungal activity.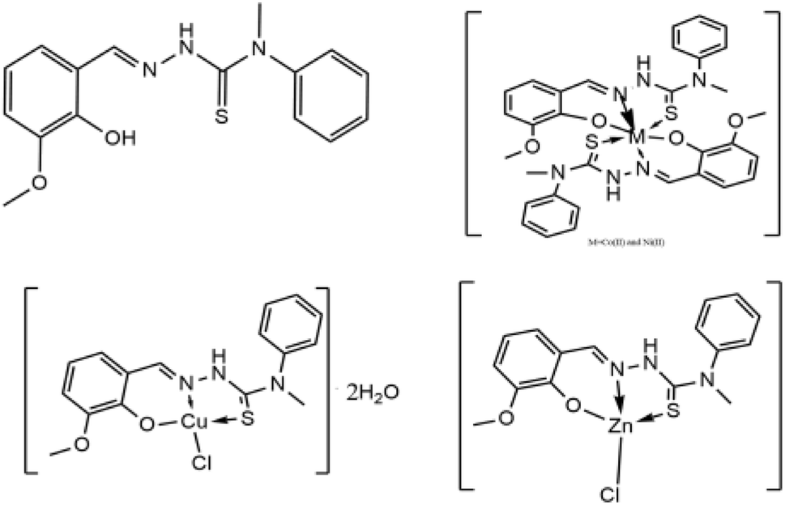 Keywords
Thiosemicarbazone 
transition metal complexes 
antimicrobial study 
Notes
Acknowledgements
One of the author (Lekshmi V Kumar) acknowledge the CSIR, New Delhi for the financial support through the grant no. 08/537(0004)/2014 EMR-1, dated 27/08/2014. Authors are thankful to STIC, CUSAT, Kochi for the instrumental analysis of samples, SICC, University of Kerala, Thiruvananthapuram for PXRD analysis.
Copyright information
© Indian Academy of Sciences 2019