Novel protocol for synthesis of 1,4-diiminocurcumin stabilized silver nanoparticles and application as heterogenous recyclable catalyst and antibacterial agent
Abstract
Curcumin [(1E, 6E)-1,7-bis(4-hydroxy-3-methoxy-phenyl)-1,6-heptadiene-3,5-dione] is a low molecular weight yellow-orange polyphenolic pigment extracted from the powdered rhizome of Curcuma longa. Curcumin has wide medicinal applications as an antioxidant, anti-inflammatory, cancer chemopreventive, and potentially chemotherapeutic agents as well as stabilizer/reducing agent in silver nanoparticles (AgNPs) synthesis. However, the low solubility of curcumin in aqueous solutions limits its applications and also, many of AgNP synthetic processes lack a greener synthetic route. In the present work, a Schiff base of curcumin is synthesized condensing curcumin and 1,4-diaminobutane in 2:1 ratio. The resulting product shows improvement in solubility in water and favours the synthesis of AgNPs in aqueous medium at room temperature, acting as a self-reducing/stabilizing agent. This proposed synthetic route is simple, feasible and green. The size and morphology of AgNPs are analyzed by TEM, SEM, EDS and XRD techniques. The recyclable AgNPs as a heterogeneous catalyst in the reduction of nitroaromatics to amino compounds is environmentally benign and can be re-used up to 5th cycle without considerable loss of its catalytic activity. Moreover, both Cur-1,4 and AgNPs show bactericidal properties against bacterial strains (Bacillus subtilis, Staphylococcus aureus, Escherichia coli and Pseudomonas aeruginosa) which find medicinal importance in future.
Graphic abstract
A greener approach has been proposed for the preparation of AgNPs stabilized on curcumin based Schiff base. The AgNPs finds applications as efficient, easily recyclable heterogenous catalyst in the reduction of nitroaromatics to environmentally benign aminoaromatics as well as an antibacterial agent.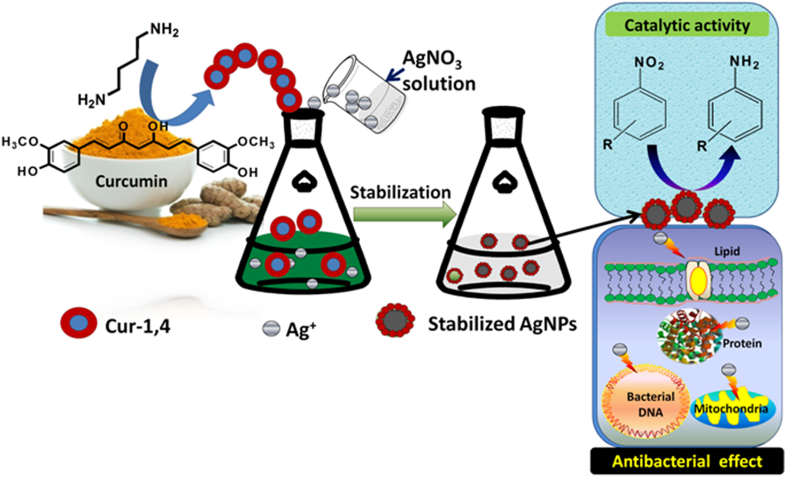 Keywords
Curcumin 
schiff base of curcumin 
silver nanoparticles 
green synthesis 
reduction of nitroaromatics 
antibacterial property 
Notes
Acknowledgements
The authors are grateful to the Department of Science and Technology, Govt. of India, for financial assistance under DST-FIST programme and UGC, New-Delhi for Special Assistance Program (SAP-DRS) to the Department of Chemistry, Dibrugarh University. The authors are also grateful to Sophisticated Analytical Instrument Facility (SAIF), NEHU, Shillong, IASST, Guwahati, CSIR NEIST, Jorhat and SAIF, IIT Bombay for spectral analysis and Department of Pharmaceutical sciences, Dibrugarh University for in vitro antibacterial studies. NG is thankful to Dibrugarh University for Dibrugarh University Research Fellowship.
Copyright information
© Indian Academy of Sciences 2019