Spectrally resolved photon-echo spectroscopy of CdSe quantum dots at far from resonance excitation condition
\(^{\S }\)
Abstract
Spectrally resolved photon echo spectroscopy in the off-resonance condition is reported for the first time to study the coherence and population dynamics of CdSe quantum dots. In this case, the information related to the system dynamics can be inferred indirectly. This is especially useful when such dynamical information might be hidden under the absorption maxima of the sample. We observe that a substantial intensity of the photon echo signal was obtained in two different CdSe quantum dot samples (CdSe 610 and CdSe 640), which have absorption maxima at 620 nm and 590 nm, respectively. Due to the difference in sizes of these two quantum dots, a small change is observed in the molecular dynamics of these two quantum-dot samples. Specifically, the spectral diffusion of CdSe 640 occurs within the first 50 fs, whereas that for CdSe 610 occurs at about 100 fs timescale. The integrated plots of the photon echo signal, as a function of population time, result in two decay constants. The faster among the two decay components is pulse width limited and is in between 30 and 40 fs at different fixed coherence times for both samples. The slower decay component for the CdSe 610 sample is found to be in the range of 75–85 fs, while that for CdSe 640, it is between 82 and 92 fs at different fixed coherence times.
Graphical Abstract
SYNOPSIS
Excitonic dynamics of CdSe quantum-dots is presented using time-dependent spectrally-resolved photon-echo spectroscopy at 810 nm, which is ~160 nm red-shifted from their absorption maxima. Information related to system dynamics is inferred indirectly from such 'far-from-resonance' photon-echo experiments, which would be especially useful when the information is hidden within the sample's absorption maxima.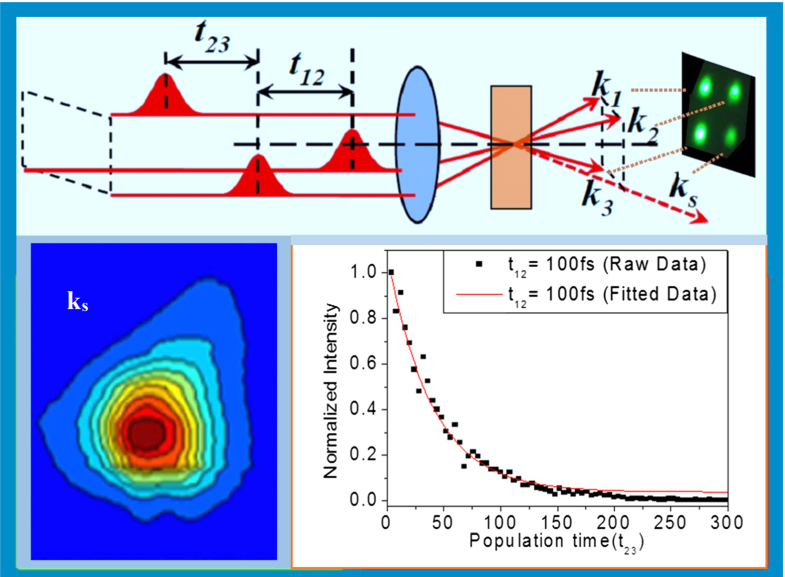 Keywords
Free induction decay 
spectrally resolved photon echo signal 
coherence time 
population time 
inhomogeneous broadening 
femtosecond 
Notes
Acknowledgements
This work on the application of high nonlinear optical spectroscopy for understanding photochemistry is dedicated to my Teacher Prof. M. V. George. I thank several of my present and past graduate students for help with experiments. I also thank Mrs. S. Goswami for language editing. The laser system used in these experiments were made possible due to the DST-FIST (2nd Phase 2010) funds. Funding was provided by Indian Space Research Organisation (Grant No. STC) and Science and Engineering Research Board (Grant No. Intramural Research).
Copyright information
© Indian Academy of Sciences 2018