Glutathione-capped gold nanoclusters: photoinduced energy transfer and singlet oxygen generation
\(^{\S }\)
Abstract
Glutathione-capped gold clusters prepared in an aqueous medium are known to exhibit excellent photosensitizing properties. We have now successfully transferred these gold clusters in an organic medium while retaining all the characteristic excited state properties. These gold clusters can be further modified with organic ligands such as 2-Phenylethanethiol (PET). The gold clusters in organic medium exhibit enhanced emission yield (\(\Phi _{\mathrm{f}} = 0.15\)) compared to that in an aqueous medium (\(\Phi _{\mathrm{f}} = 0.08\)). The excited state lifetimes of \(3.7\,\upmu \hbox {s}\) (untreated) and \(1.5\,\upmu \hbox {s}\) (PET treated) in toluene are also greater than the lifetime observed in aqueous solution (\(0.77\,\upmu \hbox {s}\)). By employing laser flash photolysis we are able to induce triplet energy transfer to \(\upbeta \)-carotene and oxygen. A singlet oxygen generation with the efficiency of 13% was observed in these experiments. The excited state properties of glutathione-capped gold clusters further shows its importance as a photosensitizer in light energy conversion and biomedical applications
Graphical Abstract
SYNOPSIS
A few atom gold clusters modified with organic ligands exhibit high photoactivity by generating singlet oxygen with 13% quantum efficiency.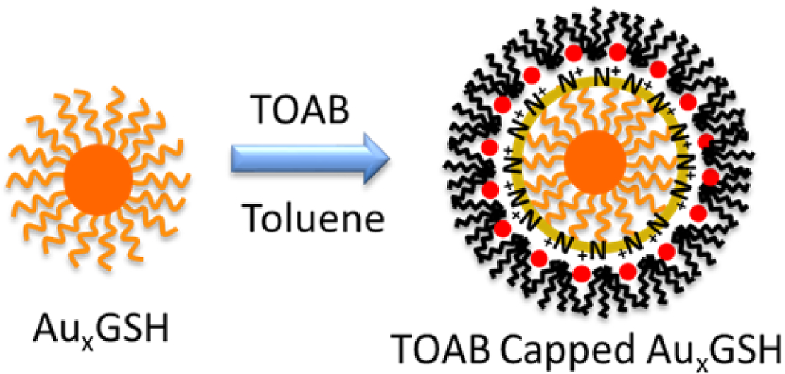 Keywords
Gold clusters 
singlet oxygen 
excited state 
transient absorption specroscopy 
energy transfer 
photosensitizer 
Notes
Acknowledgements
The research work described here was supported by the Division of Chemical Sciences, Geosciences, and Biosciences, Office of Basic Energy Sciences of the U.S. Department of Energy, through award DE-FC02-04ER15533. This is contribution number NDRL No. 5218 from the Notre Dame Radiation Laboratory.
Copyright information
© Indian Academy of Sciences 2018