Influence of aromatic nitro-substituents on auto-reusability of oxime-based fluoride receptors
Abstract
Abstract
The interaction of fluoride ion with three oxime based receptors containing additional aromatic nitro-substituents was studied by using colorimetric and NMR spectroscopy. Colorimetric responses of the receptors towards fluoride ion were found to be highly dependent on the position of the nitro substituent in the aromatic backbone. While the ortho and para nitro-substituted receptors showed intense colour change and associated colorimetric response upon addition of fluoride, the meta derivative did not provide any visible deviation in colour as well as colorimetric behaviour. Further, due to the presence of H-bond acceptor motif, the receptor–fluoride complexes formed by both ortho and para nitro-substituted derivatives are reasonably labile and dissociate to automatically result in the free receptor species within a short time span. This allowed reuse of the receptor solution for selective and successive recognition of fluoride by colorimetric technique without any external trigger.
Graphical Abstract
Three new oximes with additional aromatic nitro-substituents are prepared and their interaction of fluoride ion was studied. The position of nitro-substituents profoundly influences the ability to reuse the receptors for colorimetric recognition of fluoride. Based on spectroscopic studies, a possible mechanism for auto-regeneration of the fluoride free receptors is detailed.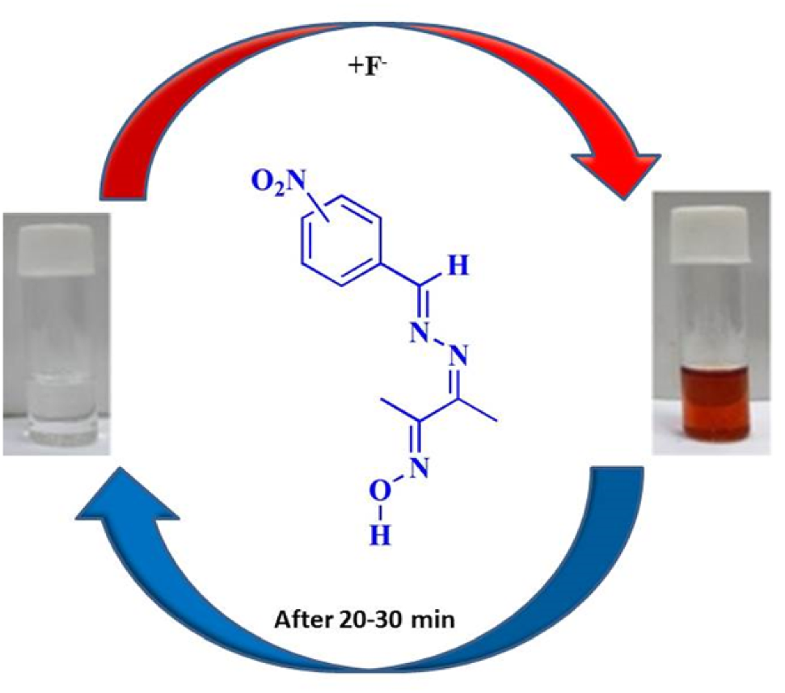 Keywords
Oxime receptors 
fluoride recognition 
Notes
Acknowledgements
Generous financial support from SERB-DST (Grant No. EMR/2016/002178), New Delhi is gratefully acknowledged. S.B. thanks CSIR for Senior Research Fellowship. G.B. thanks UGC for Junior Research Fellowship.
Copyright information
© Indian Academy of Sciences 2018