Interferon-γ Potentiates α-Synuclein-induced Neurotoxicity Linked to Toll-like Receptors 2 and 3 and Tumor Necrosis Factor-α in Murine Astrocytes
Abstract
α-Synuclein (α-syn), a metabolite of neurons, induces glial activation and neuroinflammation and participates in pathogenesis of neurodegenerative diseases. This inflammatory response involves activation of toll-like receptors (TLRs) and its neurotoxic outcomes such as cytokine expression and release. However, regulatory role of cytokines on α-syn-induced neurotoxicity is still unclear. In this study, we used interferon (IFN)-γ to costimulate primary astrocytes with wild-type or A53T mutant α-syn, and evaluated inflammatory pathway activation. Four α-syn concentrations (0.5, 2, 8 and 20 μg/mL, 24 h) and four α-syn time-points (3, 12, 24 and 48 h, 2 μg/mL) were chosen to coincubate with one IFN-γ concentration (2 ng/mL). IFN-γ alone upregulated expressions of TLR3 and tumor necrosis factor (TNF)-α (mRNA level), and A53T mutant or wild-type α-syn alone activated the pathway components including TLR2, TLR3, nuclear factor-κB, TNF-α and interleukin (IL)-1β. Additive application of IFN-γ amplified this activation effect except for IL-1β at mRNA and protein levels or TNF-α release, displaying a synergistic effect of α-syn and IFN-γ. Blocking TLR2 other than TLR4 suppressed TLR3, TLR2 and TNF-α expressions induced by α-syn or plus IFN-γ, reflecting an interaction of TLR2 and TLR3 in TNF-α expression. These data collectively showed that IFN-γ potentiated α-syn stimulation and inflammatory outcomes via TLR2, TLR3 and TNF-α other than IL-1β in astrocytes, suggesting that involvement of IFN-γ in α-syn-induced innate immunity may be required for initiation and maintenance of glial activation, a novel neurotoxic mechanism underlying pathogenesis of neurodegenerative diseases.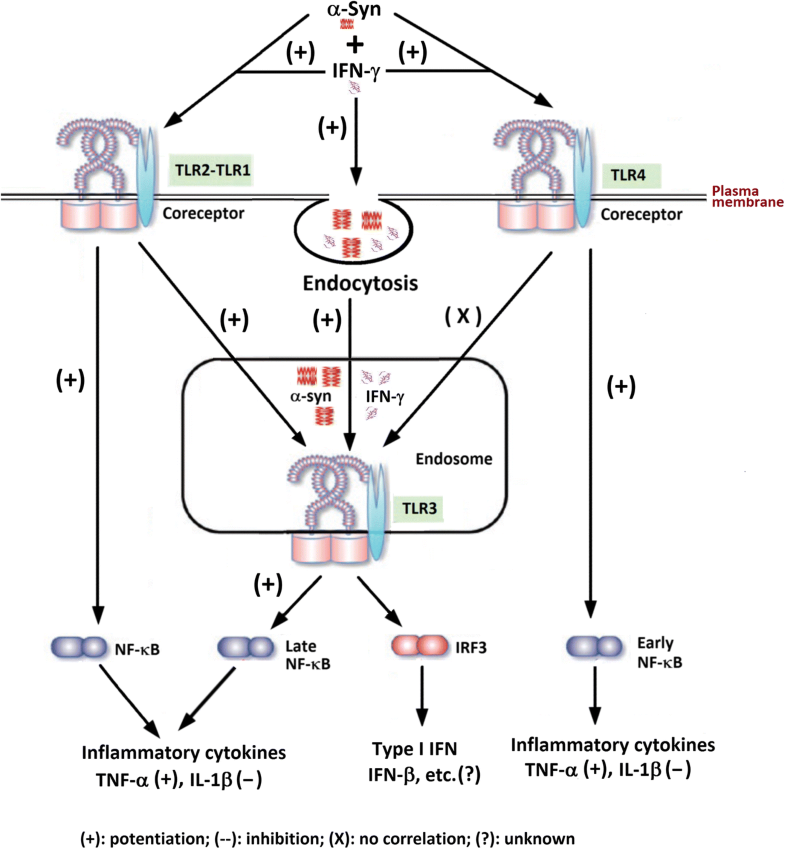 Keywords
α-Synuclein 
Interferon-γ 
Toll-like receptors 
Cytokines 
Neuroinflammation 
Astrocytes 
Abbreviations
AD

Alzheimer's disease

ANOVA

analysis of variance;

C34

TLR4-IN-C34

CPT22

CU-CPT22

DAMPs

damage-associated molecular patterns

DAPI

4′,6-diamidino-2-phenylindole

ELISA

enzyme-linked immunoabsorbent assay

FBS

fetal bovine serum

GAPDH

glyceraldehyde phosphate dehydrogenase

GFAP

glial fibrillary acidic protein

IFN-γ

interferon-γ

IL-1β

interleukin-1β

LPS

lipopolysaccharide

LSD

fisher's least significant differences

NF-κB

nuclear factor-kappa B

PBS

phosphate-buffered saline

PD

Parkinson's disease

Poly I:C

polyinosinic-polycytidylic acid

qRT-PCR

quantitative real-time polymerase chain reaction

TLR

toll-like receptor

TNF-α

tumor necrosis factor-α
Notes
Authors' Contributions
J.T.W designed, performed the research, and wrote the manuscript; Z.C. helped design and put the research into effect; J.W. and P.S.G. provided experiment facilities, techniques, and mice use; M.L.G. performed the statistical analysis and its interpretation; S.X.L. designed research, analyzed data, reviewed overall findings, and wrote the manuscript; and all authors approved the final draft of the manuscript.
Funding
This work was supported by the Irma and Paul Milstein Program for Senior Health fellowship from the Milstein Medical Asian American Partnership (MMAAP) Foundation (http://www.mmaapf.org) (JT Wang: 1005352440), and in part by NIH grants R21-AG-043874, R01AI108907 (SX Leng).
Compliance with Ethical Standards
Competing Interests
The authors declare that they have no competing interests.
Ethics Approval
All animal procedures performed in this study were reviewed and approved by the Institution's Animal Care Committee, and performed in accordance with the guidelines by Institution of Laboratory Resources, National Research Council (Department of Health and Human Service, National Institutes of Health, Bethesda, MD).
Copyright information
© Springer Science+Business Media, LLC, part of Springer Nature 2019