Abstract
Peptide-amphiphile (PA)-based supramolecular thixotropic hydrogels are useful in medical sciences due to multiple advantageous features along with its biocompatibility and biodegradability. In this work, we have developed a self-assembled peptide-based hydrogel from a \(\upbeta \)-sheet forming short PA. Hydrogelation of the PA is controlled by pH and consequent changes in secondary structures attained by the PA. Under acidic conditions, the PA remains in random coil conformation. While increasing the pH to 9, a rapid transformation to anti-parallel \(\upbeta \)-sheet leads to a strong hydrogel. Interestingly, the disulphide-linked dimer of the PA failed to attain such aggregation pattern. The pH-induced sol–gel–sol transition can be achieved for several cycles without any change in aggregation pattern. The hydrogel was also found to show thixotropic rheological behaviour and thus, it can be utilized as an injectable hydrogel for biomedical applications.
This is a preview of subscription content, log in to check access.
Access options
Buy single article
Instant access to the full article PDF.
US$ 39.95
Price includes VAT for USA
Subscribe to journal
Immediate online access to all issues from 2019. Subscription will auto renew annually.
US$ 99
This is the net price. Taxes to be calculated in checkout.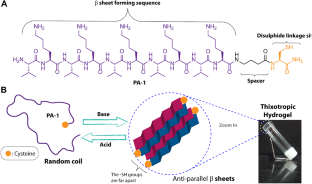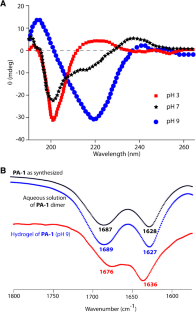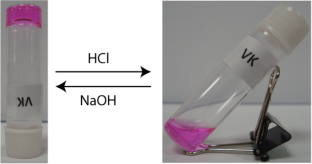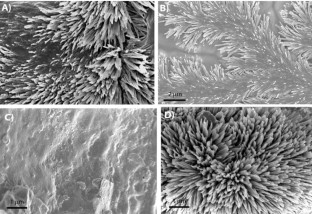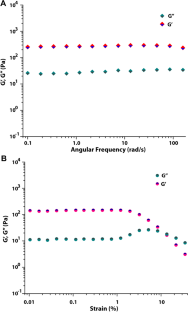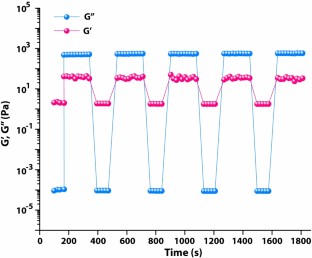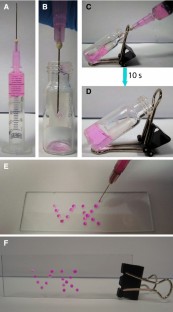 References
1.

Gong Z, Yang Y, Ren Q, Chen X and Shao Z 2012 Soft Matter 8 2875

2.

Pramanik B, Ahmed S, Singha N, Das B K, Dowari P and Das D 2019 Langmuir 35 478

3.

Hamilton T D, Bučar D-K, Baltrusaitis J, Flanagan D R, Li Y, Ghorai S et al 2011 J. Am. Chem. Soc. 133 3365

4.

Lee J H 2018 Biomater. Res. 22 27

5.

Mathew A P, Uthaman S, Cho K-H, Cho C-S and Park I-K 2018 Int. J. Biol. Macromol. 110 17

6.

Dasgupta A, Mondal J H and Das D 2013 RSC Adv. 3 9117

7.

Xing R, Li S, Zhang N, Shen G, Möhwald H and Yan X 2017 Biomacromolecules 18 3514

8.

Kumar D, Workman V L, O'Brien M, McLaren J, White L, Ragunath K et al 2017 Adv. Funct. Mater. 27 1702424

9.

Collier J H, Rudra J S, Gasiorowski J Z and Jung J P 2010 Chem. Soc. Rev. 39 3413

10.

Altunbas A and Pochan D J 2012 in Peptide-based materials T Deming (ed) (Heidelberg, Berlin: Springer) p 135

11.

Nagai Y, Unsworth L D, Koutsopoulos S and Zhang S 2006 J. Controlled Release 115 18

12.

Singha N, Srivastava A, Pramanik B, Ahmed S, Dowari P, Chowdhuri S et al 2019 Chem. Sci. 10 5920

13.

Ahmed S, Mondal J H, Behera N and Das D 2013 Langmuir 29 14274

14.

Mitra R N and Das P K 2008 J. Phys. Chem. C 112 8159

15.

Pramanik B, Singha N and Das D 2019 ACS Appl. Polym. Mater. 1 833

16.

Singha N, Neogi S, Pramanik B, Das S, Dasgupta A, Ghosh R et al 2019 ACS Appl. Polym. Mater. 1 2267

17.

Li J, Xing R, Bai S and Yan X 2019 Soft Matter 15 1704

18.

Cui H, Webber M J and Stupp S I 2010 Pep. Sci. 94 1

19.

Pochan D J, Schneider J P, Kretsinger J, Ozbas B, Rajagopal K and Haines L 2003 J. Am. Chem. Soc. 125 11802

20.

Haines L A, Rajagopal K, Ozbas B, Salick D A, Pochan D J and Schneider J P 2005 J. Am. Chem. Soc. 127 17025

21.

Kretsinger J K, Haines L A, Ozbas B, Pochan D J and Schneider J P 2005 Biomaterials 26 5177

22.

Haines-Butterick L, Rajagopal K, Branco M, Salick D, Rughani R, Pilarz M et al 2007 Proc. Natl. Acad. Sci. 104 7791

23.

Rughani R V, Salick D A, Lamm M S, Yucel T, Pochan D J and Schneider J P 2009 Biomacromolecules 10 1295

24.

Nagarkar R P, Hule R A, Pochan D J and Schneider J P 2008 J. Am. Chem. Soc. 130 4466

25.

Singha N, Das B K, Pramanik B, Das S and Das D 2019 Chem. Sci.10 10035

26.

Black S P, Sanders J K M and Stefankiewicz A R 2014 Chem. Soc. Rev. 43 1861

27.

Wei Y, Thyparambil A A and Latour R A 2014 Biochim. Biophys. Acta: Proteins and Proteomics 1844 2331

28.

Niu L, Liu L, Xi W, Han Q, Li Q, Yu Y et al 2016 ACS Nano 10 4143

29.

Smith A M, Williams R J, Tang C, Coppo P, Collins R F, Turner M L et al 2008 Adv. Mater. 20 37

30.

Madhu C, Roy B, Makam P and Govindaraju T 2018 Chem. Commun. 54 2280

31.

Ohrdorf K-H and Flachberger H 2015 in Polymer nanoclay composites S Laske (ed) (Oxford: William Andrew Publishing) p 1

32.

Tanner R I and Walters K 1998 in Rheology series (Amsterdam: Elsevier) Vol 7, p 159
Acknowledgements
DD acknowledges financial support from SERB, India (EMR/2016/000857).
Electronic supplementary material
Below is the link to the electronic supplementary material.
About this article
Cite this article
Dowari, P., Pramanik, B. & Das, D. pH and secondary structure instructed aggregation to a thixotropic hydrogel by a peptide amphiphile. Bull Mater Sci 43, 70 (2020). https://doi.org/10.1007/s12034-019-2027-6
Received:

Accepted:

Published:
Keywords
Peptide amphiphile

hydrogel

anti-parallel

\(\upbeta \)

-sheet

supramolecular

thixotropic