Abstract
In this work, the development of a robust method for the fabrication of a low-cost transparent conducting electrode (TCE) via the addition of graphene in the spray-pyrolysis of fluorine-doped tin oxide (FTO) is explained. Alcoholic suspensions of few-layer-graphene were produced via the liquid exfoliation of graphite in different alcoholic solutions as sonicating solvent. These mixtures were then mixed with ammonium fluoride and tin (II) chloride dihydrate precursors to fabricate graphene/FTO composite through spray pyrolysis. Graphene exfoliated with 50% aqueous ethanol proved to yield improved TCE properties with nearly two-fold enhancement in figure of merit (FOM) measured in terms of the ratio of optical transmittance and sheet resistance. Using optimized spraying conditions, graphene/FTO coatings still yielded slightly higher FOM compared to plain FTO. The increase in FOM is largely attributed to the decrease in sheet resistance with the incorporation of graphene flakes.
This is a preview of subscription content, log in to check access.
Access options
Buy single article
Instant access to the full article PDF.
US$ 39.95
Price includes VAT for USA
Subscribe to journal
Immediate online access to all issues from 2019. Subscription will auto renew annually.
US$ 99
This is the net price. Taxes to be calculated in checkout.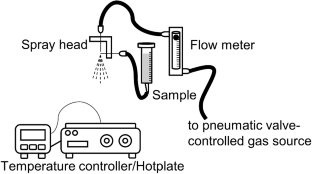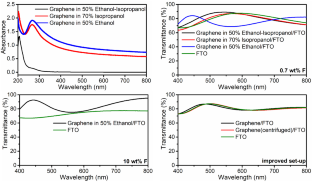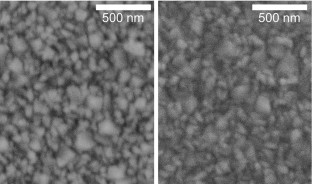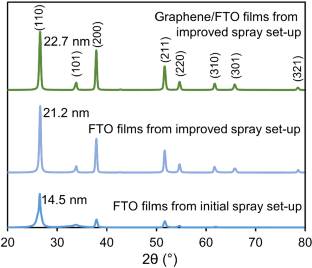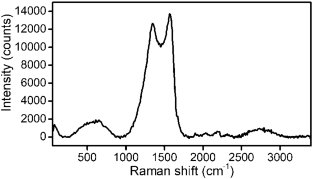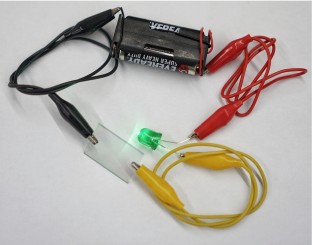 References
1.

Ishibashi S, Higuchi Y, Ota Y and Nakamura K 1990 J. Vac. Sci. Technol. 8 1403

2.

Latz R, Michael K and Scherer M 1991 Jpn. J. Appl. Phys. 30 2A

3.

Hoertz P G, Chen Z, Kent C A and Meyer T J 2010 Inorg. Chem. 49 8179

4.

Baek W H, Choi M, Yoon T S, Lee H H and Kim Y S 2010 Appl. Phys. Lett. 96 133506

5.

Kim H, Auyeung R C Y and Piqué A 2008 Thin Solid Films 516 5052

6.

Kawashima T, Matsui H and Tanabe N 2003 Thin Solid Films 445 241

7.

Yang T-Y, Jeon N J, Shin H-W, Shin S S, Kim Y Y and Seo J 2019 Adv. Sci. 6 1900528

8.

Koide N and Han L 2004 Rev. Sci. Instrum. 75 2828

9.

San Esteban A C M and Enriquez E P 2013 Sol. Energy 98 392

10.

Jansseune T 2005 Compd. Semicond.11 34

11.

Novoselov K S, Geim A K, Morozov S V, Jiang D, Zhang Y, Dubonos S V et al 2004 Science 306 666

12.

Chen J-H, Jang C, Xiao S, Ishigami M and Fuhrer M S 2008 Nat. Nanotechnol. 3 206

13.

Bae S, Kim H, Lee Y, Xu X, Park J-S, Zheng Y et al 2010 Nat. Nanotechnol. 5 574

14.

Thangaraju B 2002 Thin Solid Films 402 71

15.

De S and Coleman J N 2010 ACS Nano. 4 2713

16.

Wang F J and Lin T C 2012 Method for preparing graphene powder and graphene transparent conductive film by oxyhydrogen flame method, CN103213970A

17.

Ramanathan T, Abdala A A, Stankovich S, Dikin D A, Herrera-Alonso M, Piner R D et al 2008 Nat. Nanotechnol. 3 327

18.

Zhao X, Deng Y and Cheng J 2016 Int. J. Electrochem. Sci. 11 5395

19.

Elangovan E and Ramamurthi K 2005 Thin Solid Films 476 231

20.

Rakhshani A E, Makdisi Y and Ramazaniyan H A 1998 J. Appl. Phys. 83 1049

21.

Subba Ramaiah K and Sundara Raja V 2006 Appl. Surf. Sci. 253 1451

22.

Kulaszewicz S, Lasocka I and Michalski C 1978 Thin Solid Films 55 283

23.

Jordan J F and Albright S P 1988 Sol. Cells 23 107

24.

Grosse P, Schmitte F J, Frank G and Köstlin H 1982 Thin Solid Films 90 309

25.

Fantini M and Torriani I 1986 Thin Solid Films 138 255

26.

Kim H and Laitinen H A 1975 J. Am. Ceram. Soc., https://doi.org/10.1111/j.1151-2916.1975.tb18974.x

27.

Miao D, Zhao Q, Wu S, Wang Z, Zhang X and Zhao X 2010 J. Non-Cryst. Solids 356 2557

28.

Tuyen Le T, Jian S-R, Tien T N and Le H P 2019 Materials (Basel) 12 1665

29.

Li D, Müller M B, Gilje S, Kaner R B and Wallace G G 2008 Nat. Nanotechnol. 3 101

30.

Hernandez Y, Nicolosi V, Lotya M, Blighe F M, Sun Z, De S et al 2008 Nat. Nanotechnol. 3 563

31.

Banyamin Z, Kelly P, West G and Boardman J 2014 Coatings 4 732

32.

Tatar D, Turgut G and Düzgün B 2013 Rom. J. Phys. 58 143

33.

Johra F T, Lee J-W and Jung W-G 2014 J. Ind. Eng. Chem. 20 2883

34.

Fortunato E, Ginley D, Hosono H and Paine D C 2007 MRS Bull. 32 242
Acknowledgements
The authors would like to thank the funding support of PCIEERDDOST, CHED-PCARI (IIID58) and the University Research Council of the Ateneo de Manila University. EPE also thanks the Chevron Philippines, Inc. Endowed Professorial Chair.
About this article
Cite this article
Go, L., Macaraig, L. & Enriquez, E. Few-layer-graphene as intercalating agent for spray-pyrolysed fluorine-doped tin oxide transparent conducting electrode. Bull Mater Sci 43, 65 (2020). https://doi.org/10.1007/s12034-019-2023-x
Received:

Accepted:

Published:
Keywords
Transparent conducting electrode

few-layer-graphene

spray pyrolysis