Abstract
Immune-mediated polyneuropathies are acquired conditions that can be categorized to acute and chronic forms based on the disease course. Although the basic mechanism of these conditions has not been clarified yet, genes that regulate immune responses are putative contributors in their development. In the current study, we assessed expression of signal transducer and activator of transcription (STAT)1-3 and STAT5a genes in peripheral blood of 51 patients and 40 healthy subjects. Expression of STAT1 was higher in female patients compared with female controls (Posterior Beta = 3.622, P = 0.044). The gender*group interaction was significant for this gene which indicates different direction of association in males and females. Expressions of other STAT genes were not different between cases and controls. The diagnostic power of STAT1 in female subjects was estimated to be 0.72 with sensitivity of 68.75% and specificity of 84.62%. There was no significant correlation either between expression of different STAT genes or between their expression and age of study participants. The current study potentiates STAT1 as a putative factor in the pathophysiology of acquired immune-mediated polyneuropathies in females and suggests conduction of further functional studies to elaborate the molecular mechanism of this contribution.
This is a preview of subscription content, log in to check access.
Access options
Buy single article
Instant access to the full article PDF.
US$ 39.95
Price includes VAT for USA
Subscribe to journal
Immediate online access to all issues from 2019. Subscription will auto renew annually.
US$ 199
This is the net price. Taxes to be calculated in checkout.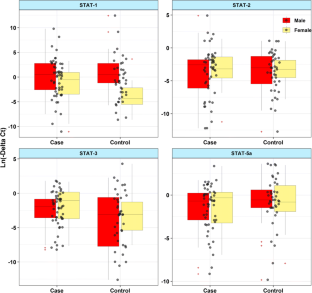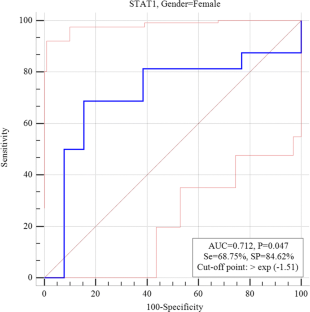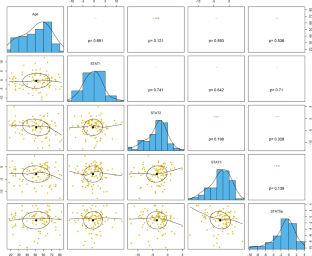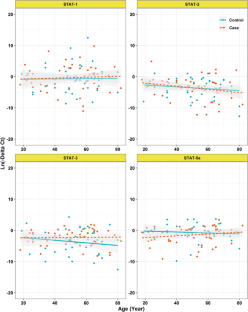 References
Amadi-Obi A, Yu CR, Liu X, Mahdi RM, Clarke GL, Nussenblatt RB, Gery I, Lee YS, Egwuagu CE (2007) TH17 cells contribute to uveitis and scleritis and are expanded by IL-2 and inhibited by IL-27/STAT1. Nat Med 13:711–718

Asbury AK, Cornblath DR (1990) Assessment of current diagnostic criteria for Guillain-Barré syndrome. Ann Neurol: Official Journal of the American Neurological Association and the Child Neurology Society 27:S21–S24

Batten M, Li J, Yi S, Kljavin NM, Danilenko DM, Lucas S, Lee J, De Sauvage FJ, Ghilardi N (2006) Interleukin 27 limits autoimmune encephalomyelitis by suppressing the development of interleukin 17-producing T cells. Nat Immunol 7:929–936

Blanco LP, Plegue M, Fung-Leung WP, Holoshitz J (2013) Gender-biased regulation of human IL-17-producing cells in vitro by peptides corresponding to distinct HLA-DRB1 allele-coded sequences. J Immune Based Ther Vaccines Antimicrob 2:29–38

Chen Z, Laurence A, Kanno Y, Pacher-Zavisin M, Zhu BM, Tato C, Yoshimura A, Hennighausen L, O'Shea JJ (2006) Selective regulatory function of Socs3 in the formation of IL-17-secreting T cells. Proc Natl Acad Sci U S A 103:8137–8142

Chi LJ, Xu WH, Zhang ZW, Huang HT, Zhang LM, Zhou J (2010) Distribution of Th17 cells and Th1 cells in peripheral blood and cerebrospinal fluid in chronic inflammatory demyelinating polyradiculoneuropathy. J Peripher Nerv Syst 15:345–356

Crncec I, Modak M, Gordziel C, Svinka J, Scharf I, Moritsch S, Pathria P, Schlederer M, Kenner L, Timelthaler G, Muller M, Strobl B, Casanova E, Bayer E, Mohr T, Stockl J, Friedrich K, Eferl R (2018) STAT1 is a sex-specific tumor suppressor in colitis-associated colorectal cancer. Mol Oncol 12:514–528

Debnath M, Nagappa M, Murari G, TALY AB (2018) IL-23/IL-17 immune axis in Guillain Barre syndrome: exploring newer vistas for understanding pathobiology and therapeutic implications. Cytokine 103:77–82

Eldar AH, Chapman J (2014) Guillain Barre syndrome and other immune mediated neuropathies: diagnosis and classification. Autoimmun Rev 13:525–530

Gracey E, Yao Y, Green B, Qaiyum Z, Baglaenko Y, Lin A, Anton A, Ayearst R, Yip P, Inman RD (2016) Sexual dimorphism in the Th17 signature of ankylosing spondylitis. Arthritis Rheumatol 68:679–689

Hatami M, Salmani T, Arsang-Jang S, Davood Omrani M, Mazdeh M, Ghafouri-Fard S, Sayad A, Taheri M (2018) STAT5a and STAT6 gene expression levels in multiple sclerosis patients. Cytokine 106:108–113

Hughes RA, Rees JH (1997) Clinical and epidemiologic features of Guillain-Barré syndrome. J Infect Dis 176:S92–S98

Köller H, Kieseier BC, Jander S, Hartung H-P (2005) Chronic inflammatory demyelinating polyneuropathy. N Engl J Med 352:1343–1356

Kun H, Cheng RF, Shan Zhou Y, Guo S, Dong H, He R, Jun Chi L, Ming Zhang L (2014) Increased circulating Th17 cell populations and elevated CSF osteopontin and IL-17 concentrations in patients with Guillain-Barre syndrome. J Clin Immunol 34:94–103

Laurence A, Tato CM, Davidson TS, Kanno Y, Chen Z, Yao Z, Blank RB, Meylan F, Siegel R, Hennighausen L, Shevach EM, O'Shea J, J. (2007) Interleukin-2 signaling via STAT5 constrains T helper 17 cell generation. Immunity 26:371–381

Manoochehrabadi S, Arsang-Jang S, Mazdeh M, Inoko H, Sayad A, Taheri M (2019) Analysis of STAT1, STAT2 and STAT3 mRNA expression levels in the blood of patients with multiple sclerosis. Hum Antibodies 27:91–98

Momen AA, Shakurnia A (2017) The epidemiology of Guillain-Barré syndrome in children under 15 years old in Southwest Iran. Biomedicine Hub 2:1–8

Neufert C, Becker C, Wirtz S, Fantini MC, Weigmann B, Galle PR, Neurath MF (2007) IL-27 controls the development of inducible regulatory T cells and Th17 cells via differential effects on STAT1. Eur J Immunol 37:1809–1816

Nyati KK, Prasad KN (2014) Role of cytokines and toll-like receptors in the immunopathogenesis of Guillain-Barre syndrome. Mediat Inflamm 2014:758639

Nyati KK, Prasad KN, Verma A, Singh AK, Rizwan A, Sinha S, Paliwal VK, Pradhan S (2010) Association of TLR4 Asp299Gly and Thr399Ile polymorphisms with Guillain-Barre syndrome in Northern Indian population. J Neuroimmunol 218:116–119

O'Shea JJ, Steward-Tharp SM, Laurence A, Watford WT, Wei L, Adamson AS, Fan S (2009) Signal transduction and Th17 cell differentiation. Microbes Infect 11:599–611

Park HJ, Park HS, Lee JU, Bothwell AL, Choi JM (2016) Sex-based selectivity of PPARgamma regulation in Th1, Th2, and Th17 differentiation. Int J Mol Sci:17

Peters A, Fowler KD, Chalmin F, Merkler D, Kuchroo VK, Pot C (2015) IL-27 induces Th17 differentiation in the absence of STAT1 signaling. J Immunol 195:4144–4153

Saperstein DS, Amato AA, Wolfe GI, Katz JS, Nations SP, Jackson CE, Bryan WW, Burns DK, Barohn RJ (1999) Multifocal acquired demyelinating sensory and motor neuropathy: the Lewis–Sumner syndrome. Muscle & Nerve: Official Journal of the American Association of Electrodiagnostic Medicine 22:560–566

Schneider-Hohendorf T, Schwab N, Uceyler N, Gobel K, Sommer C, Wiendl H (2012) CD8+ T-cell immunity in chronic inflammatory demyelinating polyradiculoneuropathy. Neurology 78:402–408

Sikorski K, Czerwoniec A, Bujnicki JM, Wesoly J, Bluyssen HA (2011) STAT1 as a novel therapeutical target in pro-atherogenic signal integration of IFNgamma, TLR4 and IL-6 in vascular disease. Cytokine Growth Factor Rev 22:211–219

Villarino AV, Gallo E, Abbas AK (2010) STAT1-activating cytokines limit Th17 responses through both T-bet-dependent and -independent mechanisms. J Immunol 185:6461–6471

Yang XO, Panopoulos AD, Nurieva R, chang SH, Wang D, Watowich SS, Dong C (2007) STAT3 regulates cytokine-mediated generation of inflammatory helper T cells. J Biol Chem 282:9358–9363

Young NA, Valiente GR, Hampton JM, Wu LC, Burd CJ, Willis WL, Bruss M, Steigelman H, Gotsatsenko M, Amici SA, Severin M, Claverie LM, Guerau-De-Arellano M, Lovett-Racke A, Ardoin S, Jarjour WN (2017) Estrogen-regulated STAT1 activation promotes TLR8 expression to facilitate signaling via microRNA-21 in systemic lupus erythematosus. Clin Immunol 176:12–22
Funding
The current study was supported by a grant from Shahid Beheshti University of Medical Sciences.
Ethics declarations
The study protocol was approved by the Ethical Committee of Shahid Beheshti University of Medical Sciences. All study participants signed the informed consent forms.
Conflict of Interest
The authors declare that they have no conflict of interest.
Additional information
Publisher's Note
Springer Nature remains neutral with regard to jurisdictional claims in published maps and institutional affiliations.
About this article
Cite this article
Ali, Z.P.M., Taheri, M., Sangsefidi, S. et al. Evaluation of Expression of STAT Genes in Immune-Mediated Polyneuropathies. J Mol Neurosci (2020). https://doi.org/10.1007/s12031-020-01494-y
Keywords
Immune-mediated polyneuropathies

Signal transducer and activator of transcription

STAT