Abstract
Vitamin D receptor (VDR) polymorphisms are risk factors for autism. We performed a systematic meta-analysis to explore the relationship between VDR gene polymorphisms and autism. A literature review of articles from Pubmed, Embase, the Cochrane Library, and Springer was conducted up to January 28, 2019. The association between SNPs and autism was calculated using pooled odd ratios (ORs) and 95% confidence intervals (CIs). Additionally, tests for heterogeneity, publication bias, and sensitivity were conducted. Six eligible studies with a total of 2001 participants (1045 cases and 956 controls) were included. Meta-analysis indicated that the "C" allele of the rs731236 gene, including C vs. T (OR = 1.3254, 95% CI = 1.0897–1.6122), CC vs. TT (OR = 2.0871, 95% CI = 1.3395–3.2519), and CC vs. TT + CT (OR = 1.9610, 95% CI = 1.2985–2.9615), might be a risk factor for autism. Moreover, the "G" allele of rs7975232 (G vs. T: OR = 0.8228, 95% CI = 0.6814–0.9934) was associated with a protective effect against the development of autism. No significant differences were found in the allele frequencies of rs11568820, rs1544410, and rs2228570 in the cases and controls. This meta-analysis revealed that both VDR rs731236 and rs7975232 were significantly associated with autism, whereas VDR rs11568820, rs1544410, and rs2228570 might not be correlated with the incidence of autism.
This is a preview of subscription content, log in to check access.
Access options
Buy single article
Instant access to the full article PDF.
US$ 39.95
Price includes VAT for USA
Subscribe to journal
Immediate online access to all issues from 2019. Subscription will auto renew annually.
US$ 199
This is the net price. Taxes to be calculated in checkout.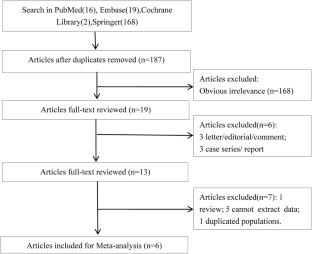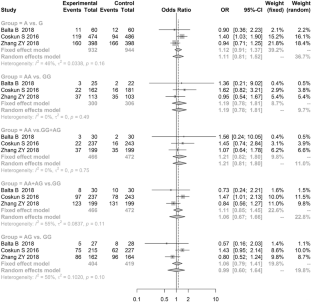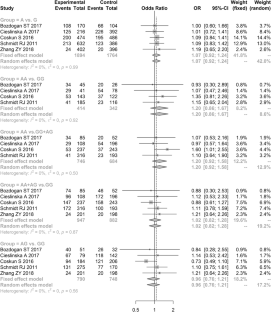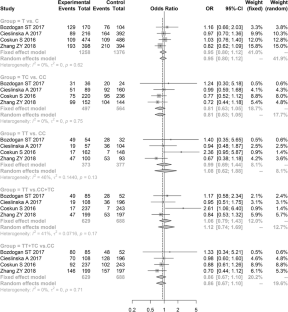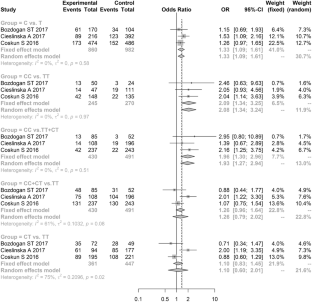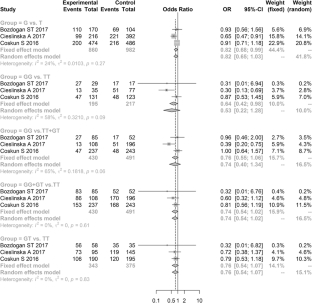 References
Altun H, Kurutaş EB, Şahin N, Güngör O, Fındıklı E (2018) The levels of vitamin D, vitamin D receptor, homocysteine and complex B vitamin in children with autism spectrum disorders. Clinical Psychopharmacology and Neuroscience 16:383

Balta B, Gumus H, Bayramov R et al (2018) Increased vitamin D receptor gene expression and rs11568820 and rs4516035 promoter polymorphisms in autistic disorder. Mol Biol Rep 45:1–6

Cannell JJ, Grant WB (2013) What is the role of vitamin D in autism? Dermato-endocrinology 5:199–204

Cieślińska A, Kostyra E, Chwała B et al (2017) Vitamin D receptor gene polymorphisms associated with childhood autism. Brain Sci 7:115

Coşkun S, Şimşek Ş, Camkurt MA, Çim A, Çelik SB (2016) Association of polymorphisms in the vitamin D receptor gene and serum 25-hydroxyvitamin D levels in children with autism spectrum disorder. Gene 588:109–114

Crane L, Chester JW, Goddard L, Henry LA, Hill E (2016) Experiences of autism diagnosis: a survey of over 1000 parents in the United Kingdom. Autism 20:153–162

Kaneko I, Sabir MS, Dussik CM, Whitfield GK, Karrys A, Hsieh JC, Haussler MR, Meyer MB, Pike JW, Jurutka PW (2015) 1,25-Dihydroxyvitamin D regulates expression of the tryptophan hydroxylase 2 and leptin genes: implication for behavioral influences of vitamin D. FASEB J 29:4023–4035

Lao JI (2014) Autism spectrum disorders: an intervention approach based on genomic analysis. Biology and Medicine 6:1

Lau J, Ioannidis JP, Schmid CH (1997) Quantitative synthesis in systematic reviews. Ann Intern Med 127:820–826

Lee YH, Kim J-H, Song GG (2014) Vitamin D receptor polymorphisms and susceptibility to Parkinson's disease and Alzheimer's disease: a meta-analysis. Neurol Sci 35:1947–1953

Luchini C, Stubbs B, Solmi M, Veronese N (2017) Assessing the quality of studies in meta-analyses: advantages and limitations of the Newcastle Ottawa scale. World Journal of Meta-Analysis 5:80

Máčová L, Bičíková M, Ostatníková D, Hill M, Stárka L (2017) Vitamin D, neurosteroids and autism. Physiol Res 66:S333–S340

Minshew NJ, Goldstein G (2015) Autism as a disorder of complex information processing. Developmental Disabilities Research Reviews 4:129–136

Omez N, Mingo LF, Bobadilla J, Serradilla F, Manzano JAC (2010) Particle swarm optimization models applied to neural networks using the R language. Wseas Transactions on Systems 9:192–202

Ornoy A, Weinstein-Fudim L, Ergaz Z (2015) Prenatal factors associated with autism spectrum disorder (ASD). Reprod Toxicol 56:155–169

Ozonoff S, Strayer DL, Mcmahon WM, Filloux F (2010) Executive function abilities in autism and Tourette syndrome: an information processing approach. J Child Psychol Psychiatry 35:1015–1032

Peters JL, Sutton AJ, Jones DR, Abrams KR, Lesley R (2006) Comparison of two methods to detect publication bias in meta-analysis. Jama 295:676

Reichow B, Wolery M (2009) Comprehensive synthesis of early intensive behavioral interventions for young children with autism based on the UCLA young autism project model. Journal of Autism & Developmental Disorders 39:23–41

Ren-Nan F, Chen Z, Chang-Hao S, Ying L (2011) Meta-analysis of TNF 308 G/a polymorphism and type 2 diabetes mellitus. PLoS One 6:e18480

Rodriguez S, Gaunt TR, Day IN (2009) Hardy-Weinberg equilibrium testing of biological ascertainment for Mendelian randomization studies. Am J Epidemiol 169:505–514

Saad K, Abdel-rahman AA, Elserogy YM, et al (2016). Vitamin D status in autism spectrum disorders and the efficacy of vitamin D supplementation in autistic children. Nutritional neuroscience,19, 346-351

Schmidt RJ, Hansen RL, Hartiala J, Allayee H, Sconberg JL, Schmidt LC, Volk HE, Tassone F (2015) Selected vitamin D metabolic gene variants and risk for autism spectrum disorders in the CHARGE study. Early Hum Dev 91:483–489

Bozdogan ST, Kutuk MO, Tufan E, Altintas Z, Temel GO, Toros F (2018) No association between polymorphisms of vitamin D and oxytocin receptor genes and autistic spectrum disorder in a sample of Turkish children. Clinical Psychopharmacology and Neuroscience 16:415–421

Smolders J, Damoiseaux J, Menheere P, Tervaert JWC, Hupperts R (2009) Fok-I vitamin D receptor gene polymorphism (rs10735810) and vitamin D metabolism in multiple sclerosis. J Neuroimmunol 207:117–121

Taymans SE, Pack S, Pak E et al (2010) The human vitamin D receptor gene (VDR) is localized to region 12cen-q12 by fluorescent in situ hybridization and radiation hybrid mapping: genetic and physical VDR map. Journal of Bone & Mineral Research 14:1163–1166

Volkmar FR (2011) Understanding the social brain in autism. Dev Psychobiol 53:428–434

Zhang Z, Li S, Yu L, Liu J (2018) Polymorphisms in vitamin D receptor genes in association with childhood autism Spectrum disorder. Dis Markers 2018:1–7
Funding
This work was supported by the Shanghai Key Lab of Human Performance (Shanghai University of Sport) (Grant No. 11DZ2261100); Social Science Fund of Jiangsu Province (Grant No. 19TYD001); Fundamental Research Funds for the Central Universities (Grant No. 2018B59514); and Hohai University Disciplinary Planning Program (Grant No. 1013–418246).
Ethics declarations
Ethics Approval and Consent to Participate
Not applicable.
Consent for Publication
Not applicable.
Availability of Data and Materials
Not applicable.
Competing Interests
The authors declare that they have no competing interests.
Additional information
Publisher's Note
Springer Nature remains neutral with regard to jurisdictional claims in published maps and institutional affiliations.
About this article
Cite this article
Yang, H., Wu, X. The Correlation Between Vitamin D Receptor (VDR) Gene Polymorphisms and Autism: A Meta-analysis. J Mol Neurosci 70, 260–268 (2020). https://doi.org/10.1007/s12031-019-01464-z
Received:

Accepted:

Published:

Issue Date:
Keywords
Meta-analysis

Autism

Vitamin D receptor

Gene polymorphism