Pharmacological Manipulation of Trk, p75NTR, and NGF Balance Restores Memory Deficit in Global Ischemia/Reperfusion Model in Rats
Abstract
Long-term memory impairment is reported in more than 50% of cardiac arrest survivors. Monosialoganglioside (GM1) provided neuroprotection in experimental models of stroke but failed to replicate its promise clinically for unknown reasons. GM1 stimulates the release of nerve growth factor (NGF), which is synthesized as a precursor protein (pro-NGF) that either mediates apoptosis through the p75 neurotrophin receptor (p75NTR) or is cleaved by the protease furin (FUR) to yield mature NGF, the latter supporting survival through tropomyosin kinase receptor (Trk). The flavanol epicatechin (EPI) inhibits p75NTR-mediated signaling and apoptosis by pro-NGF. The aim of the current work is to test whether these two drugs affect, or communicate with, each other in the setting of CNS injuries. Using the two-vessel occlusion model of global ischemia/reperfusion (I/R), we tested if pharmacological modulation of Trk, p75NTR, and NGF balance with GM1, EPI, and their combination, can correct the memory deficit that follows this insult. Finally, we tested if FUR insufficiency and/or p75NTR-mediated apoptosis negatively affect the neurotherapeutic effect of GM1. Key proteins for Trk and p75NTR, FUR, and both forms of NGF were assessed. All treatment regiments successfully improved spatial memory retention and acquisition. A week after the insult, most Trk and p75NTR proteins were normal, but pro/mature NGF ratio remained sharply elevated and was associated with the poorest memory performance. Pharmacological correction of this balance was achieved by reinforcing Trk and p75NTR signaling. GM1 increased FUR levels, while concomitant administration of EPI weakened GM1 effect on pro-survival Trk and p75NTR mediators. GM1 neuroprotection is therefore not limited by FUR but could be dependent on p75NTR.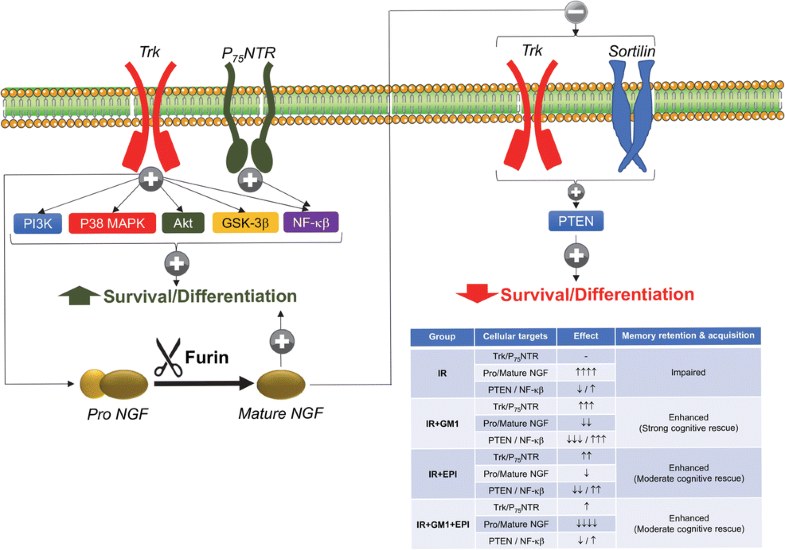 Keywords
Monosialoganglioside 
Tropomyosin kinase receptor 
p75 neurotrophin receptor 
Nerve growth factor 
Epicatechin 
Global ischemia/reperfusion 
Abbreviations
Akt

Protein kinase B

Bcl-2

B cell lymphoma-2 protein

CA

Cardiac arrest

CT

Cycle threshold

DMSO

Dimethyl sulfoxide

EPI

Epicatechin

FUR

Furin

GAPDH

Glyceraldehyde-3-phosphate dehydrogenase

GM1

Monosialoganglioside

GSK3β

Glycogen synthase kinase 3β

I/R

Ischemia/reperfusion

JNK

Jun-kinase

MCAO

Middle cerebral artery occlusion

NF- κB

Nuclear factor-κB

NGF

Nerve growth factor

NTs

Neurotrophins

p38MAPK

Mitogen-activated protein kinase

p75NTR

p75 neurotrophin receptor

PI3K

Phosphoinositol-3 kinase

PLC

Phospholipase-C

PTEN

phosphatase and tensin homolog

Trk

Tropomyosin kinase receptor
Notes
Authors' contributions
A.M.C. conceived the study. A.M.C. and H.S.E. jointly designed the experiments. A.M.C. performed the experiments. A.S.A. designed and supervised RT-PCR experiments. A.M.C. and A.S.A. jointly quantified and analyzed gene expression. A.M.C. and M.Y.A. isolated and preserved hippocampal tissue samples. A.M.C., M.Y.A., and H.S.E. performed the statistical analysis. A.M.C. and H.S.E. interpreted the data and wrote the article. M.Y.A. and A.S.A. provided technical support and reviewed the manuscript.
Compliance with Ethical Standards
Conflict of Interest
The authors declare that they have no conflict of interest.
Copyright information
© Springer Science+Business Media, LLC, part of Springer Nature 2019