Abstract
Previously, we have reported that Yes-associated protein (YAP) is upregulated in human glioma tissues and its level is positively correlated with patient prognosis. However, the role and mechanism of YAP in the highly invasive nature of human gliomas were largely unknown. In this study, examined by wound healing assay, transwell assay, or live-imaging, we found that YAP downregulation inhibited glioma cell migration and invasion, while YAP over-expression promoted them. Interestingly, the above effect of YAP on immortalized glioma cells was recapitulated in cultured primary glioma cells. In addition, the protein level of N-cadherin and Twist, two important proteins involved in tumor invasion, increased after YAP over-expression. Meanwhile, YAP over-expression significantly increased the F-actin level and changed the distribution of F-actin, leading to cytoskeletal reorganization, which plays an important role in cell motility. Furthermore, the promotion effect of YAP over-expression on glioma cell migration and invasion was partially abolished by Twist downregulation. Taken together, our findings show that YAP contributes to glioma cell migration and invasion by regulating N-cadherin and Twist, as well as cytoskeletal reorganization.
This is a preview of subscription content, log in to check access.
Access options
Buy single article
Instant unlimited access to the full article PDF.
US$ 39.95
Price includes VAT for USA
Subscribe to journal
Immediate online access to all issues from 2019. Subscription will auto renew annually.
US$ 199
This is the net price. Taxes to be calculated in checkout.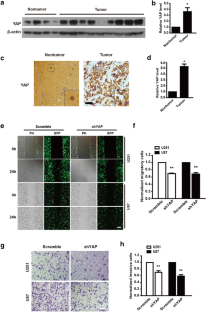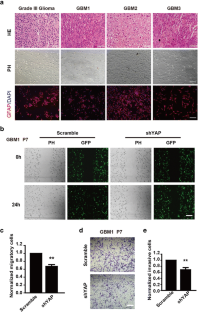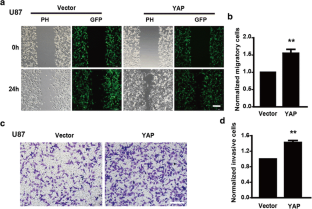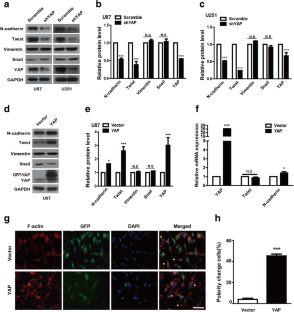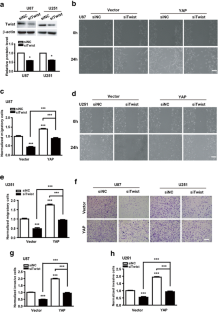 Acknowledgements
We thank Professor Chunmei Zhu in the School of International Education of Xuzhou Medical University for the English writing assistance.
Funding Information
This study was supported by National Natural Science Foundation of China (No. 81372699; No. 81672489; No.81472345) and the Six Major Talent Summit of Jiangsu Province (No. WSW-039).
Ethics declarations
Written informed consent was obtained from the patients and the study was approved by the ethics committee of the hospital.
Electronic supplementary material
About this article
Cite this article
Zhang, Y., Xie, P., Wang, X. et al. YAP Promotes Migration and Invasion of Human Glioma Cells. J Mol Neurosci 64, 262–272 (2018). https://doi.org/10.1007/s12031-017-1018-6
Received:

Accepted:

Published:

Issue Date:
Keywords
Glioma

YAP

Migration

F-actin

N-cadherin

Twist