Abstract
The origin of secondary brainstem hemorrhages following an acute expansive hemispheric lesion has been attributed to Henri Duret, who proposed that hemorrhaging was caused by a shock wave through the cerebral spinal fluid. However, other experiments have shown important findings correlating brainstem hemorrhages to arterial hemorrhages. Animal studies found that the rapidity of expansion of a lesion would be crucial in producing these lesions, but there was no consistent correlation with paratentorial grooving so commonly seen with increased intracranial pressure. This historical perspective studies the different experimentalists who paved the way for the discovery of these secondary brainstem hemorrhages—often named after Duret—and now known not to be invariably associated with poor outcome.
This is a preview of subscription content, log in to check access.
Access options
Buy single article
Instant access to the full article PDF.
US$ 39.95
Price includes VAT for USA
Subscribe to journal
Immediate online access to all issues from 2019. Subscription will auto renew annually.
US$ 199
This is the net price. Taxes to be calculated in checkout.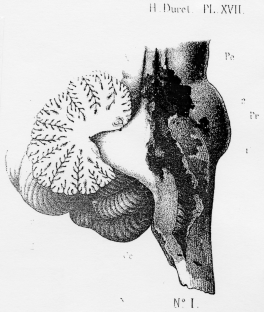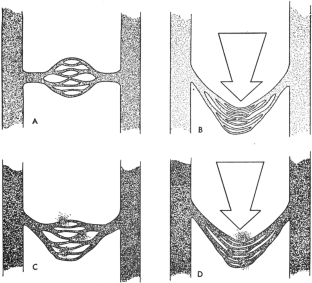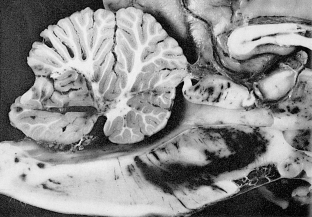 References
1.

Klintworth GK. Evaluation of the role of neurosurgical procedures in the pathogenesis of secondary brain-stem haemorrhages. J Neurol Neurosurg Psychiatry. 1966;29:423–5.

2.

Walusinski O, Courrivaud P. Henry Duret (1849–1921): a surgeon and forgotten neurologist. Eur Neurol. 2014;72:193–202.

3.

Duret H. Etudes expérimentales sur les traumatismes cérébraux. Paris: La Salpêtrière; 1878.

4.

Klintworth GK. The pathogenesis of secondary brainstem hemorrhages as studied in an experimental model. Am J Pathol. 1965;47:525–36.

5.

Klintworth GK. Paratentorial grooving of human brains with particular reference to transtentorial herniation and the pathogenesis of secondary brain-stem hemorrhages. Am J Pathol. 1968;53:391–408.

6.

Tandon PN. Brain stem hemorrhage in cranio-cerebral trauma. Acta Neurol Scand. 1964;40:375–85.

7.

Caplan LR, Zervas NT. Survival with permanent midbrain dysfunction after surgical treatment of traumatic subdural hematoma: the clinical picture of a Duret hemorrhage? Ann Neurol. 1977;1:587–9.
Ethics declarations
Conflict of interest
The author declares he has no conflict of interest.
Additional information
Publisher's Note
Springer Nature remains neutral with regard to jurisdictional claims in published maps and institutional affiliations.
About this article
Cite this article
Wijdicks, E.F.M. The Origin of Intracranial Pressure Causing Brainstem Hemorrhages. Neurocrit Care 32, 323–326 (2020). https://doi.org/10.1007/s12028-019-00688-6
Keywords
Duret

Klintworth

Secondary brainstem hemorrhages

Animal studies

Supratentorial lesion