Autoimmunity, inflammation, and dysbiosis mutually govern the transition from the preclinical to the clinical stage of rheumatoid arthritis
Abstract
Currently, it is well recognized that in the natural history of rheumatoid arthritis (RA), an at-risk phase, characterized by the development of autoimmunity, precedes the onset of clinical symptoms in a large proportion of patients. For individuals who later develop seropositive RA, this manifests as autoantibodies directed against proteins that have undergone specific post-translational modifications (PTM). These anti-PTM autoantibodies (APMA) are an important biomarker and risk factor for future RA. However, the triggers of autoimmunity remain unknown. This review summarizes data supporting the view that the transition from the at-risk stage to clinical RA is governed by a link between autoimmunity, inflammation, and dysbiosis. In particular, dysbiosis was shown to enhance the generation of PMT-peptides, create an antigenic mimicry with self-antigens, and establish the pro-inflammatory immune profile, all of which lead to the initiation of APMA production. Moreover, we present data supporting a major role of the autoimmunity-inflammation-dysbiosis axis in the development of bone damage and atherosclerosis-associated cardiovascular morbidity in at-risk RA individuals, and we describe potential mechanisms underlying these events. We believe that clarification of the mechanisms triggering the transition from a preclinical to clinical RA stage will pay the way to new prophylactic interventions that will prevent development of classified RA.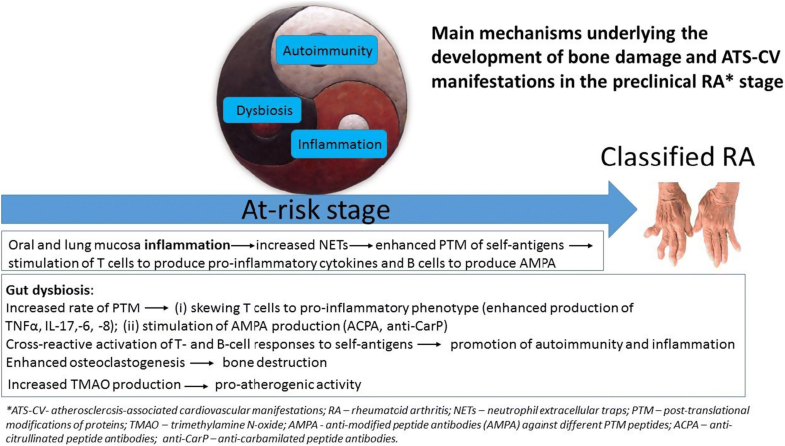 Keywords
Rheumatoid arthritis 
Autoimmunity 
Inflammation 
Dysbiosis 
Bone damage 
Atherosclerosis 
Abbreviations
ACPA

Anti-citrullinated peptide antibodies

AMPA

Anti-modified peptide antibodies (AMPA) against different PTM peptides

anti-CarP

Anti-carbamilated peptide antibodies

ATS-CVD

Atherosclerosis-associated cardiovascular disorders

IL

Interleukin

HLA

Human leucocyte antigen

IFN

Interferon

RA

Rheumatoid arthritis

SE

Shared epitope

RANKL

A receptor activator of nuclear factor kappa-B ligand

NETs

Neutrophil extracellular traps

OPG

Osteoprotegerin

PTM

Post-translational modifications of proteins

RF

Rheumatoid factor

TMAO

Trimethylamine N-oxide

Th

T helper cell

TNF

Tumor necrosis factor
Notes
Funding information
This study was supported by the Israel Science Foundation (grant no. 1018/13) to GL.
Compliance with ethical standards
The manuscript has not been published, it is not under consideration for publication elsewhere, its publication is approved by all authors, and if accepted, it will not be published elsewhere including electronically in the same form, in English or in any other language, without the written consent of the copyright-holder.
Conflict of interest
The authors declare that that they have no competing interests.
Copyright information
© Springer Science+Business Media, LLC, part of Springer Nature 2019