Spontaneous coronary artery dissection
Case reports
Case 1
A 35-year-old previously well woman was found dead in bed. She had a past history of vitamin B12 deficiency, headaches and neck pain associated with degenerative changes at the C5/6 level. She was on no medications and had not used oral contraceptives for 4 years. She had recently lost 14 kg in weight and had been attending a gymnasium five nights a week. She was not pregnant or postpartum.
At autopsy the major findings were limited to the heart where there was a dissection of the left coronary artery system involving the left main stem artery, the proximal 25 mm of the left anterior descending artery (Fig.
1
) and the proximal 5 mm of the left circumflex artery. The dissection did not involve the aorta. There was no cardiac tamponade.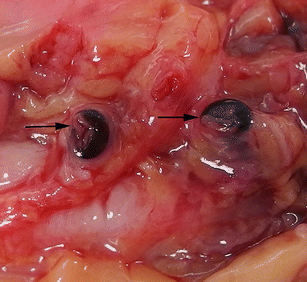 Notes
Compliance with ethical standards
Ethical approval
This article does not contain any studies with human participants performed by any of the authors. Approval to report these cases was given by Forensic Science SA, Adelaide Australia.
Funding
This study was not funded.
Conflict of interest
The authors declare that they have no conflict of interest.
Copyright information
© Springer Science+Business Media New York 2017