Abstract
5-Fluorouracil is a key element to the treatment of colon cancer. But it is also one of the most cardiotoxic chemotherapies, and the management of those that experience cardiotoxicity can be challenging. We present three cases of 5-FU cardiac toxicity that manifested as myocardial infarction, cardiogenic shock, and ventricular fibrillation. Additionally, we discuss the current literature regarding 5-fluorouracil cardiotoxicity mechanisms as well as management.
This is a preview of subscription content, log in to check access.
Access options
Buy single article
Instant unlimited access to the full article PDF.
US$ 39.95
Price includes VAT for USA
Subscribe to journal
Immediate online access to all issues from 2019. Subscription will auto renew annually.
US$ 99
This is the net price. Taxes to be calculated in checkout.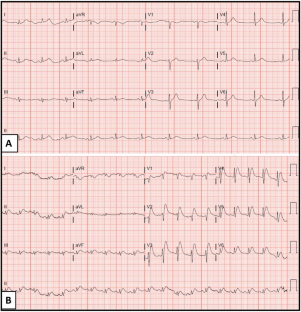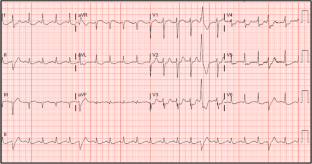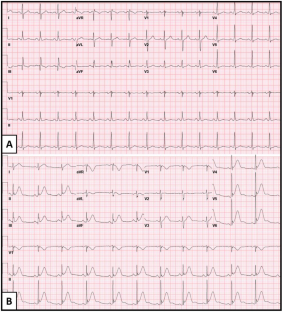 References
1.

Arney, K. (2016). "Fluorouracil". Chemistry World. Audio blog post. Royal Society of Chemistry. https://www.chemistryworld.com/podcasts/fluorouracil/1017474.article.

2.

Devita, V. T., Jr., & Chu, E. (2008). A history of cancer chemotherapy. Cancer Research,68(21), 8643–8653.

3.

Heidelberger, C., Chaudhuari, N. K., & Danenberg, P. (1957). Fluorinated pyrimidines. A new class of tumor inhibitory compounds. Nature,179, 663–666.

4.

Grem, J. L. (2000). 5-Fluorouracil: Forty-plus and still ticking. A review of its preclinical and clinical development. Investigational New Drugs,18(4), 299–313.

5.

de Gramont, A., Figer, A., Seymour, M., et al. (2000). Leucovorin and fluorouracil with or without oxaliplatin as first-line treatment in advanced colorectal cancer. Journal of Clinical Oncology,18(16), 2938.

6.

Anand, A. J. (1994). Fluorouracil cardiotoxicity. Annals of Pharmacotherapy,28(3), 374.

7.

Akhtar, S. S., Salim, K. P., & Bano, Z. A. (1993). Symptomatic cardiotoxicity with high dose 5-fluorouracil infusion: A prospective study. Oncology,50(6), 441.

8.

Mougdil, R., & Yeh, E. T. (2016). Mechanisms of cardiotoxicity of cancer chemotherapeutic agents: Cardiomyopathy and beyond. Canadian Journal of Cardiology,32(7), 863–870.

9.

Sorrentino, M. F., Kim, J., Foderaro, A. E., & Truesdell, A. G. (2012). 5-Fluorouracil induced cardiotoxicity: Review of the literature. Cardiology Journal,19(5), 453–458.

10.

Sara, J. D., Kaur, J., Khodadadi, R., Rehman, M., Lobo, R., Chakrabarti, S., Hermann, J., Lerman, A., Grothey, A. (2018). 5-Fluorouracil and cardiotoxicity: A review. Therapeutic Advances in Medical Oncology, 10, 1–18.

11.

Polk, A., Visitsen, K., Vaage-Nilsen, M., & Nielson, D. (2014). A systematic review of the pathophysiology of 5-fluorouracil-induced cardiotoxicity. BMC Pharmacology and Toxicology,15, 47–58.

12.

Schober, C., Papageorgiou, E., Harstrick, A., et al. (1993). Cardiotoxicity of 5-fluorouracil in combination with folinic acid in patients with gastrointestinal cancer. Cancer,72(7), 2242–2247.

13.

Kosmas, C., Kallistratos, M. S., Kopertides, P., et al. (2008). Cardiotoxicity of fluoropyrimidines in different schedules of administration: A prospective study. Journal of Cancer Research and Clinical Oncology,134(1), 75–82.

14.

Meyer, C. C., Calis, K. A., Burke, L. B., et al. (1997). Symptomatic cardiotoxicity associated with 5-fluorouracil. Pharmacotherapy,17(4), 729–736.

15.

Jensen, S. A., & Sorensen, J. B. (2006). Risk factors and prevention of cardiotoxicity induced by 5-fluorouracil or capecitabine. Cancer Chemotherapy and Pharmacology,58(4), 487–493.

16.

Saif, M. W., Shah, M. M., & Shah, A. R. (2009). Fluoropyrimidine-associated cardiotoxicity: Revisited. Expert Opinion on Drug Safety,8(2), 191–202.

17.

Kleinman, N. S., Lehane, D. E., Geyer, C. E., et al. (1987). Prinzmetal's angina during 5-fluorouracil chemotherapy. American Journal of Medicine,82(3), 566–568.

18.

Cianci, G., Morelli, M. F., Cannita, K., et al. (2003). Prophylactic options in patients with 5-fluorouracil-associated cardiotoxicity. British Journal of Cancer,88, 1507–1509.

19.

Porschen, R., Arkenau, H. T., Kubicka, S., et al. (2007). Phase III study of capecitabine plus oxaliplatin compared with fluorouracil and leucovorin plus oxaliplatin in metastatic colorectal cancer: A final report of the AIO Colorectal Study Group. Journal of Clinical Oncology,25(27), 4217.

20.

Frickhofen, N., Beck, F. J., Jung, B., et al. (2002). Capecitabine can induce acute coronary syndrome similar to 5-fluorouracil. Annals of Oncology,13(5), 797–801.
Ethics declarations
Conflict of interest
The authors declare that they have no conflict of interest.
Additional information
Publisher's Note
Springer Nature remains neutral with regard to jurisdictional claims in published maps and institutional affiliations.
Handling Editor: Y. James Kang.
About this article
Cite this article
Allison, J.D., Tanavin, T., Yang, Y. et al. Various Manifestations of 5-Fluorouracil Cardiotoxicity: A Multicenter Case Series and Review of Literature. Cardiovasc Toxicol (2020) doi:10.1007/s12012-020-09562-w
Keywords
Cardiotoxicity

Pharmacotherapy

Chemotherapy

5-Fluorouracil

Acute myocardial infarction

Cardiogenic shock

Ventricular fibrillation

Arrhythmia

Colon cancer