Abstract
This investigation was conducted to determine the effects of chromium supplementation on metabolic status in diabetic patients with coronary heart disease (CHD). This randomized, double-blind, placebo-controlled trial was performed in 64 diabetic patients with CHD between October 2017 and January 2018. Patients were randomly divided into two groups to obtain either 200 μg chromium (n = 32) or placebo (n = 32) for 12 weeks. Chromium supplementation significantly reduced body weight (− 0.9 ± 1.6 vs. + 0.1 ± 0.8 kg, P = 0.001), BMI (− 0.4 ± 0.7 vs. + 0.1 ± 0.3 kg/m2, P = 0.002), fasting glucose (β − 11.03 mg/dL; 95% CI, − 18.97, − 3.09; P = 0.007), insulin (β − 1.33 μIU/mL; 95% CI, − 1.90, − 0.76; P < 0.001), and insulin resistance (β − 0.44; 95% CI, − 0.62, − 0.25; P < 0.001) and significantly increased insulin sensitivity (β 0.007; 95% CI, 0.003, 0.01; P < 0.001) compared with the placebo. In addition, taking chromium led to a significant reduction in serum high-sensitivity C-reactive protein (hs-CRP) (β − 0.49 mg/L; 95% CI, − 0.91, − 0.06; P = 0.02) and plasma malondialdehyde (MDA) levels (β − 0.22 μmol/L; 95% CI, − 0.35, − 0.10; P = 0.001); also, a significant rise in total antioxidant capacity (TAC) (β 84.54 mmol/L; 95% CI, 31.05, 138.02; P = 0.002) was observed in comparison with placebo. Additionally, chromium administration significantly reduced diastolic blood pressure (DBP) (β − 5.01 mmHg; 95% CI, − 9.04, − 0.97; P = 0.01) compared with the placebo. Overall, the 12-week supplementation of chromium to diabetic patients with CHD had beneficial impacts on weight, BMI, glycemic control, hs-CRP, TAC, MDA, and DBP.
Trial Registration www.irct.ir: http://www.irct.ir: IRCT20170513033941N30.
This is a preview of subscription content, log in to check access.
Access options
Buy single article
Instant access to the full article PDF.
US$ 39.95
Price includes VAT for USA
Subscribe to journal
Immediate online access to all issues from 2019. Subscription will auto renew annually.
US$ 954
This is the net price. Taxes to be calculated in checkout.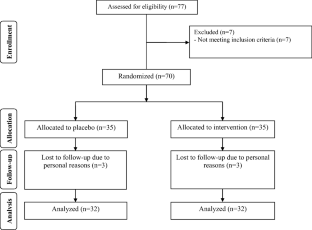 Abbreviations
ACEI:

angiotensin-converting enzyme inhibitors

ARB:

aldosterone receptor blockers

FPG:

fasting plasma glucose

GSH:

total glutathione

HOMA-IR:

homeostasis model of assessment-insulin resistance

HDL-cholesterol:

high-density lipoprotein-cholesterol

Hs-CRP:

high-sensitivity C-reactive protein

LDL-cholesterol:

low-density lipoprotein-cholesterol

MDA:

malondialdehyde

NO:

nitric oxide

QUICKI:

quantitative insulin sensitivity check index

VLDL-cholesterol:

very low–density lipoprotein-cholesterol

TAC:

total antioxidant capacity
References
1.

Shaw JE, Sicree RA, Zimmet PZ (2010) Global estimates of the prevalence of diabetes for 2010 and 2030. Diabetes Res Clin Pract 87:4–14

2.

Yahagi K, Kolodgie FD, Lutter C, Mori H, Romero ME, Finn AV, Virmani R (2017) Pathology of human coronary and carotid artery atherosclerosis and vascular calcification in diabetes mellitus. Arterioscler Thromb Vasc Biol 37:191–204

3.

Berry C, Tardif JC, Bourassa MG (2007) Coronary heart disease in patients with diabetes: part I: recent advances in prevention and noninvasive management. J Am Coll Cardiol 49:631–642

4.

Raymond T, Raymond R, Lincoff AM (2013) Management of the patient with diabetes and coronary artery disease: a contemporary review. Futur Cardiol 9:387–403

5.

Anderson RA (1997) Chromium as an essential nutrient for humans. Regul Toxicol Pharmacol 26:S35–S41

6.

Rajpathak S, Rimm EB, Li T, Morris JS, Stampfer MJ, Willett WC, Hu FB (2004) Lower toenail chromium in men with diabetes and cardiovascular disease compared with healthy men. Diabetes Care 27:2211–2216

7.

Ghosh D, Bhattacharya B, Mukherjee B, Manna B, Sinha M, Chowdhury J, Chowdhury S (2002) Role of chromium supplementation in Indians with type 2 diabetes mellitus. J Nutr Biochem 13:690–697

8.

Alissa EM, Bahjri SM, Ahmed WH, Al-Ama N, Ferns GA (2009) Chromium status and glucose tolerance in Saudi men with and without coronary artery disease. Biol Trace Elem Res 131:215–228

9.

Ngala RA, Awe MA, Nsiah P (2018) The effects of plasma chromium on lipid profile, glucose metabolism and cardiovascular risk in type 2 diabetes mellitus. A case-control study. PLoS One 13:e0197977

10.

McIver DJ, Grizales AM, Brownstein JS, Goldfine AB (2015) Risk of type 2 diabetes is lower in US adults taking chromium-containing supplements. J Nutr 145:2675–2682

11.

Huang H, Chen G, Dong Y, Zhu Y, Chen H (2018) Chromium supplementation for adjuvant treatment of type 2 diabetes mellitus: results from a pooled analysis. Mol Nutr Food Res 62. https://doi.org/10.1002/mnfr.201700438

12.

Jamilian M, Bahmani F, Siavashani MA, Mazloomi M, Asemi Z, Esmaillzadeh A (2016) The effects of chromium supplementation on endocrine profiles, biomarkers of inflammation, and oxidative stress in women with polycystic ovary syndrome: a randomized, double-blind, placebo-controlled trial. Biol Trace Elem Res 172:72–78

13.

Onakpoya I, Posadzki P, Ernst E (2013) Chromium supplementation in overweight and obesity: a systematic review and meta-analysis of randomized clinical trials. Obes Rev 14:496–507

14.

Iqbal N, Cardillo S, Volger S, Bloedon LAT, Anderson RA, Boston R, Szapary PO (2009) Chromium picolinate does not improve key features of metabolic syndrome in obese nondiabetic adults. Metab Syndr Relat Disord 7:143–150

15.

Guimaraes MM, Martins Silva Carvalho AC, Silva MS (2013) Chromium nicotinate has no effect on insulin sensitivity, glycemic control, and lipid profile in subjects with type 2 diabetes. J Am Coll Nutr 32:243–250

16.

Balk EM, Tatsioni A, Lichtenstein AH, Lau J, Pittas AG (2007) Effect of chromium supplementation on glucose metabolism and lipids: a systematic review of randomized controlled trials. Diabetes Care 30:2154–2163

17.

Abdollahi M, Farshchi A, Nikfar S, Seyedifar M (2013) Effect of chromium on glucose and lipid profiles in patients with type 2 diabetes; a meta-analysis review of randomized trials. J Pharm Pharm Sci 16:99–114

18.

Suksomboon N, Poolsup N, Yuwanakorn A (2014) Systematic review and meta-analysis of the efficacy and safety of chromium supplementation in diabetes. J Clin Pharm Ther 39:292–306

19.

Wang YQ, Yao MH (2009) Effects of chromium picolinate on glucose uptake in insulin-resistant 3T3-L1 adipocytes involve activation of p38 MAPK. J Nutr Biochem 20:982–991

20.

Ghadieh HE, Smiley ZN, Kopfman MW, Najjar MG, Hake MJ, Najjar SM (2015) Chlorogenic acid/chromium supplement rescues diet-induced insulin resistance and obesity in mice. Nutr Metab 12:19

21.

Jain SK, Croad JL, Velusamy T, Rains JL, Bull R (2010) Chromium dinicocysteinate supplementation can lower blood glucose, CRP, MCP-1, ICAM-1, creatinine, apparently mediated by elevated blood vitamin C and adiponectin and inhibition of NFkappaB, Akt, and Glut-2 in livers of zucker diabetic fatty rats. Mol Nutr Food Res 54:1371–1380

22.

American Diabetes Association (2014) Diagnosis and classification of diabetes mellitus. Diabetes Care 37(Suppl 1):S81–S90

23.

Luepker RV, Apple FS, Christenson RH et al (2003) Case definitions for acute coronary heart disease in epidemiology and clinical research studies: a statement from the AHA Council on Epidemiology and Prevention; AHA Statistics Committee; World Heart Federation Council on Epidemiology and Prevention; the European Society of Cardiology Working Group on Epidemiology and Prevention; Centers for Disease Control and Prevention; and the National Heart, Lung, and Blood Institute. Circulation 108:2543–2549

24.

Rabinovitz H, Friedensohn A, Leibovitz A, Gabay G, Rocas C, Habot B (2004) Effect of chromium supplementation on blood glucose and lipid levels in type 2 diabetes mellitus elderly patients. Int J Vitam Nutr Res 74:178–182

25.

Jamilian M, Asemi Z (2015) Chromium supplementation and the effects on metabolic status in women with polycystic ovary syndrome: a randomized, double-blind, placebo-controlled trial. Ann Nutr Metab 67:42–48

26.

Pisprasert V, Ingram KH, Lopez-Davila MF, Munoz AJ, Garvey WT (2013) Limitations in the use of indices using glucose and insulin levels to predict insulin sensitivity: impact of race and gender and superiority of the indices derived from oral glucose tolerance test in African Americans. Diabetes Care 36:845–853

27.

Tatsch E, Bochi GV, Pereira Rda S et al (2011) A simple and inexpensive automated technique for measurement of serum nitrite/nitrate. Clin Biochem 44:348–350

28.

Benzie IF, Strain JJ (1996) The ferric reducing ability of plasma (FRAP) as a measure of "antioxidant power": the FRAP assay. Anal Biochem 239:70–76

29.

Beutler E, Gelbart T (1985) Plasma glutathione in health and in patients with malignant disease. J Lab Clin Med 105:581–584

30.

Janero DR (1990) Malondialdehyde and thiobarbituric acid-reactivity as diagnostic indices of lipid peroxidation and peroxidative tissue injury. Free Radic Biol Med 9:515–540

31.

Martin J, Wang ZQ, Zhang XH, Wachtel D, Volaufova J, Matthews DE, Cefalu WT (2006) Chromium picolinate supplementation attenuates body weight gain and increases insulin sensitivity in subjects with type 2 diabetes. Diabetes Care 29:1826–1832

32.

Ashoush S, Abou-Gamrah A, Bayoumy H, Othman N (2016) Chromium picolinate reduces insulin resistance in polycystic ovary syndrome: randomized controlled trial. J Obstet Gynaecol Res 42:279–285

33.

Krol E, Krejpcio Z, Byks H, Bogdanski P, Pupek-Musialik D (2011) Effects of chromium brewer's yeast supplementation on body mass, blood carbohydrates, and lipids and minerals in type 2 diabetic patients. Biol Trace Elem Res 143:726–737

34.

Ades PA, Savage PD (2017) Obesity in coronary heart disease: an unaddressed behavioral risk factor. Prev Med 104:117–119

35.

Fox CS, Golden SH, Anderson C, Bray GA, Burke LE, de Boer IH, Deedwania P, Eckel RH, Ershow AG, Fradkin J, Inzucchi SE, Kosiborod M, Nelson RG, Patel MJ, Pignone M, Quinn L, Schauer PR, Selvin E, Vafiadis DK, American Heart Association Diabetes Committee of the Council on Lifestyle and Cardiometabolic Health., Council on Clinical Cardiology, Council on Cardiovascular and Stroke Nursing, Council on Cardiovascular Surgery and Anesthesia, Council on Quality of Care and Outcomes Research., American Diabetes Association (2015) Update on prevention of cardiovascular disease in adults with type 2 diabetes mellitus in light of recent evidence: a scientific statement from the american heart association and the American diabetes association. Diabetes Care 38:1777–1803

36.

Ades PA, Savage PD, Toth MJ, Harvey-Berino J, Schneider DJ, Bunn JY, Audelin MC, Ludlow M (2009) High-calorie-expenditure exercise: a new approach to cardiac rehabilitation for overweight coronary patients. Circulation 119:2671–2678

37.

Yanni AE, Stamataki N, Stoupaki M, Konstantopoulos P, Pateras I, Tentolouris N, Perrea D, T. Karathanos V (2017) Cr-enriched yeast: beyond fibers for the management of postprandial glycemic response to bread. Eur J Nutr 56:1445–1453

38.

Jain SK, Kahlon G, Morehead L, Dhawan R, Lieblong B, Stapleton T, Caldito G, Hoeldtke R, Levine SN, Bass PF III (2012) Effect of chromium dinicocysteinate supplementation on circulating levels of insulin, TNF-alpha, oxidative stress, and insulin resistance in type 2 diabetic subjects: randomized, double-blind, placebo-controlled study. Mol Nutr Food Res 56:1333–1341

39.

Paiva AN, Lima JG, Medeiros AC et al (2015) Beneficial effects of oral chromium picolinate supplementation on glycemic control in patients with type 2 diabetes: a randomized clinical study. J Trace Elem Med Biol 32:66–72

40.

Aghdassi E, Arendt BM, Salit IE, Mohammed S, Jalali P, Bondar H, Allard J (2010) In patients with HIV-infection, chromium supplementation improves insulin resistance and other metabolic abnormalities: a randomized, double-blind, placebo controlled trial. Curr HIV Res 8:113–120

41.

Racek J, Sindberg CD, Moesgaard S, Mainz J, Fabry J, Müller L, Rácová K (2013) Effect of chromium-enriched yeast on fasting plasma glucose, glycated haemoglobin and serum lipid levels in patients with type 2 diabetes mellitus treated with insulin. Biol Trace Elem Res 155:1–4

42.

Ali A, Ma Y, Reynolds J, Wise JP Sr, Inzucchi SE, Katz DL (2011) Chromium effects on glucose tolerance and insulin sensitivity in persons at risk for diabetes mellitus. Endocr Pract 17:16–25

43.

Bahijri SM (2000) Effect of chromium supplementation on glucose tolerance and lipid profile. Saudi Med J 21:45–50

44.

Hegazi RA, Sutton-Tyrrell K, Evans RW et al (2003) Relationship of adiposity to subclinical atherosclerosis in obese patients with type 2 diabetes. Obes Res 11:1597–1605

45.

Vincent JB (2000) The biochemistry of chromium. J Nutr 130:715–718

46.

Vincent JB (2004) Recent advances in the nutritional biochemistry of trivalent chromium. Proc Nutr Soc 63:41–47

47.

Lewicki S, Zdanowski R, Krzyzowska M et al (2014) The role of Chromium III in the organism and its possible use in diabetes and obesity treatment. Ann Agric Environ Med 21:331–335

48.

Jain SK, Rains JL, Croad JL (2007) Effect of chromium niacinate and chromium picolinate supplementation on lipid peroxidation, TNF-alpha, IL-6, CRP, glycated hemoglobin, triglycerides, and cholesterol levels in blood of streptozotocin-treated diabetic rats. Free Radic Biol Med 43:1124–1131

49.

Ulas M, Orhan C, Tuzcu M, Ozercan IH, Sahin N, Gencoglu H, Komorowski JR, Sahin K (2015) Anti-diabetic potential of chromium histidinate in diabetic retinopathy rats. BMC Complement Altern Med 15:16

50.

Emami A, Ganjkhanlou M, Zali A (2015) Effects of Cr methionine on glucose metabolism, plasma metabolites, meat lipid peroxidation, and tissue chromium in Mahabadi goat kids. Biol Trace Elem Res 164:50–57

51.

Jamilian M, Zadeh Modarres S, Amiri Siavashani M, Karimi M, Mafi A, Ostadmohammadi V, Asemi Z (2018) The influences of chromium supplementation on glycemic control, markers of cardio-metabolic risk, and oxidative stress in infertile polycystic ovary syndrome women candidate for in vitro fertilization: a randomized, double-blind, placebo-controlled trial. Biol Trace Elem Res 185:48–55

52.

Kim HN, Kim SH, Eun YM, Song SW (2018) Effects of zinc, magnesium, and chromium supplementation on cardiometabolic risk in adults with metabolic syndrome: a double-blind, placebo-controlled randomised trial. J Trace Elem Med Biol 48:166–171

53.

Kaur R, Kaur M, Singh J (2018) Endothelial dysfunction and platelet hyperactivity in type 2 diabetes mellitus: molecular insights and therapeutic strategies. Cardiovasc Diabetol 17:121

54.

Likidlilid A, Patchanans N, Peerapatdit T, Sriratanasathavorn C (2010) Lipid peroxidation and antioxidant enzyme activities in erythrocytes of type 2 diabetic patients. J Med Assoc Thail 93:682–693

55.

Roussel AM, Andriollo-Sanchez M, Ferry M, Bryden NA, Anderson RA (2007) Food chromium content, dietary chromium intake and related biological variables in French free-living elderly. Br J Nutr 98:326–331

56.

Jain SK, Patel P, Rogier K, Jain SK (2006) Trivalent chromium inhibits protein glycosylation and lipid peroxidation in high glucose-treated erythrocytes. Antioxid Redox Signal 8:238–241
Acknowledgments
The present study was supported by a grant from the Vice-chancellor for Research, KAUMS, Kashan, Iran.
Funding
The research grant was provided by Research Deputy of Kashan University of Medical Sciences (KAUMS).
Ethics declarations
The investigation was conducted based on the Declaration of Helsinki principals. The protocol of this study was approved by Research Ethics Committee, KAUMS, and Iran. Written informed consent was taken from all patients.
Ethics Approval and Consent to Participate
All procedures performed in studies involving human participants were in accordance with the ethical standards of the institutional and national research committee and with the 1964 Helsinki declaration and its later amendments.
Competing Interests
The authors declare that they have no competing interests.
Additional information
Publisher's Note
Springer Nature remains neutral with regard to jurisdictional claims in published maps and institutional affiliations.
About this article
Cite this article
Farrokhian, A., Mahmoodian, M., Bahmani, F. et al. The Influences of Chromium Supplementation on Metabolic Status in Patients with Type 2 Diabetes Mellitus and Coronary Heart Disease. Biol Trace Elem Res 194, 313–320 (2020). https://doi.org/10.1007/s12011-019-01783-7
Received:

Accepted:

Published:

Issue Date:
Keywords
Chromium

Coronary heart disease

Metabolic status

Type 2 diabetes mellitus