Cadmium and Lead Hazardous Impact Assessment of Pond Fish Species
Abstract
The current study aims to assess the concentration of cadmium (Cd) and lead (Pb) in five tissues of Cirrhinus mrigala, Labeo rohita, and Catla catla collected from fishponds of Jamshoro and Larkana, Sindh, Pakistan. Meanwhile, the levels of Cd and Pb in feeding materials, water, and sediments of fishponds of both areas were also studied. The daily intake and hazardous impact assessment of Cd and Pb by muscles of three fish species of fishponds of both areas were estimated. The concentration of Cd in tissues of C. mrigala and C. catla of Larkana were higher than that in tissues of same fish species of Jamshoro whilst Pb contents in tissues of fishes of Jamshoro were high (p > 0.05). The feeding materials of fishponds of Larkana were enriched with Cd whilst Pb was high in feeding material of fishponds of Jamshoro. The estimated bioaccumulation factor, average daily intake, and hazardous quotient of Pb were high as compared to Cd in all studied fish species of fishponds of Larkana and Jamshoro. The hazardous quotient of Pb indicated that the local population of both areas might have a potential toxic risk.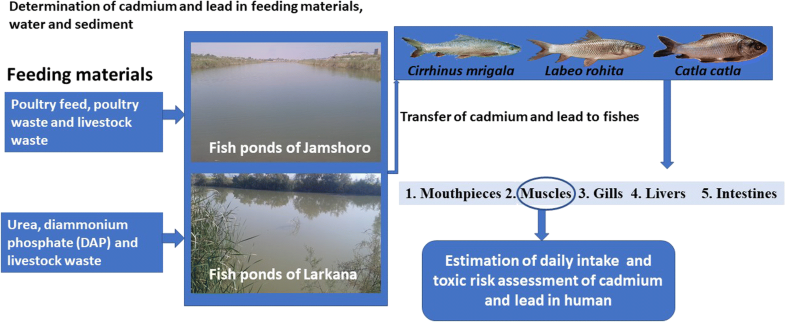 Keywords
Cadmium 
Lead 
Fish species of fishponds 
Feeding material 
Water and sediment 
Risk assessment 
Notes
Acknowledgments
Authors would like to acknowledge to the National Centre of Excellence in Analytical Chemistry for financial assistance during sampling and rest of research activities.
Compliance with Ethical Standards
Conflict of Interest
The authors declare that they have no conflict of interest.
Ethical Approval
All procedures performed in studies indirectly involvement of human participants were in accordance with the ethical standards of the institutional and/or national research committee and with the 1964 Helsinki declaration and its later amendments or comparable ethical standards.
Informed Consent
Informed consent was obtained from all individual participants included in the study.
Copyright information
© Springer Science+Business Media, LLC, part of Springer Nature 2019