Metabolic Engineering of Chlamydomonas reinhardtii for Enhanced β-Carotene and Lutein Production
Abstract
The metabolic engineering of Chlamydomonas reinhardtii, one of the fastest-growing microalgae, is a potential alternative for enhanced carotenoid productivity. CrtYB (phytoene-β-carotene synthase – PBS) gene from red yeast Xanthophyllomyces dendrorhous encodes for a bifunctional enzyme that harbours both phytoene synthase (psy) and lycopene cyclization (lcyb) activities. Heterologous expression of this bifunctional PBS gene led to 38% enhancement in β-carotene along with 60% increase in the lutein yields under low light conditions of 75 μmol photons m−2 s−1. Short Duration-High Light induction strategy led to overall 72% and 83% increase in β-carotene and lutein yield reaching up to 22.8 mg g−1 and 8.9 mg g−1, respectively. This is the first report of expression of heterologous bifunctional PBS gene resulting in simultaneous enhancement in β-carotene and lutein content in phototrophic engineered cells.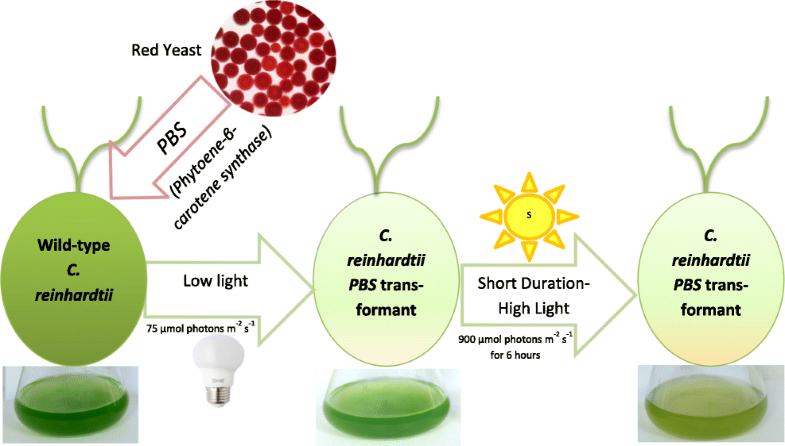 Keywords
Chlamydomonas reinhardtii
Phytoene-β-carotene synthase
Red yeast 
β-Carotene 
Lutein 
Notes
Author's Contribution
Experiments were planned by JPR, CV, AML and GP and conducted by JPR. Data was analyzed by JPR, CV and GP. Manuscript is written by GP and CV. Funding for the work was facilitated by AML.
Funding Information
This study was supported by the Department of Biotechnology, Ministry of Science & Technology, Government of India (No. BT/PR13796/PBD/ 26/139/2010). Jayant Pralhad Rathod is thankful to the Council of Scientific and Industrial Research (CSIR), Government of India, New Delhi, for providing the fellowship during the above research work.
Copyright information
© Springer Science+Business Media, LLC, part of Springer Nature 2019