Bioreactor Membranes for Laccase Immobilization Optimized by Ionic Liquids and Cross-Linking Agents
Abstract
A novel concept of membrane bioreactor based on polymeric ionic liquids laccase membrane has been implemented in batch process for decolorization of the anthraquinonic dye Remazol Brillant Blue R (RBBR). New laccase immobilization strategy has been optimized by casting the enzyme into a polymeric inclusion membrane (PIM) using ionic liquids (ILs) and polyvinyl chloride (PVC) leading to laccase polymeric IL membrane (PILM). Four different ILs (1-octyl-3-metylimidazolium bis(trifluoromethylsulfonyl)imide, [OMIM][NTF2]; cholinium bis(trifluoromethylsulfonyl)imide, [Ch ol][NTF2]; cholinium dihydrogenphosphate, [Chol][H2PO4] and hydroxyethylammonium formate, [HEA][Fo]) have been screened and mixed to constitute the active phase of the support of PIM. This strategy has been fully succeeded since high laccase immobilization rates were recorded (about 98%) when using the optimal mixture containing three ILs (45% [OMIM][NTf2]/5% [Chol][NTf2]/2.5% [HEA][Fo]) and supplemented by 0.5% glutaraldehyde. It was found that such mixture contributes to increase the stability and reusability of laccase-PILM during eight successive assays in a batch discontinued stirred reactor. Decolorization rate of 75% has been reached in the batch decolorization process of RBBR with high reusability yield.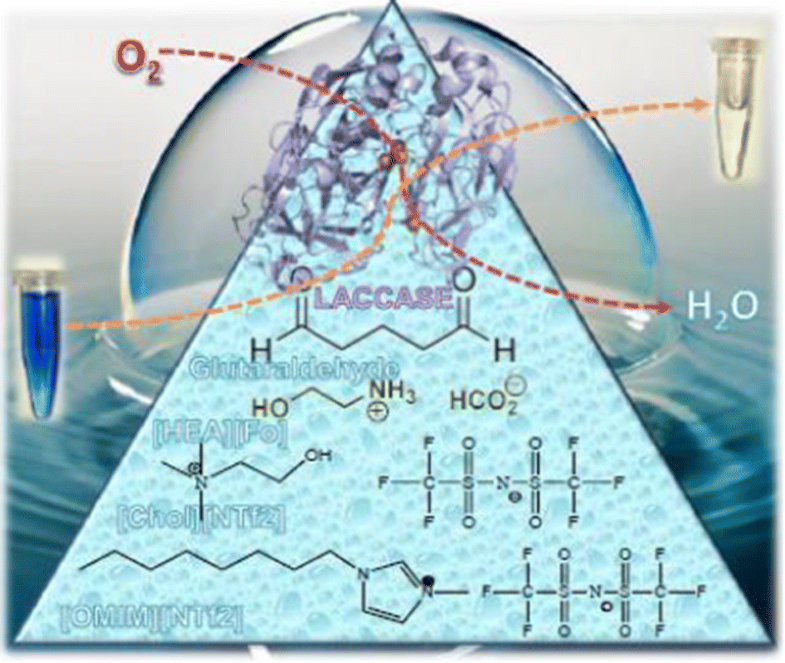 Keywords
Laccase 
Ionic liquid 
Polymer inclusion membrane 
Immobilization 
Decolorization 
Notes
Funding Information
This work was partially supported by the MICINN ENE2011-25188 and SENECA Foundation 18975/JLI/2013 grants. Dr. Said Galai and PhD. Sihem Haj Kacem have postdoctoral and doctoral fellowships from Erasmus Mundus EU Mare Nostrum Program at the University of Murcia and the University of Cartagena, respectively.
Copyright information
© Springer Science+Business Media, LLC, part of Springer Nature 2019