Abstract
In the last decade, Augmented Reality has become increasingly popular. As improved performances are gathered in terms of mature hardware and software tools, we are observing the stemming of a huge number of applications of this technology both in the entertainment and in the industrial domains. On the one hand, such applications are usually claimed to bring benefits in terms of productivity or enhancement of the human's capability to perform tasks. On the other hand, researchers and developers seem not to adequately consider the different meanings that AR assumes when implemented through visualization devices that can differ significantly in nature and in their capability to provide a mixed real-virtual scenario. In this paper, we describe a user-centred method based on an integrated QFD-AHP approach to select the best visualization display technology with regard to a specific application context. The aim is to establish a repeatable and documented process for the identification of the technology that best suits and mitigates the acceptability risks of the transition from a legacy working environment to an AR based operational environment. The method has been developed in the framework of the RETINA (Resilient Synthetic Vision for Advanced Control Tower Air Navigation Service Provision) project involving the end users, in this case, air traffic controllers. Nevertheless, it can be generalised and applied to other contexts of use. Furthermore, in order to be resilient to the fast, technological development in AR, it can be used to update the results as improvements arise in the performance level of the display devices in a specific technology.
This is a preview of subscription content, log in to check access.
Access options
Buy single article
Instant access to the full article PDF.
US$ 39.95
Price includes VAT for USA
Subscribe to journal
Immediate online access to all issues from 2019. Subscription will auto renew annually.
US$ 99
This is the net price. Taxes to be calculated in checkout.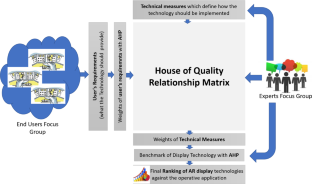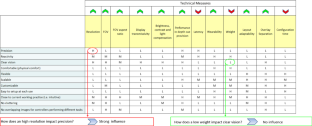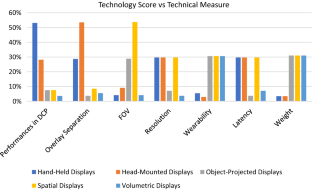 References
1.

Azuma, R.: A survey of augmented reality. Presence Teleoperators Virt. Environ. 06(04), 355–385 (1997)

2.

Milgram, P., Kishino, F.: A taxonomy of mixed reality visual displays. IEICE Trans. Inf. Syst. 77(12), 1321–1329 (1994)

3.

Kipper, G., Rampolla, J.: Augmented Reality: An Emerging Technologies Guide to AR. Elsevier, Amsterdam (2012)

4.

Regenbrecht, H., Baratoff, G., Wilke, W.: Augmented reality projects in the automotive and aerospace industries. IEEE Comput. Gr. Appl. 25(6), 48–56 (2005)

5.

von Lukas, U.F.: Virtual and augmented reality for the maritime sector–applications and requirements. IFAC Proc. Vol. 43(20), 196–200 (2010)

6.

Prinzel III, L. J., Risser M.: Head-up displays and attention capture. (2004). (www.nasa.gov)

7.

Ng-Thow-Hing, V., et al.: User-centered perspectives for automotive augmented reality. In: IEEE International Symposium on Mixed and Augmented Reality (2013)

8.

Peterson, S., Pinska, E.: Human Performance with simulated collimation in transparent projection screens. In: Proceedings of the Second International Conference on Research in Air Transportation (ICRAT) (2006)

9.

Silva, A., Ferreira, E., Laforge, N., Carvalho, S.: The use of surveillance data in augmented reality system to assist control tower operations. In: IEEE 2015 3rd Experiment International Conference Alexandre Silva, Eduardo Ferreira, Normand Laforge and Sérgio Carvalho (2015)

10.

Ellejmi, M., Bagassi, S., Piastra, S., Persiani, C.A.: Evaluation of augmented reality tools for the provision of tower air traffic control using an ecological interface design. In: 2018 AIAA Modeling and Simulation Technologies Conference, American Institute of Aeronautics and Astronautics Inc, AIAA (2018)

11.

Bagassi, S., De Crescenzio, F., Piastra, S.: The use of synthetic vision tools in the control tower environment: the RETINA concept. In: 31st Congress of the International Council of the Aeronautical Sciences, ICAS (2018)

12.

Bagassi, S., De Crescenzio, F., Lucchi, F., Masotti, N.: Augmented and virtual reality in the airport control tower. In: 30th Congress of the International Council of the Aeronautical Sciences, ICAS (2016)

13.

Masotti, N., Bagassi, S., De Crescenzio, F.: Augmented reality for the control tower: the RETINA concept. In: Third International Conference Augmented Reality, Virtual Reality, and Computer Graphics. «LECTURE NOTES IN COMPUTER SCIENCE», vol. 9768, pp. 444–452 (2016)

14.

Masotti, N., De Crescenzio, F., Bagassi, S.: Augmented reality in the control tower: a rendering pipeline for multiple head-tracked head-up displays. In: Third International Conference Augmented Reality, Virtual Reality, and Computer Graphics. «LECTURE NOTES IN COMPUTER SCIENCE», vol. 9768, pp. 321–338 (2016)

15.

Bimber, O., Raskar, R.: Spatial Augmented Reality: Merging Real and Virtual Worlds. A. K. Peters Ltd, Natick (2005)

16.

Wasserman, G.S.: On how to prioritize design requirements during the QFD planning process. IIE Trans. 25(3), 59–65 (1993)

17.

Rajesh, G., Malliga, P.: Supplier selection based on AHP QFD methodology. Procedia Eng. 64, 1283–1292 (2013)

18.

Saaty, Thomas L.: Decision making with the analytic hierarchy process. Int. J. Serv. Sci. 1(1), 83–98 (2008)

19.

RETINA Project Deliverable D1.1—State of Art and Initial Concept Requirements [approved by SESAR JU (January 2017)], Ref. Ares 5158626 (2016)
Acknowledgements
The work presented in this paper has received funding from the SESAR Joint Undertaking under the European Union's Horizon 2020 research and innovation programme under Grant agreement No 699370.
Additional information
Publisher's Note
Springer Nature remains neutral with regard to jurisdictional claims in published maps and institutional affiliations.
About this article
Cite this article
Bagassi, S., De Crescenzio, F. & Piastra, S. Augmented reality technology selection based on integrated QFD-AHP model. Int J Interact Des Manuf 14, 285–294 (2020). https://doi.org/10.1007/s12008-019-00583-6
Received:

Accepted:

Published:

Issue Date:
Keywords
Augmented reality

Air traffic control

Quality function deployment (QFD)

Analytic hierarchy process (AHP)

Human machine interface