Abstract
Background
Bone tumor resections for limb salvage have become standard treatment. Recently, computer-assisted navigation has been introduced to improve the accuracy of joint arthroplasty and possible tumor resection surgery; however, like with any new technology, its benefits and limitations need to be characterized for surgeons to make informed decisions about whether to use it.
Questions/purposes
We wanted to (1) assess the technical problems associated with computer-assisted navigation; (2) assess the accuracy of the registration technique; (3) define the time required to perform a navigated resection in orthopedic oncology; and (4) the frequency of complications such as local recurrence, infection, nonunion, fracture, and articular collapse after tumor resection and bone reconstruction with allografts using intraoperative navigation assistance.
Methods
We analyzed 69 consecutive patients with bone tumors of the extremities that were reconstructed with massive bone allografts using intraoperative navigation assistance with a minimum followup of 12 months (mean, 29 months; range, 12–43 months). All patients had their tumors reconstructed in three-dimensional format in a virtual platform and planning was performed to determine the osteotomy position according to oncology margins in a CT-MRI image fusion. Tumor resections and allograft reconstructions were performed using a computer navigation system according to the previously planned cuts. We analyzed intraoperative data such as technical problems related to the navigation procedure, registration technique error, length of time for the navigation procedure, and postoperative complications such as local recurrence, infection, nonunion, fracture, and articular collapse.
Results
In three patients (4%), the navigation was not carried out as a result of technical problems. Of the 66 cases in which navigation was performed, the mean registration error was 0.65 mm (range, 0.3–1.2 mm). The mean required time for navigation procedures, including bone resection and allograft reconstruction during surgery, was 35 minutes (range, 18–65 minutes). Complications that required a second surgical procedure were recorded for nine patients including one local recurrence, one infection, two fractures, one articular collapse, and four nonunions. In two of these nine patients, the allograft needed to be removed. At latest followup, three patients died of their original disease.
Conclusions
The navigation procedure could not be performed for technical reasons in 4% of the series. The mean registration error was 0.65 mm in this series and the navigation procedure itself adds a mean of 35 minutes during surgery. The complications rate for this series was 14%. We found a nonunion rate of 6% in allograft reconstructions when we used a navigation system for the cuts.
Level of Evidence
Level IV, case series. See the Guidelines for Authors for a complete description of levels of evidence.
This is a preview of subscription content, log in to check access.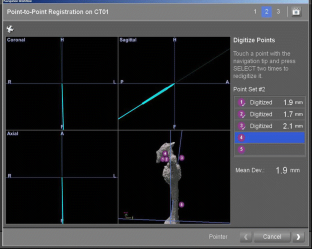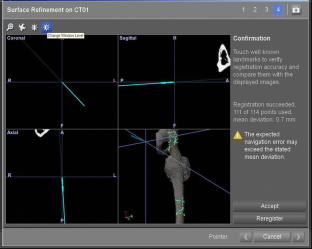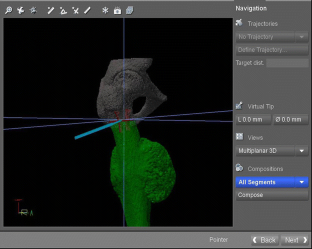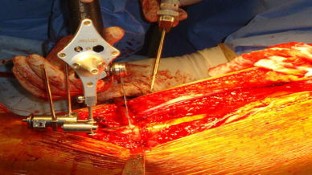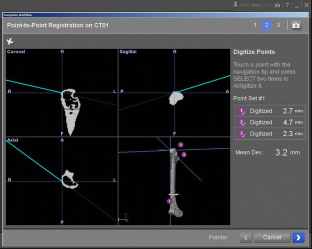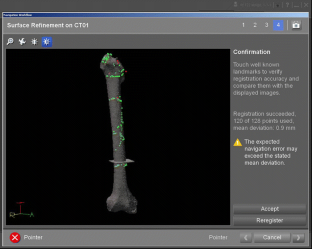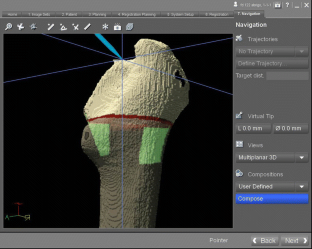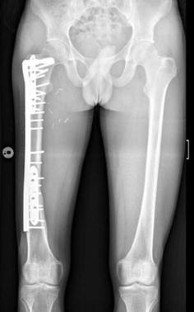 References
1.

Aponte-Tinao L, Farfalli GL, Ritacco LE, Ayerza MA, Muscolo DL. Intercalary femur allografts are an acceptable alternative after tumor resection. Clin Orthop Relat Res. 2012;470:728–734.

2.

Aponte-Tinao LA, Ritacco LE, Ayerza MA, Muscolo DL, Farfalli GL. Multiplanar osteotomies guided by navigation in chondrosarcoma of the knee. Orthopedics. 2013;36:e325–330.

3.

Atesok K, Schemitsch EH. Computer-assisted trauma surgery. J Am Acad Orthop Surg. 2010;18:247–258.

4.

Cheong D, Letson GD. Computer-assisted navigation and musculoskeletal sarcoma surgery. Cancer Control. 2011;18:171–176.

5.

Fan H, Guo Z, Wang Z, Li J, Li X. Surgical technique: unicondylar osteoallograft prosthesis composite in tumor limb salvage surgery. Clin Orthop Relat Res. 2012;470:3577–3586.

6.

Frisoni T, Cevolani L, Giorgini A, Dozza B, Donati DM. Factors affecting outcome of massive intercalary bone allografts in the treatment of tumours of the femur. J Bone Joint Surg Br. 2012;94:836–841.

7.

Hart R, Janecek M, Chaker A, Bucek P. Total knee arthroplasty implanted with and without kinematic navigation. Int Orthop. 2003;27:366–369.

8.

Ieguchi M, Hoshi M, Takada J, Hidaka N, Nakamura H. Navigation-assisted surgery for bone and soft tissue tumors with bony extension. Clin Orthop Relat Res. 2012;470:275–283.

9.

Lall A, Hohn E, Kim MY, Gorlick RG, Abraham JA, Geller DS. Comparison of surface area across the allograft-host junction site using conventional and navigated osteotomy technique. Sarcoma. 2012;2012:197540.

10.

Li J, Wang Z, Guo Z, Chen GJ, Yang M, Pei GX. Irregular osteotomy in limb salvage for juxta-articular osteosarcoma under computer-assisted navigation. J Surg Oncol. 2012;106:411–416.

11.

Mavrogenis AF, Savvidou OD, Mimidis G, Papanastasiou J, Koulalis D, Demertzis N, Papagelopoulos PJ. Computer-assisted navigation in orthopedic surgery. Orthopedics. 2013;36:631–642.

12.

Muscolo DL, Ayerza MA, Aponte-Tinao L, Ranalletta M, Abalo E. Intercalary femur and tibia segmental allografts provide an acceptable alternative in reconstructing tumor resections. Clin Orthop Relat Res. 2004;426:97–102.

13.

Ritacco LE, Farfalli GL, Milano FE, Ayerza MA, Muscolo DL, Aponte-Tinao L. Three-dimensional virtual bone bank system workflow for structural bone allograft selection: a technical report. Sarcoma. 2013;2013:524395.

14.

Ritacco LE, Milano FE, Farfalli GL, Ayerza MA, Muscolo DL, Aponte-Tinao LA. Accuracy of 3-D planning and navigation in bone tumor resection. Orthopedics. 2013;36:e942–950.

15.

Ritacco LE, Milano FE, Farfalli GL, Ayerza MA, Muscolo DL, de Quirós FG, Aponte-Tinao LA. Bone tumor resection: analysis about 3D preoperative planning and navigation method using a virtual specimen. Stud Health Technol Inform. 2013;192:1162.

16.

Satcher RL Jr. How intraoperative navigation is changing musculoskeletal tumor surgery. Orthop Clin North Am. 2013;44:645–656.

17.

So TY, Lam YL, Mak KL. Computer-assisted navigation in bone tumor surgery: seamless workflow model and evolution of technique. Clin Orthop Relat Res. 2010;468:2985–2991.

18.

Stulberg SD, Loan P, Sarin V. Computer-assisted navigation in total knee replacement: results of an initial experience in thirty-five patients. J Bone Joint Surg Am. 2002;84(Suppl 2):90–98.

19.

Suhm N, Messmer P, Zuna I, Jacob LA, Regazzoni P. Fluoroscopic guidance versus surgical navigation for distal locking of intramedullary implants. A prospective, controlled clinical study. Injury. 2004;35:567–574.

20.

Wong KC, Kumta SM. Computer-assisted tumor surgery in malignant bone tumors. Clin Orthop Relat Res. 2013;471:750–761.

21.

Wong KC, Kumta SM. Joint-preserving tumor resection and reconstruction using image-guided computer navigation. Clin Orthop Relat Res. 2013;471:762–773.
Additional information
One of the authors certifies that he (LA-T) or she, or a member of his or her immediate family, has or may receive payments or benefits, during the study period, an amount of USD 10,000 to USD 100,000 from Stryker Americas (Miramar, FL, USA).
All ICMJE Conflict of Interest Forms for authors and Clinical Orthopaedics and Related Research editors and board members are on file with the publication and can be viewed on request.
Each author certifies that his or her institution approved the reporting of this case report, that all investigations were conducted in conformity with ethical principles of research, and that informed consent for participation in the study was obtained.
Electronic supplementary material
Below is the link to the electronic supplementary material.
Video 1 This video shows the preoperative planning for bone tumor resection of a high-grade osteosarcoma of the proximal femur in real time based on fusion of CT and MRI scans. Both osteotomies are planned and allow the surgeon to preserve the proximal articular surface. (WMV 3481 kb)
Video 2 This video shows the preoperative planning for bone reconstruction with the selected allograft placed in the bone defect. (WMV 4528 kb)
Video 3 This intraoperative video of the surgical field shows how the surgeon marked both osteotomies with the navigated pointer. (MPG 14528 kb)
Video 4 This video shows the screen of the navigation system and corresponds to the image that the surgeon visualizes while marking the osteotomies. (MPG 21861 kb)
About this article
Cite this article
Aponte-Tinao, L., Ritacco, L.E., Ayerza, M.A. et al. Does Intraoperative Navigation Assistance Improve Bone Tumor Resection and Allograft Reconstruction Results?. Clin Orthop Relat Res 473, 796–804 (2015) doi:10.1007/s11999-014-3604-z
Keywords
Navigation System

Registration Error

Adamantinoma

Allograft Reconstruction

Nonunion Rate