Abstract
Background
With the improved survival for patients with malignant bone tumors, there is a trend to reconstruct defects using biologic techniques. While the use of an intercalary allograft is an option, the procedures are technically demanding and it is unclear whether the complication rates and survival are similar to other approaches.
Questions/purposes
We evaluated survivorship, complications, and functional scores of patients after receiving intercalary femur segmental allografts.
Patients and Methods
We retrospectively reviewed 83 patients who underwent an intercalary femur segmental allograft reconstruction. We determined allograft survival using the Kaplan-Meier method. We evaluated patient function with the Musculoskeletal Tumor Society scoring system. Minimum followup was 24 months (median, 61 months; range, 24–182 months).
Results
Survivorship was 85% (95% confidence interval: 93%–77%) at 5 years and 76% (95% confidence interval: 89%–63%) at 10 years. Allografts were removed in 15 of the 83 patients: one with infection, one with local recurrence, and 13 with fractures. Of the 166 host-donor junctions, 22 (13%) did not initially heal. Nonunion rate was 19% for diaphyseal junctions and 3% for metaphyseal junctions. We observed an increase in the diaphysis nonunion rate in patients fixed with nails (28%) compared to those fixed with plates (15%). Fracture rate was 17% and related to areas of the allograft not adequately protected with internal fixation. All patients without complications had mainly good or excellent Musculoskeletal Tumor Society functional results.
Conclusions
Diaphyseal junctions have higher nonunion rates than metaphyseal junctions. The internal fixation should span the entire allograft to avoid the risk of fracture. Our observations suggest segmental allograft of the femur provides an acceptable alternative in reconstructing tumor resections.
Level of Evidence
Level IV, therapeutic study. See the Guidelines for Authors for a complete description of levels of evidence.
This is a preview of subscription content, log in to check access.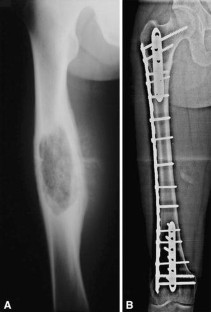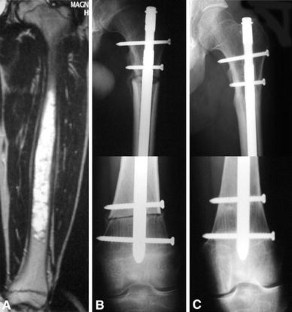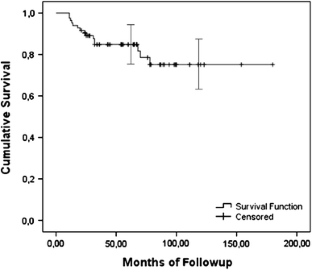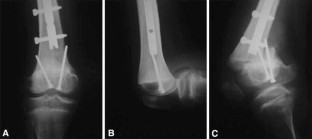 References
1.

Abudu A, Carter SR, Grimer RJ. The outcome and functional results of diaphyseal endoprostheses after tumour excision. J Bone Joint Surg Br. 1996;78:652–657.

2.

Aldlyami E, Abudu A, Grimer RJ, Carter SR, Tillman RM. Endoprosthetic replacement of diaphyseal bone defects: long-term results. Int Orthop. 2005;29:25–29.

3.

Araki N, Myoui A, Kuratsu S, Hashimoto N, Inoue T, Kudawara I, Ueda T, Yoshikawa H, Masaki N, Uchida A. Intraoperative extracorporeal autogenous irradiated bone grafts in tumor surgery. Clin Orthop Relat Res. 1999;368:196–206.

4.

Blunn GW, Briggs TW, Cannon SR, Walker PS, Unwin PS, Culligan S, Cobb JP. Cementless fixation for primary segmental bone tumor endoprostheses. Clin Orthop Relat Res. 2000;372:223–230.

5.

Canadell J, Forriol F, Cara JA. Removal of metaphyseal bone tumours with preservation of the epiphysis: physeal distraction before excision. J Bone Joint Surg Br. 1994;76:127–132.

6.

Capanna R, Campanacci DA, Belot N, Beltrami G, Manfrini M, Innocenti M, Ceruso M. A new reconstructive technique for intercalary defects of long bones: the associations of massive allograft with vascularized fibular autograft: long-term results and comparison with alternative techniques. Orthop Clin North Am. 2007;38:51–60.

7.

Chang DW, Weber KL. Use of a vascularized fibula bone flap and intercalary allograft for diaphyseal reconstruction after resection of primary extremity bone sarcomas. Plast Reconstr Surg. 2005;116:1918–1925.

8.

Chen TH, Chen WM, Huang CK. Reconstruction after intercalary resection of malignant bone tumours: comparison between segmental allograft and extracorporeally-irradiated autograft. J Bone Joint Surg Br. 2005;87:704–709.

9.

Clavien PA, Barkun J, de Oliveira ML, Vauthey JN, Dindo D, Schulick RD, de Santibañes E, Pekolj J, Slankamenac K, Bassi C, Graf R, Vonlanthen R, Padbury R, Cameron JL, Makuuchi M. The Clavien-Dindo classification of surgical complications: five-year experience. Ann Surg. 2009;250:187–196.

10.

Enneking WF, Dunham W, Gebhardt MC, Malawer M, Pritchard DJ. A system for the functional evaluation of reconstructive procedures after surgical treatment of tumors of the musculoskeletal system. Clin Orthop Relat Res. 1993;286:241–246.

11.

Gebhardt MC, Flugstad DI, Springfield DS, Mankin HJ. The use of bone allografts for limb salvage in high-grade extremity osteosarcoma. Clin Orthop Relat Res. 1991;270:181–196.

12.

Hanna SA, Sewell MD, Aston WJ, Pollock RC, Skinner JA, Cannon SR, Briggs TW. Femoral diaphyseal endoprosthetic reconstruction after segmental resection of primary bone tumours. J Bone Joint Surg Br. 2010;92:867–874.

13.

Hornicek FJ, Gebhardt MC, Tomford WW, Sorger JI, Zavatta M, Menzner JP, Mankin HJ. Factors affecting nonunion of the allograft-host junction. Clin Orthop Relat Res. 2001;382:87–98.

14.

Hsu RW, Wood M, Sim FH, Chao EY. Free vascularized fibular grafting for reconstruction after tumour resection. J Bone Joint Surg Br. 1997;79:36–42.

15.

Kaplan EL, Meier P. Nonparametric estimation from incomplete observations. J Am Statist Assoc. 1958;53:457–481.

16.

Krieg AH, Davidson AW, Stalley PD. Intercalary femoral reconstruction with extracorporeal irradiated autogenous bone graft in limb-salvage surgery. J Bone Joint Surg Br. 2007;89:366–371.

17.

Makley JT. The use of allografts to reconstruct intercalary defects of long bones. Clin Orthop Relat Res. 1985;197:58–75.

18.

Muscolo DL, Ayerza MA, Aponte-Tinao LA, Ranalletta M. Partial epiphyseal preservation and intercalary allograft reconstruction in high-grade metaphyseal osteosarcoma of the knee. J Bone Joint Surg Am. 2004;86:2686–2693.

19.

Muscolo DL, Ayerza MA, Aponte-Tinao L, Ranalletta M, Abalo E. Intercalary femur and tibia segmental allografts provide an acceptable alternative in reconstructing tumor resections. Clin Orthop Relat Res. 2004;426:97–102.

20.

Ortiz-Cruz EJ, Gebhardt MC, Jennings LC, Springfield DS, Mankin HJ. The results of transplantation of intercalary allografts after resection of tumors: a long-term follow-up study. J Bone Joint Surg Am. 1997;79:97–106.

21.

Thompson RC, Pickvance EA, Garry D. Fractures in large segment allografts. J Bone Joint Surg Am. 1993;75:1663–1673.

22.

Tsuchiya H, Tomita K, Minematsu K, Mori Y, Asada N, Kitano S. Limb salvage using distraction osteogenesis: a classification of the technique. J Bone Joint Surg Br. 1997;79:403–411.

23.

Vander Griend RA. The effect of internal fixation on the healing of large allografts. J Bone Joint Surg Am. 1994;76:657–663.

24.

Zaretski A, Amir A, Meller I, Leshem D, Kollender Y, Barnea Y, Bickels J, Shpitzer T, Ad-El D, Gur E. Free fibula long bone reconstruction in orthopedic oncology: a surgical algorithm for reconstructive options. Plast Reconstr Surg. 2004;113:1989–2000.
Additional information
Each author certifies that he or she has no commercial associations (eg, consultancies, stock ownership, equity interest, patent/licensing arrangements, etc) that might pose a conflict of interest in connection with the submitted article.
Each author certifies that his or her institution approved the human protocol for this investigation, that all investigations were conducted in conformity with ethical principles of research, and that informed consent for participation in the study was obtained.
Electronic supplementary material
Below is the link to the electronic supplementary material.
Supplementary material 1 (MPG 3105 kb)
Supplementary material 1 (MPG 5163 kb)
Supplementary material 1 (MPG 12815 kb)
Supplementary material 1 (MPG 11097 kb)
About this article
Cite this article
Aponte-Tinao, L., Farfalli, G.L., Ritacco, L.E. et al. Intercalary Femur Allografts Are an Acceptable Alternative After Tumor Resection. Clin Orthop Relat Res 470, 728–734 (2012). https://doi.org/10.1007/s11999-011-1952-5
Keywords
Distraction Osteogenesis

Nonunion Rate

Allograft Failure

Musculoskeletal Tumor Society

Segmental Bone Defect