Abstract
Background
Internal snapping hip is a syndrome caused by recurrent subluxation of the iliopsoas tendon. There is little agreement regarding the impinging sites responsible for the jerky motion of the tendon. Thus far, the lesser trochanter, anterior capsule, and iliopectineal eminence are considered the most likely catching sites.
Case Description
We report an unusual case in which a calcific tendinitis of the rectus femoris direct head impinged against the overlying iliacus muscle, resulting in a painful coxa saltans. The exclusive involvement of the direct head hid the calcium deposit on standard radiographs, whereas MRI suggested but poorly showed the tendon disease. Dynamic ultrasonography and CT scanning allowed a precise diagnosis and subsequent treatment with CT-guided steroid injection.
Literature Review
Calcific tendinitis of the rectus anterior direct head has not been reported as a possible cause of snapping hip; involvement of the direct head in rectus anterior calcific tendinitis was described in one case.
Purposes and Clinical Relevance
Our case shows the rectus anterior direct head may be involved in the etiology of coxa saltans. Theoretically any thickening of the tendon might activate the same pathomechanism. Physicians should consider this possible new cause of internal snapping hip when the most common ones have been excluded, especially as it may be managed easily with steroid injection.
This is a preview of subscription content, log in to check access.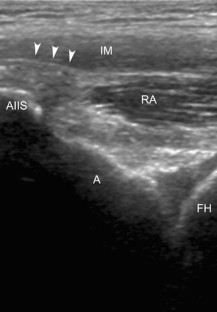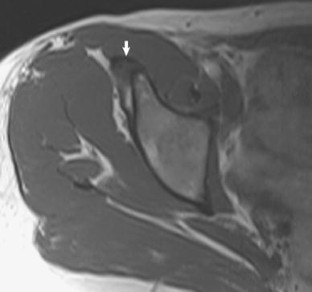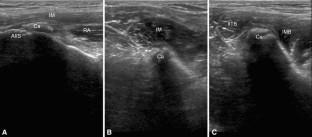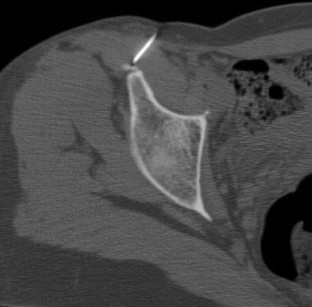 References
1.

Archer BD, Friedman L, Stilgenbauer S, Bressler H. Symptomatic calcific tendinitis at unusual sites. Can Assoc Radiol J. 1992;43:203–207.

2.

Binnie JF. Snapping hip. Ann Surg. 1913;58:59–66.

3.

Braun-Moscovici Y, Schapira D, Nahir AM. Calcific tendinitis of the rectus femoris. J Clin Rheumatol. 2006;12:298–300.

4.

Brignall CG, Stainsby GD. The snapping hip: treatment by Z-plasty. J Bone Joint Surg Br. 1991;73:253–254.

5.

Byrd JW, Jones KS. Traumatic rupture of the ligamentum teres as a source of hip pain. Arthroscopy. 2004;20:385–391.

6.

Howse AJ. Orthopaedists aid ballet. Clin Orthop Relat Res. 1972;89:52–63.

7.

Jones FW. The anatomy of snapping hip. J Orthop Surg. 1920;2:1–3.

8.

King JW, Vanderpool DW. Calcific tendonitis of the rectus femoris. Am J Orthop. 1967;9:110–111.

9.

Mayer L. Snapping hip. Surg Gynecol Obstet. 1919;29:425–429.

10.

Micheli LJ. Overuse injuries in children's sports. Orthop Clin North Am. 1983;14:337–360.

11.

Nunziata A, Blumenfeld I. [Snapping hip; note on a variety] [in Spanish]. Prensa Med Argent. 1951;38:1997–2001.

12.

Pelsser V, Cardinal E, Hobden R, Aubin B, Lafortune M. Extraarticular snapping hip: sonographic findings. AJR Am J Roentgenol. 2001;176:67–73.

13.

Pope TL Jr, Keats TE. Case report 773: Calcific tendinitis of the origin of the medial and lateral heads of the rectus femoris muscle and the anterior iliac spine (AIIS). Skeletal Radiol. 1992;21:271–272.

14.

Rozenbaum M, Slobodin G, Boulman N, Feld J, Avshovich N, Rosner I. Calcific tendonitis of the rectus femoris. (Comment on: J Clin Rheumatol. 2006;12:298-300.) J Clin Rheumatol. 2008;14:57.

15.

Sarkar JS, Haddad FS, Crean SV, Brooks P. Acute calcific tendinitis of the rectus femoris. J Bone Joint Surg Br. 1996;78:814–816.

16.

Schaberg JA, Harper MC, Allen WC. The snapping hip syndrome. Am J Sports Med. 1984;12:361–365.

17.

Tatu L, Parratte B, Vuillier F, Diop M, Monnier G. Descriptive anatomy of the femoral portion of the iliopsoas muscle: anatomical basis of anterior snapping of the hip. Surg Radiol Anat. 2001;23:371–374.

18.

Uhthoff HK, Sarkar K, Maynard JA. Calcifying tendinitis: a new concept of its pathogenesis. Clin Orthop Relat Res. 1976;118:164–168.

19.

Wahl CJ, Warren RF, Adler RS, Hannafin JA, Hansen B. Internal coxa saltans (snapping hip) as a result of overtraining: a report of 3 cases in professional athletes with a review of causes and the role of ultrasound in early diagnosis and management. Am J Sports Med. 2004;32:1302–1309.

20.

Walker J, Rang M. Habitual hip dislocation in a child: another cause of the snapping hip. Clin Pediatr (Phila). 1992;31:562–563.
Additional information
Each author certifies that he or she has no commercial associations (eg, consultancies, stock ownership, equity interest, patent/licensing arrangements, etc) that might pose a conflict of interest in connection with the submitted article.
Each author certifies that his or her institution approved the reporting of this case report, that all investigations were conducted in conformity with ethical principles of research, and that informed consent for participation in the study was obtained.
Electronic supplementary material
Below is the link to the electronic supplementary material.
Supplementary material 1Ultrasound dynamic transverse scanning is shown during actively controlled extension of the hip from 60° to 20°. When flexion is approximately 45°, the iliacus muscle splits abruptly in two parts: the main belly moves medially over the iliac spine-calcification complex, while the ilioinfratrochanteric bundle diverges laterally, simultaneously with an audible snap. AIIS = anterior inferior iliac spine; Ca = calcification; IITB = ilioinfratrochanteric bundle; IMB = iliacus main belly. (MPG 6910 kb)
About this article
Cite this article
Pierannunzii, L., Tramontana, F. & Gallazzi, M. Case Report: Calcific Tendinitis of the Rectus Femoris: A Rare Cause of Snapping Hip. Clin Orthop Relat Res 468, 2814–2818 (2010). https://doi.org/10.1007/s11999-009-1208-9
Received:

Accepted:

Published:

Issue Date:
Keywords
Steroid Injection

Groin Pain

Rectus Femoris

Direct Head

Ligamentum Teres