Abstract
Various strategies have been employed to improve the storage stability of fresh-cut lotus root, which is prone to undesirable changes such as enzymatic oxidation. In our research, we targeted the formulation of polysaccharide-based edible coatings with different ionic charges from natural gum sources, such as guar gum, xanthan gum, and chitosan, due to the limited information regarding its application as coating material for fresh-cut lotus root. We have also compared the effect of single layer coatings versus layer-by-layer deposition as edible coating techniques for fresh-cut lotus root. Our results have shown that layer-by-layer coatings consisting of xanthan gum and chitosan were the most effective among all treatments, thereby reducing whiteness color (L*) changes and weight loss up to 60% and 86%, respectively. Overall, the layer-by-layer coating technique was more effective than single layer coating, which shows a promising strategy to increase the storage stability of fresh-cut lotus root especially during transport and distribution.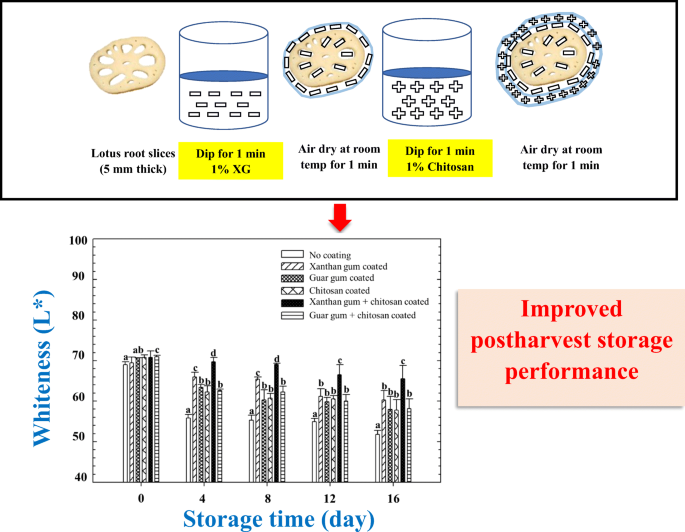 This is a preview of subscription content, log in to check access.
Access options
Buy single article
Instant access to the full article PDF.
US$ 39.95
Price includes VAT for USA
Subscribe to journal
Immediate online access to all issues from 2019. Subscription will auto renew annually.
US$ 99
This is the net price. Taxes to be calculated in checkout.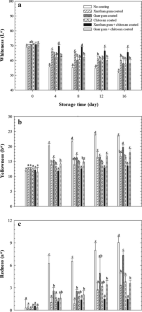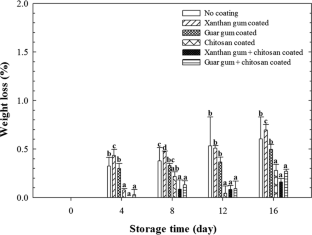 Funding
This research was financially supported by the JSPS Kakenhi Grant Number 15K07452.
Ethics declarations
Conflict of Interest
The authors declare that they have no conflict of interest.
Additional information
Publisher's Note
Springer Nature remains neutral with regard to jurisdictional claims in published maps and institutional affiliations.
About this article
Cite this article
Lara, G.R., Uemura, K., Khalid, N. et al. Layer-by-Layer Electrostatic Deposition of Edible Coatings for Enhancing the Storage Stability of Fresh-Cut Lotus Root (Nelumbo nucifera). Food Bioprocess Technol (2020). https://doi.org/10.1007/s11947-020-02410-3
Received:

Accepted:

Published:
Keywords
Edible coating

Layer-by-layer deposition

Stability

Fresh-cut

Enzymatic browning