Icariin as a Preservative to Maintain the Fruit Quality of Banana During Postharvest Storage
Abstract
Banana is a tropical fruit with good palatability and multiple health benefits. However, the fruit quality is readily deteriorated during postharvest storage. In this work, icariin was used to treat banana to maintain the fruit quality. NMR spectroscopy was applied to analyze the effect of icariin on the metabolite profiles of banana. It was found that the fruit quality of banana was well maintained after icariin treatment. The data of 1D and 2D NMR spectra revealed the composition of metabolites, whose contents greatly varied during storage. The first principal components included ethanol, acetic acid, saponin b, salsolinol, dopamine, glucose, and linoleic acid. After icariin treatment, the conversion of starch to α-d-glucose and β-d-glucose was delayed, and the production of γ-aminobutyrate, glutamine, and alanine increased. These results indicated that icariin could effectively maintain the fruit quality and delay the senescence of banana.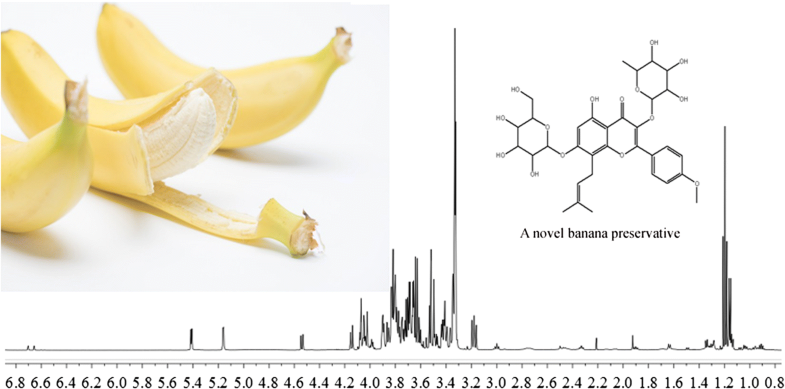 Keywords
Icariin 
Banana 
Metabolite 
NMR 
Postharvest storage 
Notes
Funding Information
This study was financially supported by the National Key Research and Development Program of China (2017YFD0401301), the National Natural Science Foundation of China (31671906, 31772371, and 31871851), the Frontier Science Key Program of Chinese Academy of Sciences (QYZDB-SSW-SMC018), and the Science and Technology Plan of Guangdong Province (2018A050506062).
Compliance with Ethical Standards
Conflict of Interest
The authors declare that they have no conflict of interest.
Copyright information
© Springer Science+Business Media, LLC, part of Springer Nature 2019