Ultrasound Pretreatment to Enhance Drying Kinetics of Kiwifruit (Actinidia deliciosa) Slices: Pros and Cons
Abstract
The effects of ultrasound (US) pretreatment on drying kinetics and quality attributes including phenols and ascorbic acid content, color parameters (L*, a*, b*, ∆E, BI, and H°), and rehydration kinetics of kiwifruit slices were investigated. Microstructure observations of raw and US pretreated samples were also performed. Results revealed that US pretreatment reduced drying time of kiwifruit slices by 16.67–25.00% compared with the untreated samples. Weibull distribution model could precisely fit the drying behavior of samples under different treatments (R2 > 0.99). US pretreatment had a positive effect on phenolic compounds preservation but had a negative influence on ascorbic acid and solid retention. The highest loss of ascorbic acid was 40.69% after US pretreatment and 87.71% after drying compared to the content of fresh ones. Color change of kiwifruit slices was mainly caused by drying. Page model adequately predicted the rehydration characteristics of dried samples under all conditions. Microstructure observations explained why US pretreatment increased the moisture diffusion ratio and reduced the rehydration time. The findings in current work indicate that although US pretreatment can enhance drying process, it is not an ideal method for kiwifruit slices due to high loss of water-soluble nutrients.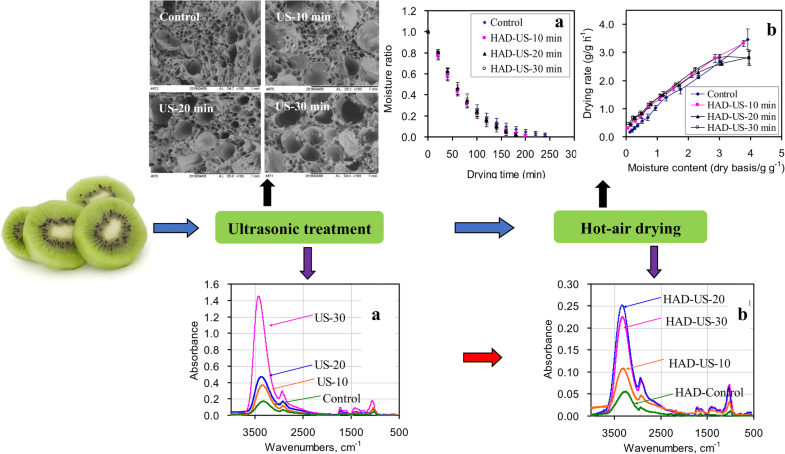 Keywords
Ultrasound pretreatment 
Drying kinetics 
Weibull distribution model 
Microstructure 
Kiwifruit 
Notes
Funding information
This study was financially supported by China Scholarship Council (CSC) [grant number 201706350195] and the Natural Sciences and Engineering Research Council of Canada (NSERC).
Compliance with ethical standards
Conflict of interest
The authors declare that they have no conflict of interest.
Copyright information
© Springer Science+Business Media, LLC, part of Springer Nature 2019