Bone Health in Men with Prostate Cancer: Review Article
Open Access
Cancer-induced Musculoskeletal Diseases (E Keller and J Sterling, Section Editors)
Part of the following topical collections:
Abstract
Purpose of Review
The improvement in prostate cancer survival over time, even in those with advanced disease, has led to an increasing recognition of the impact of prostate cancer and its treatment on bone health. Cancer treatment–induced bone loss (CTIBL) is a well-recognized entity but greater awareness of the risks associated with CTIBL and its treatment is required.
Recent Findings
The principal culprit in causing CTIBL is hormonal ablation induced by prostate cancer treatment, including several new agents which have been developed in recent years which significantly improve survival, but may cause CTIBL. This review discusses the impact of prostate cancer and its treatment on bone health, including published evidence on the underlying pathophysiology, assessment of bone health, and strategies for prevention and treatment.
Summary
It is important to recognize the potential cumulative impact of systemic prostate cancer treatments on bone health.
Keywords
Prostate cancer 
Bone health 
Osteoporosis 
Androgen deprivation therapy 
Introduction
Prostate cancer is the second most commonly diagnosed cancer in men with an estimated 1.3 million cases diagnosed in 2018 according to the most recent International Agency for Research on Cancer (IARC) report [1]. Men diagnosed with prostate cancer are now living longer. Prostate cancer survival has tripled in the last 40 years in the UK, with about 84% of men surviving their disease for ten years or more (2010–2011) [2]. In the USA, prostate cancer mortality has declined by 51% from 1993 to 2016 [3]. This improved survival is mainly attributed to advances in treatment, with some dispute about the impact of screening and earlier detection on mortality [4]. As patients are now living with prostate cancer for longer, the long-term impact of prostate cancer and its treatment on bone health in men is increasingly recognized.
Androgens and the Androgen Receptor (AR) signalling pathway play a key role in prostate cancer pathophysiology. Androgen deprivation therapy (ADT), which can be achieved surgically (by orchidectomy) or chemically using luteinizing hormone-releasing hormone (LHRH) agonists and LHRH antagonists is therefore a cornerstone in the treatment of prostate cancer (Fig.
1
). ADT is used in prostate cancer treatment at various stages: in men who present with or progress to metastatic disease; men who receive radical radiotherapy for localized or locally advanced disease and men who progress on a period of watchful waiting and are not fit for radical treatment [
5
,
6
,
7
,
8
]. Novel means for hormonal manipulation such as androgen synthesis inhibitors or AR signalling inhibitors are utilised in addition to ADT in the advanced disease setting.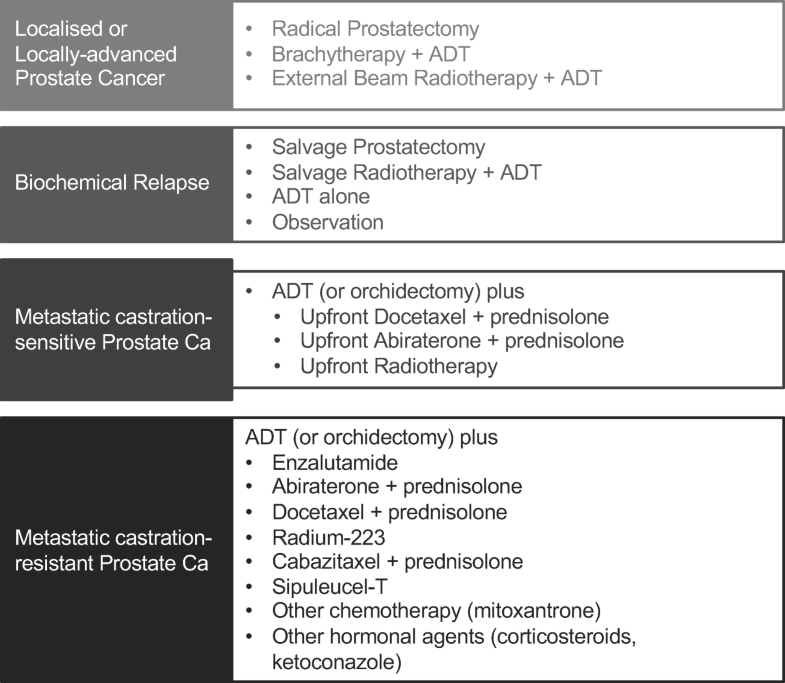 Long-term ADT has well-recognized negative impact on bone mineral density and increases fracture risk in men [9, 10, 11, 12]. A large observational study conducted by Shahinian et al. looked at the outcomes in 50,613 patients with prostate cancer. Of those who survived for at least 5 years after diagnosis, data showed that 19.4% of those who received ADT sustained a fracture, compared to 12.6% of those who did not receive ADT (p < 0.001) [13]. This negative impact on bone health also applies to other prostate cancer treatments including chemotherapy, glucocorticoids and novel hormone manipulation agents. These are used, in addition to background ADT, for the treatment of advanced prostate cancer, which involves bone in an estimated 90% of cases [14] with significant potential for morbidity and skeletal-related events (SREs) such as pathological fractures, pain, spinal cord compression and need for radiotherapy.
There is also evidence to suggest that even before initiating ADT, men with advanced prostate cancer have a higher incidence of osteoporosis and osteopenia compared to age-matched controls [15]. A separate population-based cohort study showed that men who have a high baseline risk of skeletal complications developed more fractures after initiating ADT [16]. Osteoporotic fractures in men with prostate cancer have been shown to correlate with poor survival outcomes [16, 17]. In addition, osteoporotic fractures also have a significant socio-economic impact. A report published by Hernlund et al. on osteoporosis in the European Union (EU) revealed that there were 3.5 million new fragility fractures in the EU in 2010 with an economic burden estimated at 37 billion euros and that this is expected to rise by 25% in 2025 [18].
Clinical guidelines from the National Institute for Health and Care Excellence (NICE) in the UK recommend that fracture risk is considered for all men receiving ADT and that treatment is offered to all those found to have osteoporosis [19]. Similarly, the European Association of Urology (EAU), European Society for Radiotherapy and Oncology (ESTRO) and International Society for Geriatric Oncology (SIOG) guidelines suggest that BMD assessment should be performed prior to the initiation of long-term ADT [20].
In this review, we will discuss current molecular and clinical understanding of the impact of metastatic disease and cancer treatment–induced bone loss (CTIBL) on bone health in prostate cancer patients and its management.
Conclusion and Future Directions
Prostate cancer patients are now living longer, and many patients receive several lines of therapy, which can have a cumulative impact on bone health over a period of years. Early recognition and optimization of bone health is therefore important in this patient group. A number of new agents have been approved and licensed for treatment of prostate cancer in recent years, and more agents are under development, like apalutamide, which will further extend the treatment options available once licensed, and may impact on bone health.
There is a need to raise awareness among patients about the risks of CTIBL as well as developing models to assist physicians to adhere to guidelines for screening and treatment. Several lifestyle modifications have been investigated but in order to objectively quantify their impact on BMD, further studies are required in this patient group. Bisphosphonates have been shown to reduce BMD loss in prostate cancer patients receiving ADT, however, few studies have investigated reduction in fractures and further larger studies are needed in this area.. Denosumab is the only agent that has shown a significant impact on fracture incidence in this patient population and is currently recommended for treatment of CTIBL associated with androgen deprivation therapy.
Notes
Compliance with Ethical Standards
Conflict of Interest
Salma El Badri and Abdulazeez Salawu declare no conflict of interest. Janet Brown reports grants and personal fees from Amgen, Novartis, and Bayer; and personal fees from BMS, Daiichi-Sankyo, Ipsen, Sandoz, and Merck, Sharp, Dome, outside the submitted work.
Human and Animal Rights and Informed Consent
This article does not contain any studies with human or animal subjects performed by any of the authors.
References
Papers of particular interest, published recently, have been highlighted as: •• Of major importance
Copyright information
© The Author(s) 2019
Open Access This article is distributed under the terms of the Creative Commons Attribution 4.0 International License (http://creativecommons.org/licenses/by/4.0/), which permits unrestricted use, distribution, and reproduction in any medium, provided you give appropriate credit to the original author(s) and the source, provide a link to the Creative Commons license, and indicate if changes were made.