The Role of Natural Killer Cells as a Platform for Immunotherapy in Pediatric Cancers
Part of the following topical collections:
Abstract
Purpose of Review
We aim to review the most recent findings in the use of NK cells in childhood cancers.
Recent Findings
Natural killer cells are cytotoxic to tumor cells. In pediatric leukemias, adoptive transfer of NK cells can bridge children not in remission to transplant. Interleukins (IL2, IL15) can enhance NK cell function. NK cell-CAR therapy has advantages of shorter life span that lessens chronic toxicities, lower risk of graft versus host disease when using allogeneic cells, ability of NK cells to recognize tumor cells that have downregulated MHC to escape T cells, and possibly less likelihood of cytokine storm. Cytotoxicity to solid tumors (rhabdomyosarcoma, Ewing's sarcoma, neuroblastoma) is seen with graft versus tumor effect in transplant and in combination with antibodies. Challenges lie in the microenvironment which is suppressive for NK cells.
Summary
NK cell immunotherapy in childhood cancers is promising and recent works aim to overcome challenges.
Keywords
Natural killer cells 
Adoptive cell therapy 
Tumor microenvironment 
CAR-NK 
Introduction
Survival rates for cancer in children have risen over the years due to collaborative efforts among working groups, advances in treatment technology, and most importantly, improvement in supportive care. However, outcome in many children, especially in the high-risk groups, remains dismal despite multidisciplinary treatment modalities and maximized chemotherapy regimens [1]. Thus, newer treatment options continue to be explored.
Immunotherapy has advanced significantly in the recent years and is beneficial when incorporated into treatment regimens for cancers in both adults and children. Natural killer cells have gained recognition as knowledge regarding their role in cancer surveillance increases. Their therapeutic roles lie in the settings of adoptive cell therapy from allogeneic donors and haploidentical stem cell transplantation [2]. This review aims to give a concise update on the recent developments regarding NK cell therapy in pediatric oncology.
Natural Killer Cell Biology
Natural killer cells are effector lymphocytes of the innate lymphoid system that recognizes cells transformed by viruses or cancer and causes their lysis without the need for prior sensitization. Their cytotoxic functions are based on a balance between signals from inhibitory receptors, presence of activating receptors on NK cells, and their ligands on target cells [Fig. 
1
]. They participate in ADCC through CD16 (FcγRIIIA) which binds to antibodies. Genetic polymorphisms in these receptors are influential in determining response with antibodies such as Rituximab. NK cells can release perforin and granzymes that are directly toxic to cells. They induce apoptosis via Fas and TRAIL pathways. They release cytokines that drive other cells in the immune system such as dendritic cells that are recruited into the tumor bed [
4
•].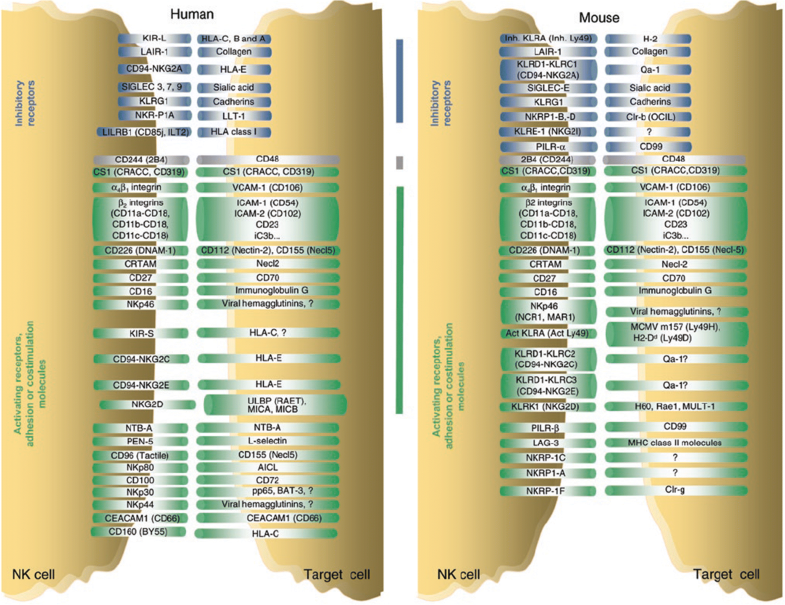 NK cells express CD56 and are negative for CD3. They comprise a diverse population with two more well-defined subsets. CD56bright + CD16 cells are seen mainly in the tonsils and lymph nodes. They secrete cytokines such as gamma interferon but lack perforin which limits their cytotoxic ability. Cells that are CD56dim+ have immunoglobulin receptor CD16 (FCGR3A) and express perforin and KIR (killer inhibitory receptors). They circulate in the peripheral blood and have cytotoxic capabilities. A complex system of activating and inhibitory receptors that recognize ligands in circulating cells helps maintain balance between tolerance and cytotoxicity. Inhibitory receptors recognize native antigens and prevent NK activation. Activating receptors recognize cells that are missing MHC antigens ("missing self"). In the "induced self" hypothesis, cell expression of ligands for activating receptors is induced in the presence of stress. Activating receptors include natural cytotoxicity receptors NKp46, NKp44, and NKp30, DNAM-1 and NKG2D. NKG2D recognizes stress-induced ligands MICA, MICA B, and ULBP1–6. Although part of the innate immune system, NK cells have been identified as having memory functions which is an adaptive response [2, 5•]. Exposure to viruses or cytokines can create memory cells that can unleash increased activity upon re-exposure.
NK Cell Surveillance in Leukemia
Several observations on NK cells and their role in leukemia predisposition have been made in studies in looking at polymorphisms in KIR genes and their ligands [3]. NK cells are known to kill transformed cells in the body, of which leukemic clones are. A higher number of activating KIR genes which stimulates NK cell cytotoxicity in normal control versus that of children with B ALL suggests the role of KIR genotype in preventing leukemia [6]. Another study also involving children with B-ALL found a correlation between homozygosity for HLA C2 alleles and a higher incidence of late relapse [3]. The strong binding and affinity between C2 and inhibitory KIR2DL1 are postulated to inhibit NK cells and their surveillance for leukemia. Similar associations have also been reported for acute myeloid leukemia (AML), chronic myeloid leukemia (CML), and chronic lymphocytic leukemia (CLL), where a significantly higher incidence of inhibitory KIR phenotypes was found in leukemic patients compared to controls [7]. All these point towards an active and significant role of NK cell surveillance in leukemogenesis.
Conclusion
NK cell therapy can be further improved by optimal donor selection based on phenotypic and genotypic properties, by adoptive transfer of NK cells with ex vivo or in vivo cytokine stimulation, by the use of antibodies to induce antibody-dependent cellular cytotoxicity or to block iKIRs, or by transduction of chimeric antigen receptors.
Natural Killer Cells in Solid Tumors
Infiltrating NK cells are known to be present in environment of solid tumors and metastases which to a certain extent control their growth and confer a favorable prognosis [4•]. In contrast to hematologic malignancies, NK cells have not seen the same success in solid tumors. This is due to the microenvironment where infiltrating cells and the tumor itself are immunosuppressive to NK cells. The tumor can secrete cytokines such as TGF beta that can suppress NK cell function but sustain innate lymphoid cells that have no cytotoxic capabilities.
Neuroblastoma, Sarcomas, and Brain Tumors
Enhancing NK Cell Function
To increase efficiency and overcome barriers to its function, methods to enhance activity have been explored. Allogeneic NK cells can be activated and expanded to increase in number and potency prior to infusion to the recipient. Interleukin administration (IL12, IL15, IL18) can increase the number and activity of NK cells. Treg lymphocyte depletion can enhance NK cell function as they compete for IL2.
Chimeric antigen receptor using T cells (CAR-T) have received much attention and received FDA approval for B cell leukemias. In CAR therapy, immune effector cells are genetically modified to express receptors that recognize specified antigens on tumor cells and cause cell death. The cells contain an extracellular antigen receptor (scFv derived from a monoclonal antibody) and an intracellular signaling domain. Disadvantages in the use of T cells for CAR therapy include cytokine storm and persistence in the system which can cause chronic off target toxicities such as B cell aplasia seen in CD19 CAR. The short life span of NK cells that can limit its efficacy is an advantage for CAR therapy in that chronic toxicities can be avoided. Tumor cells can downregulate MHC receptors escaping T cells but will make them visible to NK cells. CAR NK cells are more powerful than regular NK cells. They can be transduced to produce IL-15 to increase life span in the system. Incorporation of a suicide gene that can be pharmacologically activated prevents persistence in the system once the desired effect is achieved [26]. The need for autologous harvest of T cells for CAR therapy is hindered by host immunosuppression from previous treatment and possible contamination with tumor cells. Allogeneic T cells, however, carry the risk for GVHD which is not seen with NK cells.
Antibodies against inhibitory receptors can restore activity. IPH2101 (I-7F9) targets KIR2DL-1, KIR2DL-2, and KIR2DL3 and Monalizumab (IPH2201) blocks NKG2A. They are being explored for use in combination with other treatments [56].
Targeting inhibitors of effector cells is one mechanism of increasing tumor cell kill activity. Immune checkpoint inhibition such as in PDL1 blockade used in combination with standard treatment augments tumor control by T cells. Monoclonal antibodies created to target receptors bearing ITIM domains such as NKG2A can enhance NK cell function in combination with PDL1 blockade [57].
Conclusion
New insights into the biology of NK cells have led to further understanding of their role in immune surveillance. This has been important in refining the use of NK cells for adoptive cell therapy and in transplant. Enhancement of NK cell functions such as with the use of interleukins and engineering for CAR therapy provides a potent treatment option in select cancers in children. However, much of this knowledge still needs to be translated into the clinical setting. NK cell therapy and biology play a role in childhood leukemias and solid tumors. Although results in solid tumors seem inferior, the increasing knowledge on biology and behavior in cancer opens new options for refining treatment.
Notes
Compliance with Ethical Standards
Conflict of Interest
Miriam Santiago Kimpo, Bernice Oh, and Shawn Lee declare they have no conflict of interest.
Human and Animal Rights and Informed Consent
This article does not contain any studies with human or animal subjects performed by any of the authors.
References
Papers of particular interest, published recently, have been highlighted as: • Of importance
Copyright information
© The Author(s) 2019
Open Access This article is distributed under the terms of the Creative Commons Attribution 4.0 International License (http://creativecommons.org/licenses/by/4.0/), which permits unrestricted use, distribution, and reproduction in any medium, provided you give appropriate credit to the original author(s) and the source, provide a link to the Creative Commons license, and indicate if changes were made.