Adaptive Immunity in Hypertension
Open Access
Inflammation and Cardiovascular Diseases (A Kirabo, Section Editor)
Part of the following topical collections:
Abstract
Purpose of Review
In recent years, a vast body of evidence has accumulated indicating the role of the immune system in the regulation of blood pressure and modulation of hypertensive pathology. Numerous cells of the immune system, both innate and adaptive immunity, have been indicated to play an important role in the development and maintenance of hypertension. The purpose of this review was to summarize the role of adaptive immunity in experimental models of hypertension (genetic, salt-sensitive, and Angiotensin (Ang) II induced) and in human studies. In particular, the role of T and B cells is discussed.
Recent Findings
In response to hypertensive stimuli such as Ang II and high salt, T cells become pro-inflammatory and they infiltrate the brain, blood vessel adventitia and periadventitial fat, heart, and the kidney. Pro-inflammatory T cell–derived cytokines such as IFN-γ and TNF-α (from CD8+ and CD4+Th1) and IL-17A (from the γδ-T cell and CD4+Th17) exacerbate hypertensive responses mediating both endothelial dysfunction and cardiac, renal, and neurodegenerative injury. The modulation of adaptive immune activation in hypertension has been attributed to target organ oxidative stress that leads to the generation of neoantigens, including isolevuglandin-modified proteins. The role of adaptive immunity is sex-specific with much more pronounced mechanisms in males than that in females. Hypertension is also associated with B cell activation and production of autoantibodies (anti-Hsp70, anti-Hsp65, anti-Hsp60, anti-AT1R, anti-α1AR, and anti-β1AR). The hypertensive responses can be inhibited by T regulatory lymphocytes (Tregs) and their anti-inflammatory IL-10.
Summary
Adaptive immunity and its interface with innate mechanisms may represent valuable targets in the modulation of blood pressure, as well as hypertension-related residual risk.
Keywords
Adaptive immunity 
Hypertension 
T cell 
B cell 
Antibody 
Cytokine 
Introduction
In recent years, accumulating evidence indicates the role of the immune system in the regulation of blood pressure and cardiovascular risk linked to hypertension. While our initial studies using RAG1
−/−
mice have shown the pathogenetic role of T cells in this process, subsequent cooperation of numerous cells of the immune system, both innate and adaptive immunity, has been implicated in the development and maintenance of hypertension (Fig. 
1
) [
1
••,
2
,
3
,
4
,
5
,
6
,
7
]. The first line of defense includes the innate response and takes place relatively very fast. The second line of the defense, namely adaptive immunity, is characterized by a delayed but very targeted response. In terms of the development of hypertension, the interaction between these two components of the immune system seems to be essential [
8
,
9
••].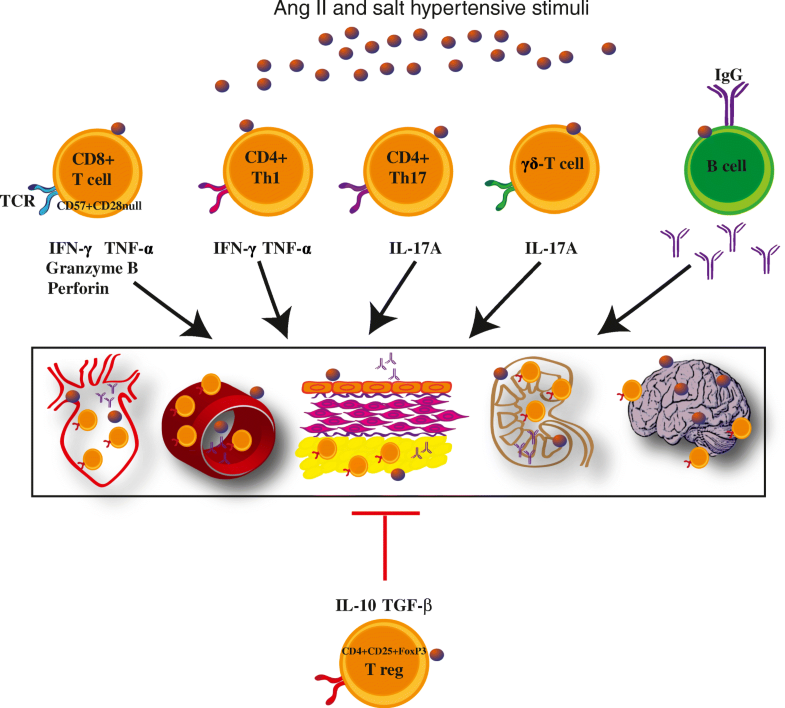 Conclusion
Adaptive immune responses, both T cell and B cell mediated, play a pivotal role in the development of hypertension and in mediating target organ damage. Adaptive immunity activation of both T cells and B cells is initiated early in the course of the disease and greatly contributes to important pathogenetic changes, through release of pro-inflammatory cytokines and antibodies. This leads to changes of renal sodium transporter expression and vascular endothelial as well as cardiac, renal, and perivascular fibrosis. While these mechanisms have been well defined in animal models, less evidence is available in humans. Unquestionably, such a large body of evidence warrants the development of novel anti-hypertensive strategies targeting adaptive immunity hypertensive mechanisms.
Notes
Compliance with Ethical Standards
Conflict of Interest
Dr. Guzik reports grants from the European Research Council during the conduct of the study. Dr. Mikolajczyk has nothing to disclose.
Human and Animal Rights and Informed Consent
This article does not contain any studies with human or animal subjects performed by any of the authors.
References
Papers of particular interest, published recently, have been highlighted as: • Of importance •• Of major importance
Copyright information
© The Author(s) 2019
Open Access This article is distributed under the terms of the Creative Commons Attribution 4.0 International License (http://creativecommons.org/licenses/by/4.0/), which permits unrestricted use, distribution, and reproduction in any medium, provided you give appropriate credit to the original author(s) and the source, provide a link to the Creative Commons license, and indicate if changes were made.