Identifying and Managing Hibernating Myocardium: What's New and What Remains Unknown?
Part of the following topical collections:
Abstract
Purpose of Review
Hibernation is an important and reversible cause of myocardial dysfunction in ischaemic heart failure.
Recent Findings
Hibernation is an adaptive process that promotes myocyte survival over maintaining contractile function. It is innate to mammalian physiology, sharing features with physiological hibernation in other species. Advanced imaging methods have reasonable accuracy in identifying hibernating myocardium. Novel superior hybrid methods may provide diagnostic potential. New evidence supports the role of surgical revascularisation in ischaemic heart failure, but the role of viability tests in planning such procedures remains unclear. Research to date has exclusively involved patients with ambulatory heart failure: Investigating the role of hibernation in ADHF is a key avenue for the future.
Summary
Whilst our understanding of hibernation pathophysiology has improved dramatically, the clinical utility of identifying and targeting hibernation remains unclear.
Keywords
Hibernation 
Viability 
Revascularisation 
Ischaemic heart failure 
Ischaemic cardiomyopathy 
HFrEF 
Introduction
Despite, and in part due to improving revascularisation techniques, ischaemic heart disease (IHD) remains the most prevalent cause of chronic heart failure in developed nations [
1
]. Even with modern drug and device therapy, 5-year mortality for ischaemic heart failure remains in excess of 50% [
2
•,
3
]. Mortality events in ischaemic heart failure can be categorised as sudden deaths (predominantly due to arrhythmic and acute coronary occlusive events) or progressive pump failure leading to ADHF. IHD accounts for 40–60% of patients hospitalised with acute decompensated heart failure (AHDF) [
4
,
5
] and ischaemic ADHF confers a worse in-hospital mortality than a non-ischaemic aetiology [
6
] (Fig. 
1
).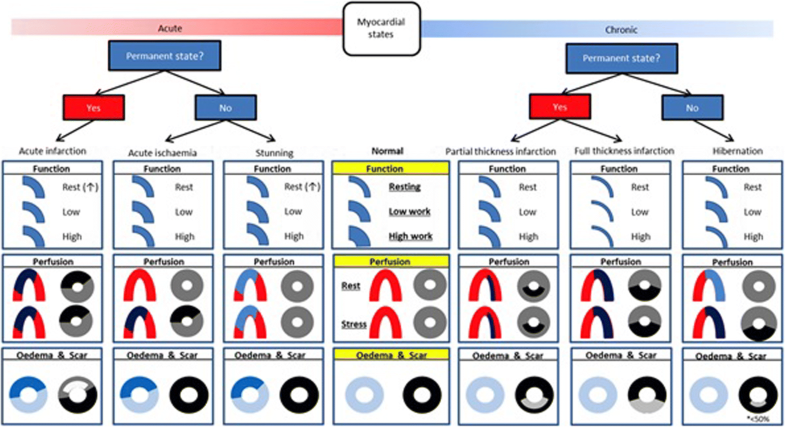 Studies across a range of modalities have demonstrated that most patients with ischaemic heart failure have a reduced left ventricular ejection fraction (HFrEF). Transmural infarction accounts for a significant proportion of this myocardial dysfunction. There was early recognition, however, that function is commonly impaired in myocardial segments that are free from ischaemic scar and have preserved metabolic activity, and also that a proportion of patients with coronary disease and HFrEF have no clinical or imaging evidence of prior infarction. Subsequent observations by Brundage and others suggested that contractile function in these regions commonly, but not inevitably, improved following revascularisation with coronary artery bypass grafting [7].
These observations led to Shahbudin Rahimtoola's first description of myocardial hibernation [8]. This theory describes an adaptive downregulation of function in response to myocardial ischaemia, sacrificing contractile function to balance myocardial oxygen demand to the available supply and prevent myocyte necrosis. This process is an attractive pathophysiological target in decompensated heart failure; dysfunctional myocardium that could be "switched back on" to reverse progressive pump failure. Despite three decades of research, the role of hibernation in ischaemic HFrEF remains controversial. The last few years have, however, seen a steady stream of new data. This article will summarise and analyse recent progress in the identification and management of hibernation, later focussing on its role in ADHF.
Conclusions
The last decade has seen significant advances in our understanding of hibernation and its role in ischaemic left ventricular dysfunction. In particular, progress has been made in pathophysiological research, relevant diagnostics (particularly coronary physiology and CMR) and revascularisation techniques (including reducing surgical risk, complex/CTO angioplasty and mechanical circulatory support). These have contributed to far greater understanding of the role of revascularisation in ischaemic heart failure. Our knowledge of the utility of these techniques in the setting of decompensated heart failure remains primitive and is an essential avenue for future investigation.
Notes
Compliance with Ethical Standards
Conflict of Interest
Matthew J. Ryan declares no potential conflicts of interest. Divaka Perera is Chief Investigator for the REVIVED-BCIS2 trial, a UK multicentre RCT of viability-guided percutaneous revascularisation in ischaemic left ventricular dysfunction.
Human and Animal Rights and Informed Consent
This article does not contain any studies with human or animal subjects performed by any of the authors.
References
Papers of particular interest, published recently, have been highlighted as: • Of importance •• Of major Importance
Copyright information
© The Author(s) 2018
Open Access This article is distributed under the terms of the Creative Commons Attribution 4.0 International License (http://creativecommons.org/licenses/by/4.0/), which permits unrestricted use, distribution, and reproduction in any medium, provided you give appropriate credit to the original author(s) and the source, provide a link to the Creative Commons license, and indicate if changes were made.