Abstract
Purpose of Review
The bidirectional relationship between sleep disorders and inflammatory bowel disease (IBD) has gained considerable attention in recent years. It has been suggested that poor sleep and fatigue are extra-intestinal manifestations of IBD. This review reports recent studies exploring subjective and objective assessments of sleep in the adult IBD population.
Recent Findings
In ulcerative colitis patients, poor sleep has been independently linked to depression and poorer IBD-related quality of life. Using home polysomnography, IBD patients were shown to have less rapid eye movement sleep and Crohn's patient had increased lighter sleep. A study utilizing surveys assessing circadian rhythms described circadian misalignment in IBD patients and reported that circadian misalignment in Crohn's disease was associated with a more aggressive disease phenotype. The use of biologics may improve sleep disturbances in patients with IBD.
Summary
Translational and clinical studies have reported that disturbances in sleep quality are linked to intestinal inflammation and a heighted systemic immune response. IBD patients appear to have disturbed sleep. Poor sleep is also suggested as a marker for subclinical disease activity. Recent studies have suggested circadian misalignment in IBD patients, and future studies are needed to assess these clinical implications.
This is a preview of subscription content, log in to check access.
Access options
Buy single article
Instant access to the full article PDF.
US$ 39.95
Price includes VAT for USA
Subscribe to journal
Immediate online access to all issues from 2019. Subscription will auto renew annually.
US$ 99
This is the net price. Taxes to be calculated in checkout.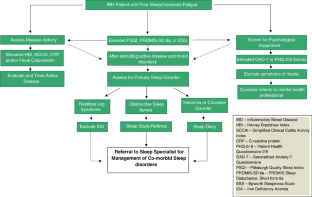 References
Papers of particular interest, published recently, have been highlighted as: • Of importance •• Of major importance
1.

Abraham C, Cho JH. Inflammatory bowel disease. N Engl J Med. 2009;361(21):2066–78.

2.

Qazi T, Farraye FA. Sleep and inflammatory bowel disease: an important bi-directional relationship. Inflamm Bowel Dis. 2019;25(5):843–52.

3.

Ananthakrishnan AN. Epidemiology and risk factors for IBD. Nat Rev Gastroenterol Hepatol. 2015;12(4):205–17.

4.

Codoñer-Franch P, Gombert M. Circadian rhythms in the pathogenesis of gastrointestinal diseases. World J Gastroenterol. 2018;24(38):4297–303.

5.

Krueger JM, Majde JA, Rector DM. Cytokines in immune function and sleep regulation. Handb Clin Neurol. 2011;98:229–40.

6.

Gombert M, Carrasco-Luna J, Pin-Arboledas G, Codoñer-Franch P. The connection of circadian rhythm to inflammatory bowel disease. Transl Res J Lab Clin Med. 2019;206:107–18.

7.

Institute of Medicine (US) Committee on Sleep Medicine and Research. Sleep disorders and sleep deprivation: an unmet public health problem [Internet]. Colten HR, Altevogt BM, editors. Washington (DC): National Academies Press (US); 2006 [Cited 2019 Jul 4]. (The National Academies Collection: Reports funded by National Institutes of Health). Available from: http://www.ncbi.nlm.nih.gov/books/NBK19960/

8.

Khanijow V, Prakash P, Emsellem HA, Borum ML, Doman DB. Sleep dysfunction and gastrointestinal diseases. Gastroenterol Hepatol. 2015;11(12):817–25.

9.

Nojkov B, Rubenstein JH, Chey WD, Hoogerwerf WA. The impact of rotating shift work on the prevalence of irritable bowel syndrome in nurses. Am J Gastroenterol. 2010;105(4):842–7.

10.

Sonnenberg A. Occupational distribution of inflammatory bowel disease among German employees. Gut. 1990;31(9):1037–40.

11.

Sonnenberg A. Disability from inflammatory bowel disease among employees in West Germany. Gut. 1989;30(3):367–70.

12.

Effect of short sleep duration on daily activities --- United States, 2005--2008 [Internet]. [cited 2019 Jul 6]. Available from: https://www.cdc.gov/mmwr/preview/mmwrhtml/mm6008a3.htm

13.

Parekh PJ, Oldfield EC, Johnson DA. The effects of sleep on the commensal microbiota: eyes wide open? J Clin Gastroenterol. 2018;52(3):204–9.

14.

Trott AJ, Menet JS. Regulation of circadian clock transcriptional output by CLOCK:BMAL1. PLoS Genet. 2018 [cited 2019 Jul 4];14(1). Available from: https://www.ncbi.nlm.nih.gov/pmc/articles/PMC5771620/

15.

Bellet MM, Sassone-Corsi P. Mammalian circadian clock and metabolism - the epigenetic link. J Cell Sci. 2010;123(Pt 22):3837–48.

16.

Keller M, Mazuch J, Abraham U, Eom GD, Herzog ED, Volk H-D, et al. A circadian clock in macrophages controls inflammatory immune responses. Proc Natl Acad Sci U S A. 2009;106(50):21407–12.

17.

Liu X, Yu R, Zhu L, Hou X, Zou K. Bidirectional regulation of circadian disturbance and inflammation in inflammatory bowel disease. Inflamm Bowel Dis. 2017;23(10):1741–51.

18.

Silver AC, Arjona A, Hughes ME, Nitabach MN, Fikrig E. Circadian expression of clock genes in mouse macrophages, dendritic cells, and B cells. Brain Behav Immun. 2012;26(3):407–13.

19.

Kinnucan JA, Rubin DT, Ali T. Sleep and inflammatory bowel disease: exploring the relationship between sleep disturbances and inflammation. Gastroenterol Hepatol. 2013;9(11):718–27.

20.

Musiek ES, Fitzgerald GA. Molecular clocks in pharmacology. Handb Exp Pharmacol. 2013;217:243–60.

21.

Imeri L, Opp MR. How (and why) the immune system makes us sleep. Nat Rev Neurosci. 2009;10(3):199–210.

22.

Gamaldo CE, Shaikh AK, McArthur JC. The sleep-immunity relationship. Neurol Clin. 2012;30(4):1313–43.

23.

Weintraub Y, Cohen S, Chapnik N, Ben-Tov A, Yerushalmy-Feler A, Dotan I, et al. Clock gene disruption is an initial manifestation of inflammatory bowel disease. Clin Gastroenterol Hepatol Off Clin Pract J Am Gastroenterol Assoc. 2019;10.

24.

Vaughn BV, Rotolo S, Roth HL. Circadian rhythm and sleep influences on digestive physiology and disorders [Internet]. Chrono Physiol Ther. 2014 [cited 2019 Jul 2]. Available from: https://www.dovepress.com/circadian-rhythm-and-sleep-influences-on-digestive-physiology-and-diso-peer-reviewed-fulltext-article-CPT

25.

Tang Y, Preuss F, Turek FW, Jakate S, Keshavarzian A. Sleep deprivation worsens inflammation and delays recovery in a mouse model of colitis. Sleep Med. 2009;10(6):597–603.

26.

Leone V, Gibbons SM, Martinez K, Hutchison AL, Huang EY, Cham CM, et al. Effects of diurnal variation of gut microbes and high-fat feeding on host circadian clock function and metabolism. Cell Host Microbe. 2015;17(5):681–9.

27.

Marcinkevicius EV, Shirasu-Hiza MM. Message in a biota: gut microbes signal to the circadian clock. Cell Host Microbe. 2015;17(5):541–3.

28.

Poroyko VA, Carreras A, Khalyfa A, Khalyfa AA, Leone V, Peris E, et al. Chronic sleep disruption alters gut microbiota, induces systemic and adipose tissue inflammation and insulin resistance in mice. Sci Rep. 2016;6:35405.

29.

Jagannath A, Taylor L, Wakaf Z, Vasudevan SR, Foster RG. The genetics of circadian rhythms, sleep and health. Hum Mol Genet. 2017;26(R2):R128–38.

30.

Xie Y, Tang Q, Chen G, Xie M, Yu S, Zhao J, et al. New insights into the circadian rhythm and its related diseases. Front Physiol [Internet]. 2019 [cited 2019 Jul 31];10. Available from: https://www.ncbi.nlm.nih.gov/pmc/articles/PMC6603140/

31.

Potter GDM, Skene DJ, Arendt J, Cade JE, Grant PJ, Hardie LJ. Circadian rhythm and sleep disruption: causes, metabolic consequences, and countermeasures. Endocr Rev. 2016;37(6):584–608.

32.

O'Donnell D, Silva EJ, Munch M, Ronda JM, Wang W, Duffy JF. Comparison of subjective and objective assessments of sleep in healthy older subjects without sleep complaints. J Sleep Res. 2009;18(2):254–63.

33.

Zimmerman J. Extraintestinal symptoms in irritable bowel syndrome and inflammatory bowel diseases: nature, severity, and relationship to gastrointestinal symptoms. Dig Dis Sci. 2003;48(4):743–9.

34.

Johns MW. Reliability and factor analysis of the Epworth Sleepiness Scale. Sleep. 1992;15(4):376–81.

35.

Buysse DJ, Reynolds CF, Monk TH, Berman SR, Kupfer DJ. The Pittsburgh Sleep Quality Index: a new instrument for psychiatric practice and research. Psychiatry Res. 1989;28(2):193–213.

36.

Buysse DJ, Yu L, Moul DE, Germain A, Stover A, Dodds NE, et al. Development and validation of patient-reported outcome measures for sleep disturbance and sleep-related impairments. Sleep. 2010;33(6):781–92.

37.

Bastien CH, Vallières A, Morin CM. Validation of the Insomnia Severity Index as an outcome measure for insomnia research. Sleep Med. 2001;2(4):297–307.

38.

Morin CM. Insomnia: psychological assessment and management. New York: Guilford Press; 1993. xvii, 238. (Insomnia: Psychological assessment and management)

39.

Morin CM. Insomnia severity index [Internet]. American Psychological Association; 2014 [cited 2019 Aug 2]. Available from: http://doi.apa.org/getdoi.cfm?doi=10.1037/t07115-000.

40.

Levine DW, Kripke DF, Kaplan RM, Lewis MA, Naughton MJ, Bowen DJ, et al. Reliability and validity of the Women's Health Initiative Insomnia Rating Scale. Psychol Assess. 2003;15(2):137–48.

41.

Qazi T, Verma R, Hamilton MJ, Kaplan ER, Redline S, Burakoff R. The use of actigraphy differentiates sleep disturbances in active and inactive Crohn's disease. Inflamm Bowel Dis. 2019;25(6):1044–53.

42.

Horne JA, Ostberg O. A self-assessment questionnaire to determine morningness-eveningness in human circadian rhythms. Int J Chronobiol. 1976;4(2):97–110.

43.

Jankowski K. Composite Scale of Morningness: psychometric properties, validity with Munich ChronoType Questionnaire and age/sex differences in Poland. Eur Psychiatry. 2015;30:166–71.

44.

Kim MJ, Lee JH, Duffy JF. Circadian rhythm sleep disorders. J Clin Outcomes Manag JCOM. 2013;20(11):513–28.

45.

Randler C. Validation of the full and reduced Composite Scale of Morningness. Biol Rhythm Res. 2009;40(5):413–23.

46.

Smith CS, Reilly C, Midkiff K. Evaluation of three circadian rhythm questionnaires with suggestions for an improved measure of morningness. J Appl Psychol. 1989;74(5):728–38.

47.

Roenneberg T, Wirz-Justice A, Merrow M. Life between clocks: daily temporal patterns of human chronotypes. J Biol Rhythm. 2003;18(1):80–90.

48.

• Chrobak AA, Nowakowski J, Zwolińska-Wcisło M, Cibor D, Przybylska-Feluś M, Ochyra K, et al. Associations between chronotype, sleep disturbances and seasonality with fatigue and inflammatory bowel disease symptoms. Chronobiol Int. 2018;35(8):1142–52. This circadian-based study evaluated chronotype, seasonality preferences, and sleep disturbances through the lens of IBD symptoms. Subjects who demonstrated eveningness preferences had reduced activity, higher scores of fatigue, and worse IBD symptoms. These associations were linked with reduced sleep quality.

49.

Young MA, Blodgett C, Reardon A. Measuring seasonality: psychometric properties of the Seasonal Pattern Assessment Questionnaire and the Inventory for Seasonal Variation. Psychiatry Res. 2003;117(1):75–83.

50.

Covassin N, Somers VK. Portable sleep monitoring systems: broadening the horizons. J Clin Sleep Med JCSM Off Publ Am Acad Sleep Med. 2017;13(6):773–4.

51.

Collop NA, Anderson WM, Boehlecke B, Claman D, Goldberg R, Gottlieb DJ, et al. Clinical guidelines for the use of unattended portable monitors in the diagnosis of obstructive sleep apnea in adult patients. Portable Monitoring Task Force of the American Academy of Sleep Medicine. J Clin Sleep Med JCSM Off Publ Am Acad Sleep Med. 2007;3(7):737–47.

52.

El Shayeb M, Topfer L-A, Stafinski T, Pawluk L, Menon D. Diagnostic accuracy of level 3 portable sleep tests versus level 1 polysomnography for sleep-disordered breathing: a systematic review and meta-analysis. Can Med Assoc J. 2014;186(1):E25–51.

53.

Thurman SM, Wasylyshyn N, Roy H, Lieberman G, Garcia JO, Asturias A, et al. Individual differences in compliance and agreement for sleep logs and wrist actigraphy: a longitudinal study of naturalistic sleep in healthy adults. PLoS One [Internet]. 2018 Jan 29 [cited 2019 Aug 5];13(1). Available from: https://www.ncbi.nlm.nih.gov/pmc/articles/PMC5788380/.

54.

Blackwell T, Ancoli-Israel S, Redline S, Stone KL. Osteoporotic Fractures in Men (MrOS) Study Group. Factors that may influence the classification of sleep-wake by wrist actigraphy: the MrOS sleep study. J Clin Sleep Med JCSM Off Publ Am Acad Sleep Med. 2011;7(4):357–67.

55.

Smith MT, McCrae CS, Cheung J, Martin JL, Harrod CG, Heald JL, et al. Use of actigraphy for the evaluation of sleep disorders and circadian rhythm sleep-wake disorders: an American Academy of Sleep Medicine systematic review, meta-analysis, and GRADE assessment. J Clin Sleep Med JCSM Off Publ Am Acad Sleep Med. 2018;14(7):1209–30.

56.

Razjouyan J, Lee H, Parthasarathy S, Mohler J, Sharafkhaneh A, Najafi B. Improving sleep quality assessment using wearable sensors by including information from postural/sleep position changes and body acceleration: a comparison of chest-worn sensors, wrist actigraphy, and polysomnography. J Clin Sleep Med JCSM Off Publ Am Acad Sleep Med. 2017;13(11):1301–10.

57.

Ranjbaran Z, Keefer L, Farhadi A, Stepanski E, Sedghi S, Keshavarzian A. Impact of sleep disturbances in inflammatory bowel disease. J Gastroenterol Hepatol. 2007;22(11):1748–53.

58.

Graff LA, Vincent N, Walker JR, Clara I, Carr R, Ediger J, et al. A population-based study of fatigue and sleep difficulties in inflammatory bowel disease. Inflamm Bowel Dis. 2011;17(9):1882–9.

59.

Gingold-Belfer R, Peled N, Levy S, Katz N, Niv Y, Fass R, et al. Impaired sleep quality in Crohn's disease depends on disease activity. Dig Dis Sci. 2014;59(1):146–51.

60.

Ali T, Madhoun MF, Orr WC, Rubin DT. Assessment of the relationship between quality of sleep and disease activity in inflammatory bowel disease patients. Inflamm Bowel Dis. 2013;19(11):2440–3.

61.

Graff LA, Clara I, Walker JR, Lix L, Carr R, Miller N, et al. Changes in fatigue over 2 years are associated with activity of inflammatory bowel disease and psychological factors. Clin Gastroenterol Hepatol. 2013;11(9):1140–6.

62.

Ananthakrishnan AN, Long MD, Martin CF, Sandler RS, Kappelman MD. Sleep disturbance and risk of active disease in patients with Crohn's disease and ulcerative colitis. Clin Gastroenterol Hepatol Off Clin Pract J Am Gastroenterol Assoc. 2013;11(8):965–71.

63.

Wilson RG, Stevens BW, Guo AY, Russell CN, Thornton A, Cohen MA, et al. High C-reactive protein is associated with poor sleep quality independent of nocturnal symptoms in patients with inflammatory bowel disease. Dig Dis Sci. 2015;60(7):2136–43.

64.

• Stevens BW, Borren NZ, Velonias G, Conway G, Cleland T, Andrews E, et al. Vedolizumab therapy is associated with an improvement in sleep quality and mood in inflammatory bowel diseases. Dig Dis Sci. 2017;62(1):197–206. This prospective study demonstrated that vedolizumab and anti-TNF therapy can improve sleep, depression, and anxiety in patients with moderate to severe IBD. This change was seen within 6 weeks of therapy and persisted up to 1 year.

65.

Sofia MA, Lipowska AM, Perez EY, Zmeter N, Kavitt RT, Rubin DT. P207 Poor sleep quality is a risk factor for hospitalisation and surgery in Crohn's disease. J Crohns Colitis. 2018;12(supplement_1):S204.

66.

Sofia MA, Yvellez O, Zmeter N, El Jurdi K, Ollech J, Andersen MJ, et al. P178 Sleep fragmentation measured by wearable device is an indicator of clinical disease activity in inflammatory bowel disease. J Crohns Colitis. 2018;12(supplement_1):S188–9.

67.

Sobolewska-Wlodarczyk A, Wlodarczyk M, Banasik J, Gasiorowska A, Wisniewska-Jarosinska M, Fichna J. Sleep disturbance and disease activity in adult patients with inflammatory bowel diseases. J Physiol Pharmacol Off J Pol Physiol Soc. 2018;69(3).

68.

Michalopoulos G, Vrakas S, Makris K, Tzathas C. Association of sleep quality and mucosal healing in patients with inflammatory bowel disease in clinical remission. Ann Gastroenterol. 2018;31(2):211–6.

69.

Borren NZ, Tan W, Andrews E, Van Der Woude CJ, Colizzo F, Luther J, et al. Sa1861 – Impact of biologic therapy on resolution of fatigue symptoms in patients with active inflammatory bowel disease: a prospective Cohort study. Gastroenterology. 2019;156(6):S-431–2.

70.

Borren N, Woude CJVD, Ananthakrishnan A. Mo1804 - Predictors of persistent fatigue in patients with inflammatory bowel disease in biologic-induced clinical remission. Gastroenterology. 2018;154(6):S-807.

71.

•• Hood MM, Wilson R, Gorenz A, Jedel S, Raeisi S, Hobfoll S, et al. Sleep quality in ulcerative colitis: associations with inflammation, psychological distress, and quality of life. Int J Behav Med. 2018;25(5):517–25. There appears to be a bidirectional relationship between poor sleep and depressive symptoms. This subjective study (using PSQI surveys) found that poor sleep quality was independently associated with depression.

72.

Benhayon D, Youk A, McCarthy FN, Davis S, Keljo DJ, Bousvaros A, et al. Characterization of relationships between sleep, inflammation, and psychiatric dysfunction in depressed youth with Crohn's disease. J Pediatr Gastroenterol Nutr. 2013;57(3):335–42.

73.

•• Chakradeo PS, Keshavarzian A, Singh S, Dera AE, Esteban JPG, Lee AA, et al. Chronotype, social jet lag, sleep debt and food timing in inflammatory bowel disease. Sleep Med. 2018;52:188–95. Through circadian based surveys, this study characterized sleep/wake cycle preferences in IBD patients. The link between increased inflammation and circadian misalignment was linked with disrupted sleep duration on workdays and infrequent meal timing.

74.

Keefer L, Stepanski EJ, Ranjbaran Z, Benson LM, Keshavarzian A. An initial report of sleep disturbance in inactive inflammatory bowel disease. J Clin Sleep Med JCSM Off Publ Am Acad Sleep Med. 2006;2(4):409–16.

75.

•• Bar-Gil Shitrit A, Chen-Shuali C, Adar T, Koslowsky B, Shteingart S, Paz K, et al. Sleep disturbances can be prospectively observed in patients with an inactive inflammatory bowel disease. Dig Dis Sci. 2018;63(11)):2992–7. Results of this pilot study, using ambulatory PSG monitors, discovered that patients with inactive IBD demonstrated less REM sleep when compared with HC. Additionally, the IBD group experienced longer periods of oxygen desatruations below 90%.

76.

• Paixão DL, Poyares D, Paula MS d, Duarte JW, Castelo PM, Ambrogini-Júnior O, et al. Evaluation of home polysomnography findings, quality of sleep, and fatigue in inflammatory bowel disease: a case series. J Clin Sleep Med. 2019;15(01):39–45/ Home PSG, subjective sleep measurements, and serum cytokine levels were compared in patients with active disease or in remission. Interestingly, sleep efficiency and fragmentation were similar between both groups. Yet subjectively, subjects with active disease reported worsening fatigue symptoms.

77.

Burgess HJ, Swanson GR, Keshavarzian A. Endogenous melatonin profiles in asymptomatic inflammatory bowel disease. Scand J Gastroenterol. 2010;45(6):759–61.

78.

van Langenberg DR, Papandony MC, Gibson PR. Sleep and physical activity measured by accelerometry in Crohn's disease. Aliment Pharmacol Ther. 2015;41(10):991–1004.
Ethics declarations
Conflict of Interest
The authors declare that they have no conflict of interest.
Human and Animal Rights and Informed Consent
This article does not contain any studies with human or animal subjects performed by any of the authors.
Additional information
Publisher's Note
Springer Nature remains neutral with regard to jurisdictional claims in published maps and institutional affiliations.
This article is part of the Topical Collection on Inflammatory Bowel Disease
About this article
Cite this article
Canakis, A., Qazi, T. Sleep and Fatigue in IBD: an Unrecognized but Important Extra-intestinal Manifestation. Curr Gastroenterol Rep 22, 8 (2020). https://doi.org/10.1007/s11894-020-0746-x
Keywords
Inflammatory bowel disease

Sleep

Circadian rhythm

Fatigue

Quality of life