Abstract
Purpose of Review
High insulin prices and cost-related insulin underuse are increasingly common and vexing problems for healthcare providers. This review highlights several factors that contribute to high prices and limited generic competition in the US insulin market.
Recent Findings
An opaque and complex pricing and reimbursement system for insulin, allegations of collusive practices by insulin manufacturers, and a lack of generic competition drive and sustain high insulin prices. When combined with increasing insurance deductibles and cost sharing, these factors contribute to cost-related insulin underuse and are associated with adverse clinical outcomes.
Summary
Healthcare providers facing patients with type 2 diabetes who struggle to afford insulin should consider initiating or switching from analogue to human insulin as one way to help address the challenges of access and affordability. However, it is also important to support initiatives to advocate for affordable pricing for insulin for patients who can benefit from the flexibility offered by many of the newer insulin preparations.
This is a preview of subscription content, log in to check access.
Access options
Buy single article
Instant access to the full article PDF.
US$ 39.95
Price includes VAT for USA
Subscribe to journal
Immediate online access to all issues from 2019. Subscription will auto renew annually.
US$ 99
This is the net price. Taxes to be calculated in checkout.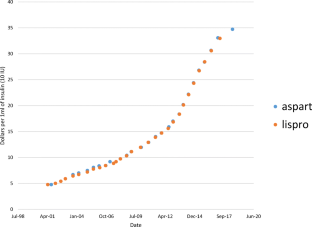 References
Papers of particular interest, published recently, have been highlighted as: • Of importance •• Of major importance
1.

Beran D, Hirsch IB, Yudkin JS. Why are we failing to address the issue of access to insulin? A national and global perspective. Diabetes Care. 2018;41(6):1125–31.

2.

• Herkert D, Vijayakumar P, Luo J, Schwartz JI, Rabin TL, DeFilippo E, et al. Cost-related insulin underuse among patients with diabetes. JAMA Intern Med. 2019;179(1):112–4 Findings from this study suggest that 1 in 4 adults may experience cost-related insulin underuse. Furthermore, cost-related insulin underuse is associated with higher risk of poor glycemic control (HbA1c>9%).

3.

Conner F, Pfiester E, Elliott J, Slama-Chaudhry A. Unaffordable insulin: patients pay the price. Lancet Diabetes Endocrinol. 2019;7(10):748.

4.

Riddle MC, Herman WH. The cost of diabetes care—an elephant in the room. Diabetes Care. 2018;41(5):929–32.

5.

Luo J, Avorn J, Kesselheim AS. Trends in Medicaid reimbursements for insulin from 1991 through 2014. JAMA Intern Med. 2015;175(10):1681–7.

6.

Lipska KJ, Ross JS, Van Houten HK, Beran D, Yudkin JS, Shah ND. Use and out-of-pocket costs of insulin for type 2 diabetes mellitus from 2000 through 2010. Jama. 2014;311(22):2331–3.

7.

Biniek JF, Johnson W. Spending on individuals with type 1 diabetes and the role of rapidly increasing insulin prices: health care cost institute; 2019.

8.

Hua X, Carvalho N, Tew M, Huang ES, Herman WH, Clarke P. Expenditures and prices of antihyperglycemic medications in the United States: 2002-2013. Jama. 2016;315(13):1400–2.

9.

Langreth R. Hot drugs show sharp price hikes in shadow market. Bloomberg Business 2015.

10.

Wharam JF, Zhang F, Eggleston EM, Lu CY, Soumerai SB, Ross-Degnan D. Effect of high-deductible insurance on high-acuity outcomes in diabetes: a natural experiment for translation in diabetes (NEXT-D) study. Diabetes Care. 2018;41(5):940–8.

11.

Sarpatwari A, Avorn J, Kesselheim AS. State initiatives to control medication costs—can transparency legislation help? N Engl J Med. 2016;374(24):2301–4.

12.

Kesselheim AS, Avorn J, Sarpatwari A. The high cost of prescription drugs in the United States: origins and prospects for reform. Jama. 2016;316(8):858–71.

13.

Luo J, Kesselheim AS, Greene J, Lipska KJ. Strategies to improve the affordability of insulin in the USA. Lancet Diabetes Endocrinol. 2017;5(3):158–9.

14.

Stanley T. Life, death and insulin. The Washington Post Magazine 2019.

15.

Bryant J. Inaccurate reporting of insulin reimbursement. JAMA Intern Med. 2016;176(3):408-.

16.

Bluth R. The blame game: everyone and no one is raising insulin prices. Kaiser Health News 2019

17.

Congressional Budget Office. Incorporating the effects of the proposed rule on safe harbors for pharmaceutical rebates in CBO's budget projections—Supplemental Material for Updated Budget Projections: 2019 to 2029 Washington, D.C.2019.

18.

Gellad WF, Ennis M, Kuza CC. A new safe harbor-turning drug rebates into discounts in Medicare part D. N Engl J Med. 2019;380(18):1688–90.

19.

Cefalu WT, Dawes DE, Gavlak G, Goldman D, Herman WH, Van Nuys K, et al. Insulin access and affordability working group: conclusions and recommendations. Diabetes Care. 2018;41(6):1299–311.

20.

Sable-Smith B. How much difference will Eli Lilly's half-Price insulin make? Kaiser health news. 2019.

21.

RED BOOK Online [Internet]. 2019 [cited October 14, 2019]. Available from: https://www.micromedexsolutions.com/micromedex2/4.34.0/WebHelp/RED_BOOK/Introduction_to_REDB_BOOK_Online.htm.

22.

Centers for Medicaid & Medicare Services. Medicare Part D Drug Spending Dashboard & Data 2019 [updated March 14, 2019. Available from: https://www.cms.gov/Research-Statistics-Data-and-Systems/Statistics-Trends-and-Reports/Information-on-Prescription-Drugs/MedicarePartD.html.

23.

Cubanski J, Neuman T, True S, Damico A. How Much Does Medicare Spend on SInsulin. Kaiser Family Foundation; 2019.

24.

Borelli MC, Bujanda M, Maier K. The affordable care act insurance reforms: where are we now, and What's next? Clin Diabetes. 2016;34(1):58–64.

25.

Thomas K. Drug makers accused of fixing prices on insulin. New York Times 2017.

26.

Dave CV, Hartzema A, Kesselheim AS. Prices of generic drugs associated with numbers of manufacturers. N Engl J Med. 2017;377(26):2597–8.

27.

Hernandez I, Good CB, Shrank WH, Gellad WF. Trends in Medicaid prices, market share, and spending on long-acting Insulins, 2006-2018. Jama. 2019;321(16):1627–9.

28.

Kuchler H. Sanofi and Novo Nordisk press ahead with US insulin prices rises. Financial Times 2019.

29.

Price WN, Rai AK. How logically impossible patents block biosimilars. Nat Biotechnol. 2019;37(8):862–3.

30.

Luo J, Kesselheim AS. Evolution of insulin patents and market exclusivities in the USA. Lancet Diabetes Endocrinol. 2015;3(11):835–7.

31.

Mayor S. Insulin has never become a cheap generic drug in the US because of companies' small changes to "evergreen" the patent. British Medical Journal Publishing Group; 2015.

32.

Greene JA, Riggs KR. Why is there no generic insulin? Historical origins of a modern problem. N Engl J Med. 2015;372(12):1171–5.

33.

Shrank WH, Choudhry NK, Agnew-Blais J, Federman AD, Liberman JN, Liu J, et al. State generic substitution laws can lower drug outlays under Medicaid. Health Aff. 2010;29(7):1383–90.

34.

Luo J, Seeger JD, Donneyong M, Gagne JJ, Avorn J, Kesselheim AS. Effect of generic competition on atorvastatin prescribing and patients' out-of-pocket spending. JAMA Intern Med. 2016;176(9):1317–23.

35.

White J, Goldman J. Biosimilar and follow-on insulin: the ins, outs, and interchangeability. J Pharm Technol. 2019;35(1):25–35.

36.

Fralick M, Avorn J, Kesselheim AS. The price of crossing the border for medications. N Engl J Med. 2017;377(4):311–3.

37.

Lipska KJ, Hirsch IB, Riddle MC. Human insulin for type 2 diabetes: an effective, less-expensive option. Jama. 2017;318(1):23–4.

38.

Yki-Järvinen H, Dressler A, Ziemen M. Group HsS. Less nocturnal hypoglycemia and better post-dinner glucose control with bedtime insulin glargine compared with bedtime NPH insulin during insulin combination therapy in type 2 diabetes. HOE 901/3002 study group. Diabetes Care. 2000;23(8):1130–6.

39.

Riddle MC, Rosenstock J, Gerich J. The treat-to-target trial: randomized addition of glargine or human NPH insulin to oral therapy of type 2 diabetic patients. Diabetes Care. 2003;26(11):3080–6.

40.

Hirsch IB. Insulin analogues. N Engl J Med. 2005;352(2):174–83.

41.

Hermansen K, Davies M, Derezinski T, Ravn GM, Clauson P, Home P. A 26-week, randomized, parallel, treat-to-target trial comparing insulin detemir with NPH insulin as add-on therapy to oral glucose-lowering drugs in insulin-naive people with type 2 diabetes. Diabetes Care. 2006;29(6):1269–74.

42.

Horvath K, Jeitler K, Berghold A, Ebrahim SH, Gratzer TW, Plank J, et al. Long-acting insulin analogues versus NPH insulin (human isophane insulin) for type 2 diabetes mellitus. Cochrane Database Syst Rev. 2007;2.

43.

Prentice JC, Conlin PR, Gellad WF, Edelman D, Lee TA, Pizer SD. Long-term outcomes of analogue insulin compared with NPH for patients with type 2 diabetes mellitus. Am J Manag Care. 2015;21(3):e235–43.

44.

American Diabetes Association. 9. Pharmacologic approaches to glycemic treatment: standards of medical care in diabetes—2019. Diabetes Care. 2019;42(Supplement 1):S90-S102.

45.

•• Lipska KJ, Parker MM, Moffet HH, Huang ES, Karter AJ. Association of initiation of basal insulin analogs vs neutral protamine Hagedorn insulin with hypoglycemia-related emergency department visits or hospital admissions and with glycemic control in patients with type 2 diabetes. JAMA. 2018;320(1):53–62 Findings from this study suggest that initiating insulin with NPH in patients with type 2 diabetes may be as effective as a long-acting insulin analogue.

46.

•• Luo J, Khan NF, Manetti T, Rose J, Kaloghlian A, Gadhe B, et al. Implementation of a health plan program for switching from analogue to human insulin and glycemic control among Medicare beneficiaries with type 2 diabetes. JAMA. 2019;321(4):374–84 Findings from this study suggest that a health plan intervention switching older adults with type 2 diabetes from human to analogue insulin was not associated with an increased risk of hypoglycemia or glycemic control.
Acknowledgments
The authors would like to thank Dr. Mary Korytkowski, who provided comments on an earlier version of this manuscript.
Funding
Research reported in this publication was supported by the National Center For Advancing Translational Sciences of the National Institutes of Health under Award Number KL2TR001856. The content is solely the responsibility of the authors and does not necessarily represent the official views of the National Institutes of Health or the Department of Veterans Affairs.
Ethics declarations
Conflict of Interest
Jing Luo consults for Alosa Health and has received grant and travel support from Health Action International.
Walid F. Gellad declares that he has no conflicts of interest.
Human and Animal Rights and Informed Consent
This article does not contain any studies with human or animal subjects performed by any of the authors.
Additional information
Publisher's Note
Springer Nature remains neutral with regard to jurisdictional claims in published maps and institutional affiliations.
This article is part of the Topical Collection on Economics and Policy in Diabetes
About this article
Cite this article
Luo, J., Gellad, W.F. Origins of the Crisis in Insulin Affordability and Practical Advice for Clinicians on Using Human Insulin. Curr Diab Rep 20, 2 (2020). https://doi.org/10.1007/s11892-020-1286-3
Keywords
Insulin prices

Human insulin

Insulin switching