Abstract
The eastern oyster, Crassostrea virginica, has been classified as a keystone species as well as an ecosystem engineer because of the significant benefits that oysters and oyster reefs provide. Oyster reefs are being recognized as valuable for shoreline protection within coastal areas. The severe loss of oyster reef coverage has encouraged different types of conservation, mapping, monitoring and restoration efforts throughout its native range. Intertidal oyster reefs are an important habitat as well as an important industry in Florida, which makes accurate habitat monitoring a key element of resource management for this species. This project focused on creating a continuous intertidal oyster reef habitat map in northeast Florida. Existing aerial photography was used to identify oyster reef signatures, and map the distribution of intertidal oyster reefs throughout the study region using ArcGIS software. When accuracy assessment was completed, we found the number of observed agreements was 97% of the total observations. This mapping effort represents the first successful attempt at fine-scale oyster reef mapping across the entire northeast Florida region and resulted in a total of 17,953 individual reefs being mapped, with a total reef coverage of 651.86 ha. By using existing aerial photography, this methodology represents a low-cost method for reef mapping, compared to other methods such as drone imagery or field-based mapping. This baseline map of current oyster distribution will serve many functions for management this particular ecosystem. Future changes to reef distribution can be mapped and used to identify potential negative or positive impacts to the habitat.
This is a preview of subscription content, log in to check access.
Access options
Buy single article
Instant access to the full article PDF.
US$ 39.95
Price includes VAT for USA
Subscribe to journal
Immediate online access to all issues from 2019. Subscription will auto renew annually.
US$ 99
This is the net price. Taxes to be calculated in checkout.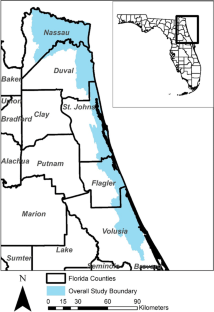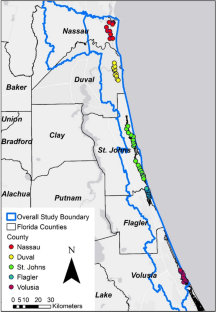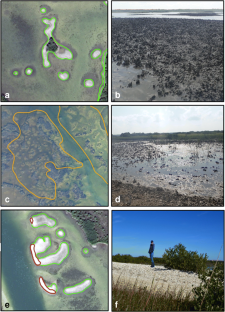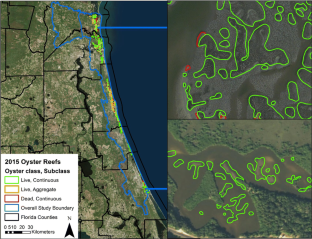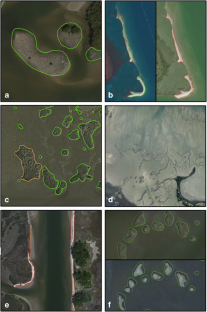 References
Beck MW, Brumbauch RD, Airoldi L, Carranza A, Coen LD, Crawford C, Defeo O (2011) Oyster reefs at risk and recommendations for conservation, restoration, and management. BioScience 61(2):107–116

Bowerman K, DeLorme DE (2014) Boaters' perceptions of a Mobile app for a marine conservation social marketing campaign. Soc Mark Q 20(1):47–65

Campbell DE (2014) Quantifying the effects of boat wakes on intertidal oyster reefs in a shallow estuary. MS thesis, University of Central Florida

Coen LD, Brumbaugh RD, Bushek D, Grizzle R, Luckenbach MW, Posey MH, Powers SP, Tolley SG (2007) Ecosystem services related to oyster restoration. Mar Ecol Prog Ser 341:303–307

Coen LD, Luckenbach MW (2000) Developing success criteria and goals for evaluating oyster reef restoration: ecological function or resource exploitation? Ecol Eng 15:323–343

Dix N, Walters LJ, Hernandez E, Roddenberry A, Garvis S, Anderson M, Radabaugh K (2018) Oyster integrated mapping and monitoring program report: chapter 9: Northeast Florida, FWC, pp 29

ESRI (2015) ArcGIS desktop: release 10. Environmental Systems Research Institute, Redlands

Galtsoff PS (1964) The American oyster Crassostrea virginica Gmelin. U.S. Fish and Wildlife Service Fishery Bulletin 64:1–480

Garvis SK, Sacks PE, Walters LJ (2015) Formation, movement, and restoration of dead intertidal oyster reefs in Canaveral National Seashore and mosquito lagoon, Florida. Mar Ecol Prog Ser 32:251–258

Grizzle RE, Adams JR, Walters LJ (2002) Historical changes in intertidal oyster (Crassostrea virginica) reefs in a Florida lagoon potentially related to boating activities. J Shellfish Res 21:749–756

Grizzle RE, Ward K, Geselbracht L, Birch A (2018) Distribution and condition of intertidal eastern oyster (Crassostrea virginica) reefs in Apalachicola Bay Florida based on high-resolution satellite imagery. J Shellfish Res 37(5):1027–1038

Johnson MW, Powers SP, Senne J, Park K (2009) Assessing in situ tolerances of eastern oysters (Crassostrea virginica) under moderate hypoxic regimes: implications for restoration. J Shellfish Res 28(2):185–192

Kennedy VS, Sanford LP (1999) Characteristics of relatively unexploited beds of the eastern oyster, Crassostrea virginica, and early restoration programs. In: Luckenbach MW, Mann R & Wesson JA, editors. Oyster reef habitat restoration: a synopsis and synthesis of approaches. Gloucester Point, VA: Virginia Institute of Marine Science Press. pp. 25–46

Kennedy VS, Newell RI, Eble AF (Eds.). (1996) The eastern oyster: Crassostrea virginica. University of Maryland Sea Grant College

Kirby MX (2004) Fishing down the coast: historical expansion and collapse of oyster fisheries along continental margins. Proc Natl Acad Sci U S A 101:13096–13099

Manis JE, Garvis SK, Jachec SM, Walters LJ (2015) Wave attenuation experiments over living shorelines over time: a wave tank study to assess recreational boating pressures. J Coast Conserv 19:1–11

Piazza BP, Banks PD, La Peyre MK (2005) The potential for created oyster shell reefs as a sustainable shoreline protection strategy in Louisiana. Restor Ecol 13:499–506

Riisgård HU (1988) Efficiency of particle retention and filtration rate in 6 species of northeast American bivalves. Mar Ecol Prog Ser 45:217–223

Saint Johns River Water Management District (2016) Northern coastal basins oyster mapping Progress report. Project Number 28102:43

Viera AJ, Garrett JM (2005) Understanding Interobserver agreement: the kappa statistic. Fam Med 37(5):360–363

Wenner E, Beatty HR, Coen LD (1996) A method for quantitatively sampling nekton on intertidal oyster reefs. J Shellfish Res 15:769–775

zu Ermgassen PSE, Spalding MD, Blake B, Coen LD, Dumbauld B, Geiger S, Grabowski JH, Grizzle R, Luckenbach M, McGraw K, Rodney W, Ruesink JL, Powers SP, Brumbaugh R (2012) Historical ecology with real numbers: past and present extent and biomass of an imperiled estuarine habitat. Proceedings of the Royal Society Biological Sciences Published online June 13, 2012. 9 pp.
Acknowledgments
This work was supported by the Saint Johns River Water Management District [Project Number 28102].
Ethics declarations
User constraints
The St. Johns River Water Management District prepares and uses information for its own purposes and this information may not be suitable for other purposes. This information is provided as is. Further documentation of this data can be obtained by contacting:
GIS_Support@sjrwmd.com or St. Johns River Water Management District, c/o GIS, PO Box 1429, Palatka, Florida, 32,178–1429, (386) 329–4500.
Complete liability disclaimer information available at: http://www.sjrwmd.com/disclaimer.html.
Conflict of interests
"All authors have seen and approved the final version of this article and declare no competing interest."
Additional information
Publisher's note
Springer Nature remains neutral with regard to jurisdictional claims in published maps and institutional affiliations.
About this article
Cite this article
Garvis, S., Donnelly, M., Hernandez, E. et al. Remote sensing of live and dead intertidal oyster reefs using aerial photo interpretation in Northeast Florida. J Coast Conserv 24, 14 (2020). https://doi.org/10.1007/s11852-020-00728-w
Received:

Revised:

Accepted:

Published:
Keywords
Aerial photography

Crassostrea virginica

Habitat mapping

Oyster reefs

Dead reefs

Remote sensing