Abstract
Introduction
The traditional outpatient paradigm of seeing patients prior to diagnostic tests and treatment is unsustainable without additional funding. New models of service delivery such as "one-stop clinics", direct access to diagnostics and advanced nurse practitioner (ANP)-led clinics have the potential to improve the efficiency of existing services.
Methods
To determine the most effective changes to improve service provision, the reasons for encounter (RFE) to a urology clinic were assessed using the International Classification Primary Care. To test these changes, a clinical validation process was performed on existing waiting patients waiting ≥ 15 months. Direct access to diagnostics and an ANP-led clinic were introduced. The impact of this validation process was measured prospectively using independently-collated National Treatment Purchase Fund waiting list data.
Results
From January to December 2017, 1114 new patients were referred. The 3 most frequent RFEs were haematuria, urinary frequency/urgency and cystitis and accounted for 48% of referrals overall. A new outpatient pathway, combining direct access to diagnostics and an ANP-led clinic, was implemented on 508 existing patients waiting ≥ 15 months. The validation process resulted in referral directly to a consultant-led clinic in 36%, to an ANP-led clinic in 12%, direct access to diagnostics in 38% and removal in 13%. This change was implemented in July 2017 and there was a 76% reduction in the number of patients waiting ≥ 12 months by December 2017.
Conclusion
New models of outpatient service delivery have the potential to reduce existing waiting lists and could be implemented in other Irish hospital groups.
This is a preview of subscription content, log in to check access.
Access options
Buy single article
Instant access to the full article PDF.
US$ 39.95
Price includes VAT for USA
Subscribe to journal
Immediate online access to all issues from 2019. Subscription will auto renew annually.
US$ 99
This is the net price. Taxes to be calculated in checkout.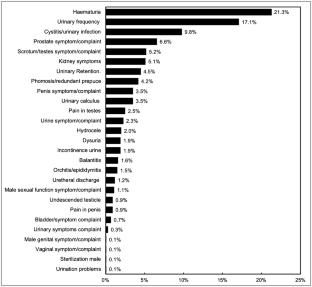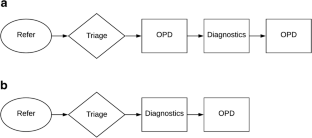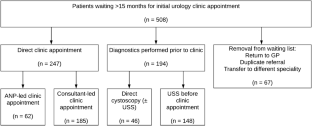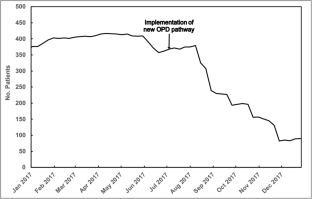 References
1.

Outpatient Services Performance Improvement Programme (HSE): Strategy for the design of integrated outpatient services 2016-2020. Available from: https://www.hse.ie/eng/about/who/acute-hospitals-division/outpatient-services-performance-improvement-programme/strategy-for-the-design-of-integrated-outpatient-services-2016-2010.pdf

2.

National outpatient waiting list by specialty September 2019. National Treatment Purchase Fund 2019; Available from: https://www.ntpf.ie/home/pdf//2019/09/nationalnumbers/out-patient/National02.pdf

3.

Coull N, Rottenberg G, Rankin S, Pardos-Martinez M, Coker B, Jenkins E, O'Brien T (2009) Assessing the feasibility of a one-stop approach to diagnosis for urological patients. Ann R Coll Surg Engl 91(4):305–309

4.

Rochester M, Scurrell S, Parry JR (2008) Prospective evaluation of a novel one-stop testicular clinic. Ann R Coll Surg Engl 90(7):565–570

5.

Willis S et al (2011) The successful, sustainable elimination of a waiting list for urology outpatients. BJU Int 107(4):526–530

6.

Nilbert M, Bläckberg M, Ceberg J, Hagberg O, Stenhoff R, Liedberg F (2018) Diagnostic pathway efficacy for urinary tract cancer: population-based outcome of standardized evaluation for macroscopic haematuria. Scandinavian Journal of Urology 52(4):237–243

7.

Dowling CM et al (2008) Can pre-assessment of patients with LUTS result in early discharge from urology clinic? Ir Med J 101(7):203–204

8.

Dasgupta P, Drudge-Coates L, Smith K, Booth CM (2002) The cost effectiveness of a nurse-led shared-care prostate assessment clinic. Ann R Coll Surg Engl 84(5):328–330

9.

Soler J-K, Okkes I, Wood M, Lamberts H (2008) The coming of age of ICPC: celebrating the 21st birthday of the International Classification of Primary Care. Fam Pract 25(4):312–317

10.

National Treatment Purchase Fund Board (Establishment) Order (2004) SI No 179 of 2004. Stationery Office, Dublin

11.

Gui GP, Allum WH, Perry NM, Wells CA, Curling OM, McLean A, Oommen R, Carpenter R (1995) One-stop diagnosis for symptomatic breast disease. Ann R Coll Surg Engl 77(1):24–27

12.

Agaba AE, Berry N, Agaba PO, Charaklias N, Wong LS (2006) One stop rectal bleeding clinic: the Coventry experience. Int Surg 91(5):288–290

13.

Witcher TP, Williams MD, Howlett DC (2007) "One-stop" clinics in the investigation and diagnosis of head and neck lumps. Br J Oral Maxillofac Surg 45(1):19–22

14.

Simpson GC, Forbes K, Teasdale E, Tyagi A, Santosh C (2010) Impact of GP direct-access computerised tomography for the investigation of chronic daily headache. Br J Gen Pract 60(581):897–901

15.

Birchall D (2010) Primary care access to diagnostics: a paradigm shift. Br J Radiol 83(986):101–103
Acknowledgements
PEL is the Aspire Fellow in Quality Improvement in Surgery funded through the National Doctor Training Programme of the Health Service Executive, Ireland.
Ethics declarations
Conflict of interest
The authors declare that they have no conflict of interest.
Ethical approval and consent
No identifiable patient data were used. Data were obtained via an electronic hospital system and were anonymised to ensure patient confidentiality. Data were stored on a fire-walled computer with coded access.
Additional information
Publisher's note
Springer Nature remains neutral with regard to jurisdictional claims in published maps and institutional affiliations.
About this article
Cite this article
Lonergan, P.E., Logan, J., Diver, S. et al. Does clinical validation and the implementation of new models of outpatient service delivery have the potential to reduce waiting lists? A pilot study in Letterkenny University Hospital. Ir J Med Sci (2020). https://doi.org/10.1007/s11845-020-02183-w
Received:

Accepted:

Published:
Keywords
Clinic

Implementation

Improvement

Outpatient

Urology