Abstract
Background and aims
A significant proportion of patients presenting to the Emergency Department with gastrointestinal symptoms that result in cross-sectional imaging receive a radiological diagnosis of colitis. We aimed to review the characteristics, outcomes, and final diagnoses of new emergency department presentations with colitis diagnosed on cross-sectional imaging.
Methods
A radiology database was interrogated to identify patients admitted from the Emergency Department of St James's Hospital whose cross-sectional imaging demonstrated colitis. Baseline demographic data, information on inpatient investigations, final diagnoses, and outcomes were recorded. Adverse outcomes were defined as a requirement for surgery, intensive care unit (ICU) stay, or mortality
Results
A total of 118 patients, 67% female, were identified with a median age of 64 years (range 16.9–101.2). Median (range) admission duration was 10 days (1–241). Final colitis diagnoses were infectious (28%), undefined (27%), reactive (18%), inflammatory bowel disease (11%), ischaemic (9%), chemotherapy-associated (3%), diverticular (3%), and medication-associated (1%). Colonic perforation, colectomy, and mortality occurred in 1%, 5%, and 13% of the cohort respectively. On univariate analysis, low haemoglobin, low albumin, high lactate, and male gender were associated with adverse outcomes with the following odds ratios (OR) and 95% confidence intervals (95%CI) were low haemoglobin 1.49 [1.15–1.92] P = 0.002, low albumin 1.16 [1.07–1.25] P = 0.0002, lactate 1.65 [1.13–2.42] P = 0.009, and male gender 3.09 [1.23–7.77] P = 0.019. On multivariate analysis, male gender was associated with adverse outcomes.
Conclusion
Patients presenting to the Emergency Department with a colitis, requiring an abdominal CT are a heterogenous group with a proportion having concomitant intra-abdominal pathology resulting in critical illness. Hence their is a significant morbidity and mortality observed in this cohort which should not be extrapolated to a general population of patients presenting with colitis. In this cohort of patients, anaemia, hypoalbuminaemia, and elevated lactate in patients presenting to the ED with acute colitis are significantly associated with adverse outcomes. Early recognition of these prognostic factors may identify the cohort of patients who are best managed in a high-dependency setting.
This is a preview of subscription content, log in to check access.
Access options
Buy single article
Instant unlimited access to the full article PDF.
US$ 39.95
Price includes VAT for USA
Subscribe to journal
Immediate online access to all issues from 2019. Subscription will auto renew annually.
US$ 99
This is the net price. Taxes to be calculated in checkout.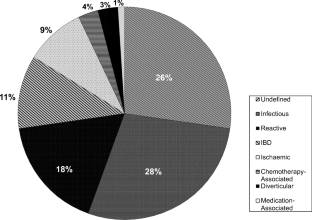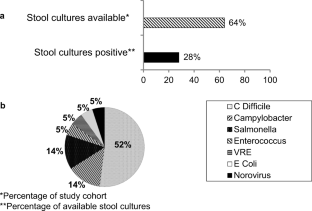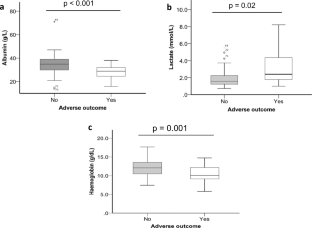 References
1.

Niska R, Bhuiya F, Xu J (2010) National Hospital Ambulatory Medical Care Survey: 2007 emergency department summary. Natl Health Stat Report 26:1–31

2.

Berdahl CT, Vermeulen MJ, Larson DB, Schull MJ. Emergency department computed tomography utilization in the United States and Canada. Ann Emerg Med 2013; 62 (5):486–494.e483

3.

Rosen MP, Sands DZ, Longmaid HE, Reynolds KF, Wagner M, Raptopoulos V (2000) Impact of abdominal CT on the management of patients presenting to the emergency department with acute abdominal pain. AJR Am J Roentgenol 174(5):1391–1396

4.

Tsushima Y, Yamada S, Aoki J, Motojima T, Endo K (2002) Effect of contrast-enhanced computed tomography on diagnosis and management of acute abdomen in adults. Clin Radiol 57(6):507–513

5.

Thoeni RF, Cello JP (2006) CT imaging of colitis. Radiology 240(3):623–638

6.

Delabrousse E, Ferreira F, Badet N, Martin M, Zins M (2013) Coping with the problems of diagnosis of acute colitis. Diagn Interv Imaging 94(7–8):793–804

7.

Horton KM, Corl FM, Fishman EK (2000) CT evaluation of the colon: inflammatory disease. Radiographics 20(2):399–418

8.

Desai RK, Tagliabue JR, Wegryn SA, Einstein DM (1991) CT evaluation of wall thickening in the alimentary tract. Radiographics 11(5):771–783 discussion 784

9.

Gardner CS, Jaffe TA, Nelson RC (2015) Impact of CT in elderly patients presenting to the emergency department with acute abdominal pain. Abdom Imaging 40(7):2877–2882

10.

Plastaras L, Vuitton L, Badet N, Koch S, Di Martino V, Delabrousse E (2015) Acute colitis: differential diagnosis using multidetector CT. Clin Radiol 70(3):262–269

11.

Philpotts LE, Heiken JP, Westcott MA, Gore RM (1994) Colitis: use of CT findings in differential diagnosis. Radiology 190(2):445–449

12.

Bakker J, Coffernils M, Leon M, Gris P, Vincent JL (1991) Blood lactate levels are superior to oxygen-derived variables in predicting outcome in human septic shock. Chest 99(4):956–962

13.

Mikkelsen ME, Miltiades AN, Gaieski DF, Goyal M, Fuchs BD, Shah CV, Bellamy SL, Christie JD (2009) Serum lactate is associated with mortality in severe sepsis independent of organ failure and shock. Crit Care Med 37(5):1670–1677

14.

Suarez-de-la-Rica A, Maseda E, Anillo V, Tamayo E, García-Bernedo CA, Ramasco F, Hernández-Gancedo C, López-Tofiño A, Gimenez MJ, Granizo JJ, Aguilar L, Gilsanz F (2015) Biomarkers (procalcitonin, C reactive protein, and lactate) as predictors of mortality in surgical patients with complicated intra-abdominal infection. Surg Infect 16(3):346–351

15.

Lee JL, Oh ES, Lee RW, Finucane TE. Serum albumin and prealbumin in calorically restricted, nondiseased individuals: a systematic review. Am J Med 2015; 128 (9):1023.e1021–1022

16.

Ungaro R, Babyatsky MW, Zhu H, Freed JS (2012) Protein-losing enteropathy in ulcerative colitis. Case Rep Gastroenterol 6(1):177–182

17.

Markelov A, Livert D, Kohli H (2011) Predictors of fatal outcome after colectomy for fulminant Clostridium difficile colitis: a 10-year experience. dr.markelov@gmail.com. Am Surg 77(8):977–980

18.

Fasanmade AA, Adedokun OJ, Olson A, Strauss R, Davis HM (2010) Serum albumin concentration: a predictive factor of infliximab pharmacokinetics and clinical response in patients with ulcerative colitis. Int J Clin Pharmacol Ther 48(5):297–308

19.

Ho GT, Mowat C, Goddard CJ, Fennell JM, Shah NB, Prescott RJ, Satsangi J (2004) Predicting the outcome of severe ulcerative colitis: development of a novel risk score to aid early selection of patients for second-line medical therapy or surgery. Aliment Pharmacol Ther 19(10):1079–1087

20.

Corti MC, Guralnik JM, Salive ME, Sorkin JD (1994) Serum albumin level and physical disability as predictors of mortality in older persons. JAMA 272(13):1036–1042

21.

Donzé J, Labarère J, Méan M, Jiménez D, Aujesky D (2011) Prognostic importance of anaemia in patients with acute pulmonary embolism. Thromb Haemost 106(2):289–295

22.

von Haehling S, Schefold JC, Hodoscek LM, Doehner W, Mannaa M, Anker SD et al (2010) Anaemia is an independent predictor of death in patients hospitalized for acute heart failure. Clin Res Cardiol 99(2):107–113

23.

Kovar FM, Endler G, Wagner OF, Jaindl M (2015) Basal haemoglobin levels as prognostic factor for early death in elderly patients with a hip fracture--a twenty year observation study. Injury 46(6):1018–1022

24.

Lee KM, Jeen YT, Cho JY, Lee CK, Koo JS, Park DI et al (2013) Efficacy, safety, and predictors of response to infliximab therapy for ulcerative colitis: a Korean multicenter retrospective study. J Gastroenterol Hepatol 28(12):1829–1833

25.

TRUELOVE SC, WITTS LJ (1955) Cortisone in ulcerative colitis; final report on a therapeutic trial. Br Med J 2(4947):1041–1048

26.

Noblett SE, Welfare M, Seymour K (2009) The role of surgery in Clostridium difficile colitis. BMJ 338:b1563

27.

Adams SD, Mercer DW (2007) Fulminant Clostridium difficile colitis. Curr Opin Crit Care 13(4):450–455

28.

Henrich TJ, Krakower D, Bitton A, Yokoe DS (2009) Clinical risk factors for severe Clostridium difficile-associated disease. Emerg Infect Dis 15(3):415–422

29.

Mazor Y, Maza I, Kaufman E, Ben-Horin S, Karban A, Chowers Y, Eliakim R (2011) Prediction of disease complication occurrence in Crohn's disease using phenotype and genotype parameters at diagnosis. J Crohns Colitis 5(6):592–597

30.

Targownik LE, Singh H, Nugent Z, Bernstein CN (2012) The epidemiology of colectomy in ulcerative colitis: results from a population-based cohort. Am J Gastroenterol 107(8):1228–1235

31.

Samuel S, Ingle SB, Dhillon S, Yadav S, Harmsen WS, Zinsmeister AR et al (2013) Cumulative incidence and risk factors for hospitalization and surgery in a population-based cohort of ulcerative colitis. Inflamm Bowel Dis 19(9):1858–1866

32.

Blumenstein I, Herrmann E, Filmann N, Zosel C, Tacke W, Bock H, Dignass A, Hartmann F, Zeuzem S, Stein J, Schröder O (2011) Female patients suffering from inflammatory bowel diseases are treated less frequently with immunosuppressive medication and have a higher disease activity: a subgroup analysis of a large multi-centre, prospective, internet-based study. J Crohns Colitis 5(3):203–210

33.

Romberg-Camps MJ, Dagnelie PC, Kester AD, Hesselink-van de Kruijs MA, Cilissen M, Engels LG et al (2009) Influence of phenotype at diagnosis and of other potential prognostic factors on the course of inflammatory bowel disease. Am J Gastroenterol 104(2):371–383

34.

Kisat M, Villegas CV, Onguti S, Zafar SN, Latif A, Efron DT et al (2013) Predictors of sepsis in moderately severely injured patients: an analysis of the National Trauma Data Bank. Surg Infect 14(1):62–68

35.

Schröder J, Kahlke V, Staubach KH, Zabel P, Stüber F (1998) Gender differences in human sepsis. Arch Surg 133(11):1200–1205

36.

Mahmood K, Eldeirawi K, Wahidi MM (2012) Association of gender with outcomes in critically ill patients. Crit Care 16(3):R92

37.

Barral M, Boudiaf M, Dohan A, Hoeffel C, Camus M, Pautrat K, Fishman EK, Cohen S, Soyer P (2015) MDCT of acute colitis in adults: an update in current imaging features. Diagn Interv Imaging 96(2):133–149

38.

Childers BC, Cater SW, Horton KM, Fishman EK, Johnson PT (2015) CT evaluation of acute enteritis and colitis: is it infectious, inflammatory, or ischemic?: resident and fellow education feature. Radiographics 35(7):1940–1941

39.

Hwang JC, Ha HK, Yoon KH, Lee M, Kim PN, Lee YS, Chung YH, Jung HY, Suh DJ, Auh YH (1999) Colonic wall thickening in cirrhotic patients: CT features and its clinical significance. Abdom Imaging 24(2):125–128
Ethics declarations
Ethical approval for the study was obtained from Institutional Research Ethics Boards according to the 1964 declaration of Helsinki and its later amendments or comparable ethical standards. This article does not contain any studies with animals performed by any of the authors.
Conflict of interest
The authors declare that they have no conflict of interest.
Additional information
Publisher's note
Springer Nature remains neutral with regard to jurisdictional claims in published maps and institutional affiliations.
About this article
Cite this article
O'Connell, J., Keohane, S., McGreal-Bellone, A. et al. Characteristics and outcomes of acute colitis diagnosed on cross-sectional imaging presenting via the emergency department in an Irish academic medical centre. Ir J Med Sci (2020) doi:10.1007/s11845-019-02162-w
Received:

Accepted:

Published:
Keywords
Colitis

Computerised tomography

Cross-sectional imaging

Infectious colitis