Abstract
Micro-plasma transferred arc (µPTA) additive manufacturing is one of the newest options for remanufacturing of dies and molds surfaces in the near-millimeter range leading to extended usage of the same. We deployed an automatic micro-plasma deposition setup to deposit a wire of 300 µm of AISI P20 tool steel on the substrate of same material for the potential application in remanufacturing of the die and mold surface. Our present research effort is to establish µPTA additive manufacturing as a viable economical and cleaner methodology for potential industrial applications. We undertook the optimization of single weld bead geometry as the first step in our present study. Bead-on-plate trials were conducted to deposit single bead geometry at various processing parameters. The bead geometry (shape and size) and dilution were measured and the parametric dependence was derived. A set of parameters leading to reproducible regular and smooth single bead geometry were identified and used to prepare a thin wall for mechanical testing. The deposits were subjected to material characterization such as microscopic studies, micro-hardness measurements and tensile testing. The process was compared qualitatively with other deposition processes involving high-energy density beams and was found to be advantageous in terms of low initial and running costs with comparable properties. The outcome of the study confirmed the process capability of µPTA deposition leading to deployment of cost-effective and environmentally friendlier technology for die and mold remanufacturing.
This is a preview of subscription content, log in to check access.
Access options
Buy single article
Instant unlimited access to the full article PDF.
US$ 39.95
Price includes VAT for USA
Subscribe to journal
Immediate online access to all issues from 2019. Subscription will auto renew annually.
US$ 186
This is the net price. Taxes to be calculated in checkout.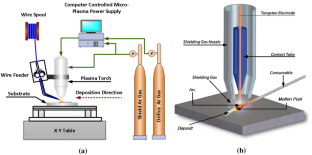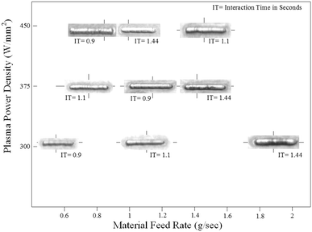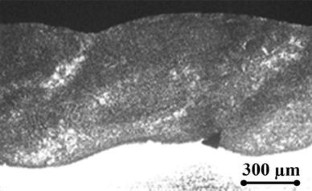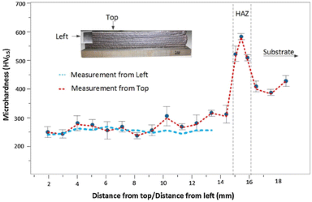 References
1.

S. Thompson, Handbook of Mold Tool and Die Repair Welding (Cambridge: William Andrew Publishing, 1999), pp. 1–50.

2.

W.R. Morrow, H. Qi, I. Kim, J. Mazumder, and S.J. Skerlos, J. Clean. Prod. 15, 932 (2007).

3.

S. Jhavar, C.P. Paul, and N.K. Jain, Eng. Fail. Anal. 34, 519 (2013).

4.

M.A. Seitz, J. Clean. Prod. 15, 1147 (2007).

5.

W.T. Preciado and C.E.N. Bohorquez, J Mater. Process. Technol. 179, 244 (2006).

6.

A. Kosnik, J. Tusek, L. Kosec, and T. Muhi, METABK 50, 231 (2011).

7.

L.P. Borrego, J.T. Pires, J.M. Costa, and J.M. Ferreira, Eng. Fail. Anal. 14, 1586 (2007).

8.

J.S. Lim, K.L. Ng, and K.M. The, SIMTech Tech. Rep. 9–3, 142 (2008).

9.

J. Leunda, C. Soriano, C. Sanz, and V.G. Navas, Phys. Procedia 12, 345 (2011).

10.

J. Grum, Appl. Surf. Sci. 208–209, 424 (2003).

11.

L.P. Borrego, J.T.B. Pires, J.M. Costa, and J.M. Ferreira, Eng. Fail. Anal. 16, 596 (2009).

12.

M. Vedani, B. Previtali, G.M. Vimercati, A. Sanvito, and G. Somaschini, Surf. Coat. Technol. 201, 4518 (2007).

13.

M. Pleterski, J. Tušek, B. Podgornik, and J. Tušek, Eng. Fail. Anal. 18, 1527 (2011).

14.

M. Pleterski, J. Tušek, J. Tušek, and L. Kosec, J. Mater. Sci. Technol. 27, 707 (2011).

15.

J.X. Zou, T. Grosdidier, K.M. Zhang, and C. Dong, Appl. Surf. Sci. 255, 4758 (2009).

16.

N.K. Jain, M.S. Sawant, S.H. Nikam, and S. Jhavar, Encyclopedia of Plasma Technology, ed. J.L. Shohet (New York: Taylor and Francis, 2016), p. 19.

17.

S. Jhavar, C.P. Paul, and N.K. Jain, International Journal of Modern Physics: Conference Series 32, 1460347 (2014).

18.

E. Toyserkani, A. Khajepour, and S. Corbin, Laser Cladding (Florida: CRC Press LLC, 2005), pp. 1–255.

19.

S. Jhavar, C.P. Paul, and N.K. Jain, Mater. Manuf. Processes 29–8, 1017 (2014).
Acknowledgement
The authors would like to acknowledge Indian Institute of Technology Indore for providing financial support during the development stage of this project. Authors are also grateful for the services provided at the central workshop, advance manufacturing process laboratory and solid mechanics laboratory of the institute.
Electronic supplementary material
Below is the link to the electronic supplementary material.
Supplementary material 1 (WMV 8802 kb)
About this article
Cite this article
Jhavar, S., Paul, C.P. & Jain, N.K. Micro-Plasma Transferred Arc Additive Manufacturing for Die and Mold Surface Remanufacturing. JOM 68, 1801–1809 (2016) doi:10.1007/s11837-016-1932-z
Received:

Accepted:

Published:

Issue Date:
Keywords
Tool Steel

Additive Manufacturing

Weld Bead

Molten Pool

Bead Geometry