A newly defined dioxygenase system from Mycobacterium vanbaalenii PYR-1 endowed with an enhanced activity of dihydroxylation of high-molecular-weight polyaromatic hydrocarbons
Abstract
NidA3B3 is a terminal dioxygenase whose favorable substrates are high-molecular-weight polyaromatic hydrocarbons (PAHs) from Mycobacterium vanbaalenii PYR-1, a powerful PAHs degradation strain. NidA3B3 was reported to incorporate a dioxygen into the benzene ring of PAHs when equipped with an exogenous electron transport chain components PhdCD from Nocardioides sp. strain KP7 by biotransformation, but this enzyme system was not particularly efficient. In this study, strain PYR-1 was confirmed to utilize four different PAHs at different growth rates. When PhtAcAd, an endogenous electron transport chain ofa phthalate dioxygenase system, was substituted for PhdCD to couple with NidA3B3, the specific activity to convert phenanthrene by strain BL21(DE3) [pNidA3B3-PhAcAd] was 0.15±0.03 U/mg, but the specificactivity of strain BL21(DE3) [pNidA3B3-PhdCD] was only 0.025±0.006 U/mg. In addition, FNidA3, encoded by a newly defined ORF, has a prolonged 19-amino acid sequence at the N-terminus compared with NidA3. FNidA3B3 increased the activity by 50% approximately than NidA3B3 when using PhtAcAd. Components of the electron transport chain PhtAc and PhtAd were purified and characterized. The Km, kcat, kcat/Km values of the PhtAd were 123±26.9 µM, 503±49.9 min−1, 4.1 µM−1 ×min−1, respectively. And the; Km, kcat, kcat/Km values of the ferredoxin PhtAc were 52.5±9.7 µM, 3.8±0.19 min−1 and 0.07 µM−1×min−1 respectively. Basing on the phylogenetic analysis, NidA3/FNidA3 were far from its isoenzyme NidA from the same strain. Combining their primary differences of transcriptional pattern in vivo, it indicated that the functionally similar Rieske dioxygenases NidA3B3/FNidA3B3 and NidAB might originate from different ancestors.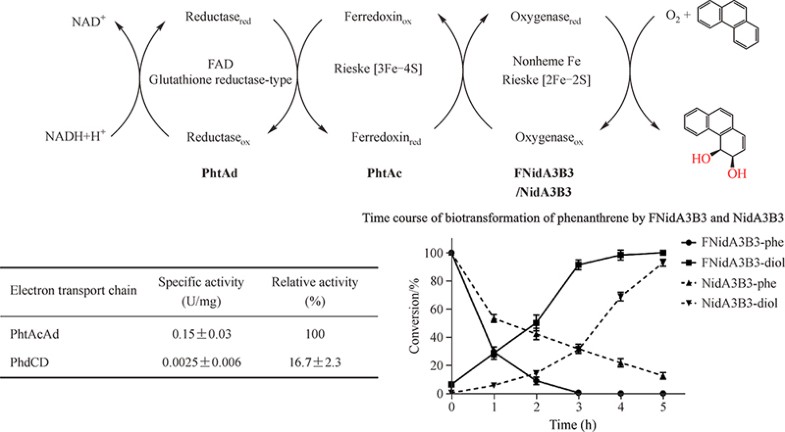 Keywords
Biodegradation 
Polyaromatic hydrocarbons 
Biotransformation 
Ring-hydroxylating dioxygenase system 
Notes
Acknowledgements
This work is supported by the National Key R&D Program of China (Grant No. 2018YFC0309800), National Natural Science Foundation of China (Grant No. 31570100) and Shanghai Science and Technology Commission Scientific Research Project (No. 17JC1403300).
Copyright information
© Higher Education Press and Springer-Verlag GmbH Germany, part of Springer Nature 2019