Recovery of Ni(II) from real electroplating wastewater using fixed-bed resin adsorption and subsequent electrodeposition
Part of the following topical collections:
Abstract
Effective recovery of high-value heavy metals from electroplating wastewater is of great significance, but recovering nickel ions from real electroplating wastewater as nickel sheet has not been reported. In this study, the pilot-scale fixed-bed resin adsorption was conducted to recover Ni(II) ions from real nickel plating wastewater, and then the concentrated Ni(II) ions in the regenerated solution were reduced to nickel sheet via electrodeposition. A commercial cation-exchange resin was selected and the optimal resin adsorption and regeneration conditions were investigated. The resin exhibited an adsorption capacity of 63 mg/g for Ni(II) ions, and the average amount of treated water was 84.6 bed volumes (BV) in the pilot-scale experiments. After the adsorption by two ion-exchange resin columns in series and one chelating resin column, the concentrations of Ni(II) in the treated wastewater were below 0.1 mg/L. After the regeneration of the spent resin using 3 BVof 4% (w/w) HCl solution, 1.5 BV of concentrated neutral nickel solution (>30 g/L) was obtained and used in the subsequent electrodeposition process. Using the aeration method, alkali and water required in resin activation process were greatly reduced to 2 BV and 3 BV, respectively. Under the optimal electrodeposition conditions, 95.6% of Ni(II) in desorption eluent could be recovered as the elemental nickel on the cathode. The total treatment cost for the resin adsorption and regeneration as well as the electrodeposition was calculated.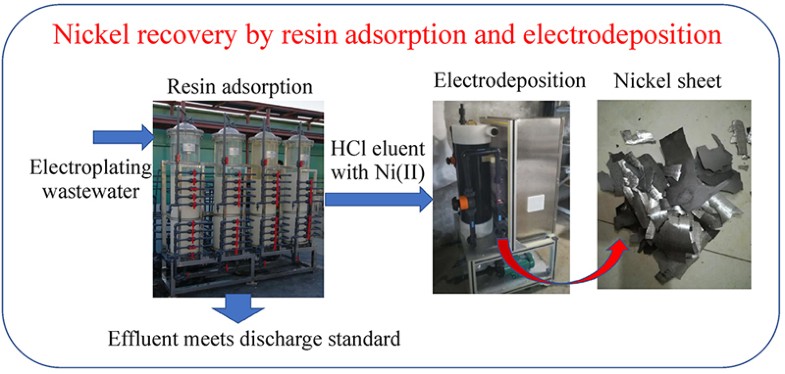 Keywords
Nickel removal 
Ion exchange 
Electroplating wastewater 
Regeneration 
Electrodeposition 
Notes
Acknowledgements
This work was supported by Major Science and Technology Program for Water Pollution Control and Treatment (No. 2017ZX07202001) for financial support.
Copyright information
© Higher Education Press and Springer-Verlag GmbH Germany, part of Springer Nature 2019