Advances in Fe(III) bioreduction and its application prospect for groundwater remediation: A review
Part of the following topical collections:
Abstract
Microbial Fe(III) reduction is a significant driving force for the biogeochemical cycles of C, O, P, S, N, and dominates the natural bio-purification of contaminants in groundwater (e.g., petroleum hydrocarbons, chlorinated ethane, and chromium). In this review, the mechanisms and environmental significance of Fe(III) (hydro)oxides bioreduction are summarized. Compared with crystalline Fe(III) (hydro)oxides, amorphous Fe(III) (hydro)oxides are more bioavailable. Ligand and electron shuttle both play an important role in microbial Fe(III) reduction. The restrictive factors of Fe(III) (hydro) oxides bioreduction should be further investigated to reveal the characteristics and mechanisms of the process. It will improve the bioavailability of crystalline Fe(III) (hydro)oxides and accelerate the anaerobic oxidation efficiency of the reduction state pollutants. Furthermore, the approach to extract, culture, and incubate the functional Fe(III) reducing bacteria from actual complicated environment, and applying it to the bioremediation of organic, ammonia, and heavy metals contaminated groundwater will become a research topic in the future. There are a broad application prospects of Fe (III) (hydro)oxides bioreduction to groundwater bioremediation, which includes the in situ injection and permeable reactive barriers and the innovative Kariz wells system. The study provides an important reference for the treatment of reduced pollutants in contaminated groundwater.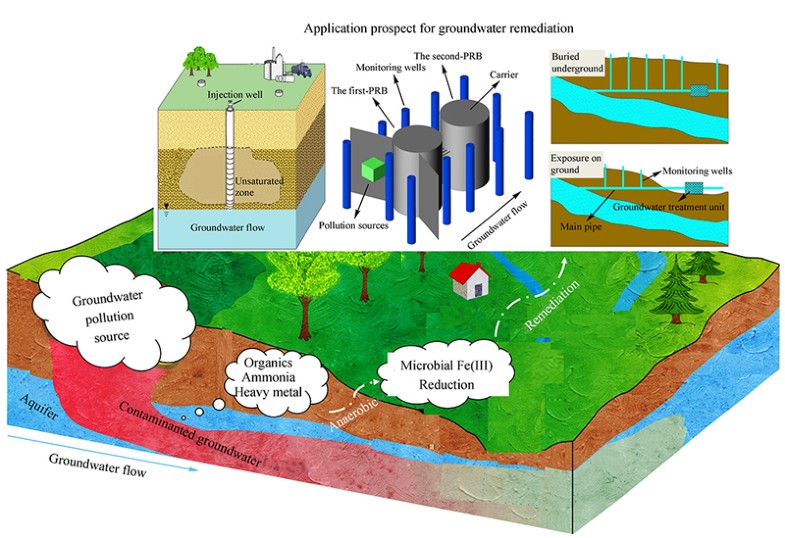 Keywords
Microbial Fe(III) reduction 
Mechanism 
Groundwater contamination 
Remediation 
Notes
Acknowledgements
This work was supported by the National Natural Science Foundation of China (Grant No. 21606214) and the Water Pollution Control and Control of Major National Science and Technology Projects in China (No. 2018ZX07109-003). We also acknowledge the valuable comments from the reviewers and the associate editor.
Copyright information
© Higher Education Press and Springer-Verlag GmbH Germany, part of Springer Nature 2019